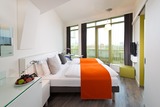 From CI Press Releases
February 12, 2019
​​New Memorandum of Understanding between the Government and NGO Conservation International will use one of the world's largest marine protected areas to demonstrate a win-win for nature, people and economy.Noumea,…
​​New Memorandum of Understanding between the Government and NGO Conservation International will use one of the world's largest marine protected areas to demonstrate a win-win for nature, people and economy.
Noumea, New Caledonia (February​ 12, 2019) – Today the Government of New Caledonia and non-profit NGO, Conservation International inked a Memorandum of Understanding to collaborate on the protection and improved management of the Natural Park of the Coral Sea, which at 1.3M square kilometers is one of the world's largest marine protected areas, through integrated sustainable development and regional cooperation.
The partners aim to use the marine protected area – an area more than twice the size of mainland France – to demonstrate the importance of nature and how its sustainable use can support not only economic development and provide lasting gains, but also ensure long-term human wellbeing. They noted that the involvement of local people as active stakeholders and stewards of nature is essential to this effort, so that all needs and uses, public, private, and industrial are addressed.
Dr. Richard Jeo, the Senior Vice-President of Conservation International's Asia Pacific Field Division, and signee, said, 'We're excited about this partnership with New Caledonia as they are leaders in sustainable development and nature conservation. New Caledonia is committed to reinventing itself as a nature-based economy.'
'While our work is aimed at primarily benefitting the citizens and protecting the pristine and unique biodiversity found in these waters, the ultimate measure of success for our organisation is to make this, and every other investment made in nature, an effective and significant model to inspire others. Never before in human history has nature-based solutions been more important.'
Dr. Jeo paid respects to other ground-breaking marine conservation commitments from the Pacific Islands region, which Conservation International have helped design and remain highly involved in through the Pacific Oceanscape, including the Cook Islands' Marae Moana and Kiribati's Phoenix Islands Protected Area, noting that it is Conservation International's experience, knowledge and learnings from these efforts from which this conservation model builds on.
The agreement describes plans to develop tools and innovative conservation projects that promote the link between nature and culture in New Caledonia. This includes the amplification of Conservation International'straditional voyaging project in Samoa which the NGO has implemented with the Samoa Voyaging Society and Government, providing powerful conservation workshops to coastal communities, using shared culture and modern science. The partners also plan to promote and strengthen the Caledonian model of sustainable fisheries by extending cooperation with Arctic Circle and neighboring countries on Responsible Fisheries, especially in the areas of transparency, efficiency, and certification.
For more information, contact:
Emmeline Johansen, Communications Director, Asia Pacific Field Division, Conservation International | Mobile +64 277 793 401 | Email: ejohansen@conservation.org
About Conservation International in New Caledonia
With over 30 years of experience in global conservation, and over 16 years working directly in New Caledonia with communities, government and the private sector, the CI New Caledonia office have helped to define environmental policies and strategies in New Caledonia, define key biodiversity areas for protection in all three provinces, and create their single protected area in co-management between indigenous people and provincial authority. Building upon a strong foundation of science, partnership and field demonstration, CI empowers societies to responsibly and sustainably care for nature and its global biodiversity to promote the long-term well-being of people. Founded in 1987 and headquartered in the Washington, D.C. area. CI employs 900 staff in nearly 30 countries on four continents and works with more than 1,000 partners around the world. Learn more about our work in the Pacific:
http://www.conservation.org/where/pages/pacific-oceanscape.aspx
About New Caledonia and the Natural Park of the Coral Sea
The Natural Park of the Coral Sea (NPCS) is the world's largest multiple use marine park encompassing the entire EEZ at the time of establishment in April, 2014). These waters are sanctuaries to sharks, whales, turtles and Manta Rays and are home to the world's third-largest population of dugong. Additionally, the New Caledonia territory boasts one of the world's largest lagoons at 24,000 km2, circled by a 1,600 km2 coral reef which 1.5M ha are listed as World Heritage Sites. On land, New Caledonia is the smallest hotspots in the world (the size of New Jersey) but boasts the highest endemic species diversity per square kilometer. The greatest challenges to nature in New Caledonia include climate change, invasive species, mining, bushfires and erosion.
​