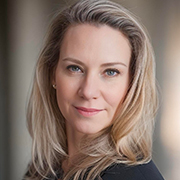 I am so excited to be the Atlanta Chapter President for 2018! We have an incredible group of volunteers on the board this year that are dedicated to making this a fantastic year of networking and education. We recently released our schedule for the year and look forward to highlighting local architecture and design firms in our "Restaurant Series" and Hotel Tours. We have so much talent here in Atlanta! We will have our two FUNdraisers, the Golf Tournament and the Awards Gala, in the fall. Please contact us if you are interested in sponsoring one of these highly anticipated events. In addition, we will be reviewing student portfolios, holding a CEU, and having a member appreciation event. What a busy year!
Our membership is stronger than ever, so we look forward to getting to know all of you at our networking events. We are, after all, the industry's premier networking group! So, whether it is your first time attending an event or you're an old pro with us be sure to say hello! Any of our board members will be happy to show the ropes, tell you about our events, or let you know how you can get more involved.
We look forward to seeing you at all of our events this year. Thank you for your ongoing support!
Jennifer Wellman
President, NEWH/Atlanta Chapter
VP of Architecture and Design Sales, Lexmark + Hospitality