Welcome to the Atlantic City-Philadelphia region of NEWH. Founded in 2008 this chapter is comprised of a diverse array of professionals and students in the hospitality industry. Our market is booming and we are all busier than ever but we still find value volunteering our time and giving back to the community we live and work in. Our history is one of growth and expansion. I truly value the NEWH Board and the members who make up the Atlantic City-Philadelphia NEWH chapter; their contributions and great talents are why this is chapter is a success.
Our focus is raising money for scholarships for college students majoring in hospitality studies. The Atlantic City–Philadelphia NEWH chapter has awarded over $44,000.00 to deserving students since our founding. This year's scholarship award will be $5,000. no small amount, and the application process is simple.
Maintaining a fresh perspective is my priority as President. I want to hear what people think about our chapter and how to improve. We will seek input through meetings, networking events and unique fundraisers. Opinions from many people are especially important to me and, hopefully, our proactive outreach will result in a broad base of support within our hospitality community.
Join us by becoming a member. Develop awesome professional contacts, participate in some great events and be part of a bigger cause, all while having fun!
Click here to join the Atlantic City-Philadelphia NEWH region!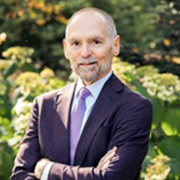 Bruce Heins, NEWH 2019 AC|Philadelphia Region Steering Chair
Principal, Heins Marketing