I am so excited and honored to be your NEWH Chapter President for the remainder of 2019. The South Florida Chapter truly has an exceptional group of volunteers who have been dedicated into growing our membership.
Because of your support as members we have been successful in growing our chapter over 20+% since 2018. We also can generously increase the dollar amount of scholarships & recipients we award this year. That is really a great testament to you, the members…So "Congratulations South Florida Chapter"…You did it!!
There are still many exciting events left to attend this year, from Monthly Mingles, to our rebranded "Golden Palms Awards" and please don't forget the annual year-end Toy Drive.
Lots of great things instore, so make sure you check the calendar and save the date. We look forward to bringing our members together for the best events possible…and remember it's never too late to get involved…volunteer your time as a board member, a committee member or whatever, just get involved and watch how rewarding it can be. Thanks again so much for your support…
In the spirit of networking and giving…
All my best,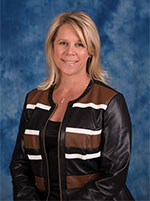 Anastasia "Stacey" Davis
President, NEWH South Florida
Showroom Channel Sales Account Manager, adorne
ELECTRICAL WIRING SYSTEMS
legrand, North America