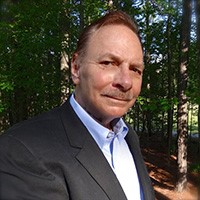 Fred Edward Sassen, age 70, Vice President of Sales for Trinity Lighting, passed peacefully at his home in Acworth, Georgia, July 18, 2019. Fred was surrounded by loving family members who were uplifted to see him released from pain after his 12-year battle with prostate cancer.
Born in Miami, October 18, 1948, to parents Claire (Mickey) and Ferdinand (Fred or Dempsey) Sassen, Fred believed that life was all about the dash — what you do between the date you are born and the date you die. In that spirit, Fred's life was one incredible, amazing, family-loving, friends-for-life, prank-pulling, party-hosting, good-doing, story-telling, words-with-friends-playing, humble, caring dash.
Growing up in Miami, Fred loved the ocean, the beach, the sun, and the water. He spent his early years fishing, boating, snorkeling, and later free diving and scuba diving. Lifelong friends from that time include Brian Gagnon, Real Nadeau, Ricky Barreto, "Bear" Young, and his Godfather, Bob Kelsey. But he was no beach bum. Fred's first job was as a Chief Steward on a luxury yacht owned by E.T. Barwick Mills, a carpet mill headquartered in LaFayette, Georgia.
Not only did Fred become an excellent chef and host working on the yacht, he connected to a new passion, the carpet industry. He surrendered his sea legs (temporarily); and went to work for E.T. Barwick Mills. Fred learned everything he could about the carpet industry from how it's made to how it's sold. His work also enabled him to experience life outside of Miami, living in New York, Indianapolis, Ind., Jacksonville, Fla., and Orlando, before settling in Atlanta. Fred married Loretta Elliott in1968, and they had two children Brenna and Freddie.
During his career, Fred developed strong ties to the hospitality industry, and lead his sales team to service such nationally known industry leaders as IHG®, Intercontinental Hotels, Hilton Worldwide, Marriott Hotels, and Choice Hotels. Given that many of his clients were located, in Memphis; Fred had many delightful memories and good friends in the Bluff City.
But it was an industry event in Las Vegas while working for Templeton Carpet Mills that changed Fred's life forever. That's when Fred met Darci Reif at a Hospitality Design Pool Party at the Flamingo. Darci moved from California to Georgia and married Fred in 2000. Darci is the Vice President of Sales, Americas, for Oriental Weavers Hospitality, an Egyptian carpet and area rug manufacturer.
In 2001, Fred launched his own company, Variation Carpet Mills. He ran the mill until 2009 when it was acquired by Signature Hospitality. Fred continued to work with the firm to manage key national accounts until 2014, when he became Vice President of Sales for Trinity Lighting in Jonesboro. Ark. He served in this role until his passing.
According to Fred's many colleagues, his strongest talents showed in any situation involving sales, management, and event development. He also was an excellent mentor, guiding his staff in how to build and maintain long-term relationships with major hotel companies. He shared many stories of traveling around the country with Darci, doing business along the way with clients he considered, friends.
Having been raised Catholic, Fred attended Catholic schools, graduating from Archbishop Curley-Notre Dame High School in 1967 in Miami, Florida. He was comforted by recently joining the newly built St. Clare of Assisi Catholic church in his neighborhood and enjoyed church every Sunday, attending with several friends and family.
Focused on "living the dash," Fred never met a stranger. In the coming days, expect a wave of gestures in honor of this amazing host, chef, father, husband, grandfather, businessman, and friend. During his last months, Fred enjoyed playing cards with friends and neighbors who dropped by, and now they will continue to deal him in. At Governors Towne Club in Acworth where Fred was a distinguished member of the Blue Tee's golfing group, cherished friends Bill Broxterman, Alex Edmondson, Neal Edmondson, Bob Henry, Alex Jauregui, Jeff Klewin, Don Kremer, and Marty Kowalski will save a chair for him at the clubhouse. At the Miami Springs Power Boat Club in Biscayne Bay, where Fred and his family spent many weekends going out to Stiltsville, dozens of friends will rev their engines in tribute. And the folks in Bimini, where Fred went every Memorial Day for 25 years, will share memories and laugh at something he did or said. As the news spreads to his favorite travel spots — Bimini, Italy, France, Belgium and Cabo San Lucas — hotel staff and locals will pause to miss the friendly American who always had a joke and a kind word.
Darci was present when Fred passed. His children Freddie Sassen and Brenna Higgins, her husband Sean Higgins, their children, Madison and Cole, and Loretta Sassen were also there. Freddie's wife Liz Sassen was in touch by phone. Fred's surviving grandchildren include Madison, Cole, Emilia, Grace, and Rose. He is also survived by his sisters Jo Anne Nadeau, Miami Lakes, Fla., Barbara May, Sarasota, Fla., Mary Paoletti, Gainesboro, Tenn.; their husbands Real Nadeau, Jerry May, and Ken Paoletti; and numerous nieces and nephews.
Service: Saturday, July 27th
St. Clare of Assisi Catholic Church, 6301 Cedarcrest Rd., Acworth, Georgia, 30101
Visitation: 10 a.m. to noon, Rosary will be in the middle of the Visitation
Service: 12:30 pm
Receiving Flowers before Friday:
Winkenhofer Pine Ridge Funeral Home
2950 Cobb Parkway
Kennesaw, GA 30152
Following the mass:
The family invites everyone to Fred's home.
In Lieu of Flowers:
The family requests that donations be made to the Fred E. Sassen In Memoriam Scholarship Fund through NEWH, The Hospitality Industry Network. https://newh.org/memoriam-fred-sassen/
Contribute to the Fred Sassen Memorial Scholarship Fund
Scholarship to be presented by the NEWH/Atlanta Chapter.