Studiopepe is a Design + Architecture + Creative Direction agency based in Milan, founded by Arianna Lelli Mami and Chiara Di Pinto. Our philosophy is based on a conceptual approach inspired by the unexpected, and on an extensive iconographic and visionary background, generating results that are unique of their kind. Our attention to details, and the emotion they can generate in people, is fundamental in our projects.
studiopepe.info

RESTAURANT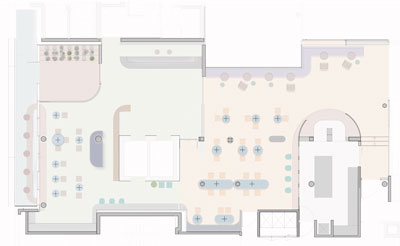 This concept is based on the interpretation of the unexpected with the goal to design an environment that excites and constantly inspires.
The space draws inspiration from the Art world: the Avant-garde echoes mixed with a late 70′ feeling are translated in a contemporary and new iconic gathering place. Socialization is one of the main aspects of our concept: we do not want strong boundaries but rather to imagine a unique experience flowing seamlessly into one another. At the same time with the new needs connected with pandemic, we tried to keep the idea of a new way of
socialization. Clients have to feel safe and protected. So we conceived a bar with a self service space with vending machines reinterpreted in a new way: an entire wall like a futuristic installation with fresh food, beautiful dishware and the possibility to have a nice meal without contacts with waiters.  This vending machine concept doesn't use plastic disposable plates and cutlery.
The bar counter is screened to give the idea of an installation more than a real barrier, the same concept has been used for the suspended transparent screens upon the tables in the restaurant area. The entrance as well is a filter: the Customer has to walk trough, while a mist shower with antibacterial Essential Oils will clean the air from unwanted hosts. A Special carpet floor too will help to clean the Shoes soles. Plants too help to filter and to keep this space pure. Preferring recycled, recyclable and long lasting certified materials – such as steel and eco-resin – we try
to reduce the impact on the environment.