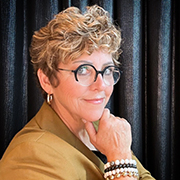 ach spring the NEWH Executive Committee has its annual strategic planning session graciously hosted by Milliken at their guest house in Spartanburg, South Carolina for three days of in-depth meetings as we review our goals to ensure successful momentum for all things NEWH. At these sessions we welcome strategic advisor Trudy Craven as facilitator to ensure we remain true to our mission and vision for NEWH. Some things we plan to develop:
Scholarship directors at the chapter and regional group level that are part of a scholarship committee with VP and director of scholarship roles on our International Board of Directors, with more frequent interaction with the goal to engage our scholarship winners and celebrate their success in the industry beyond their school years.
Focus groups in geographical areas to strategize how we can embrace the younger generation that will attract the up-and-coming talent to NEWH with programs and initiatives.
We are currently proceeding with a beta test on a texting app for chapter and regional communication, invitations, and reminders for events. We are testing with two chapters to see if this is a success and will share with all the option to opt in if it works well.
Please join us at one of our breakout sessions at the International Board of Directors meeting at HD Expo in Vegas or reach out to any of our VPs for how to get more involved in areas that are of interest to you.
With great pride I would like to share that we have reached $8,054,890 in scholarships to date! Thank you to each of you and the difference you have made in a student's life by being a part of NEWH and our mission to educate and build the future of our industry. We continue on the path to celebrate our scholars at each chapter and regional group.
BrandED sessions continue with great success in North America and we are expanding this in Paris with Hyatt, Rome with IHG, and London with Accor, launching the program in each of these cities. We still have opportunities for annual sponsorship as well as local sponsorship at each event and will be awarding BrandED scholarships at each of these events. Please reach out to Jonathan Young, our vice president of International Relations UK/EU if your company has interest in sponsoring at any of these European or UK events.
NEWH Regional Tradeshows are still the best show in town! We are coming off one of our most successfully attended events in Los Angeles in late February and Chicago in April was also a very well-attended show. We look forward to seeing you at the upcoming shows this fall. Thank you to our vendors and especially the chapters who rally the A&D community support to participate and continue these coveted sold-out shows.
Thank you for being part of NEWH! Please stop by the NEWH booth at HD Expo + Conference as we'd love to see you in Vegas; and we look forward to seeing you all in Nashville, February 15 – 17, 2024 at the NEWH Leadership Conference!
In the Spirit of Networking,



Chris Tucker
President, NEWH, Inc. Board of Directors