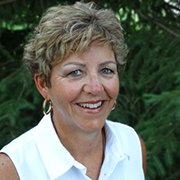 Welcome to fall, one of the most colorful times of the year! I personally love this time and all the outdoor activities it brings to celebrate that every day is a gift. This fall we all welcome the change in positive activity happening in our industry around the world. Of course, we all still face challenges we have
never been seen before in logistics and supply chain—all things that were never part of anyone's business plan in previous years—but I continue to be thankful to be surrounded by NEWH members' incredibly positive attitudes. Attitude will get us through anything, and we continue to prove we can do this together.
NEWH Regional Tradeshows are back in action with amazingly positive energy filling the venues with those happy to be seeing each other in person once again. Check out the dates for upcoming Regional Tradeshows coming in 2022 at newh.org, as our team continues with these must-attend events. We were thrilled to have a presence at HD Expo, which had great success in Vegas, and most definitely there is a buzz heading into BDNY in November. We look forward to seeing you at these upcoming events!
NEWH, Inc. continues to strive to meet the demands and support our member activities around the world. Kudos to the team for remaining our constant support, and do not hesitate to reach out as we are here for you. NEWH online content continues to foster member interaction, with our 29 chapters and regional groups around the world bringing us PerspectiVes, Chapter Chats, NEWH Cares, BrandED, EID Dialogue, EDOnline, Staying Connected, and La Pause. Check out the NEWH calendar at newh.org for upcoming international, chapter, and regional group events.
The NEWH Leadership Conference committee has its nose to the grindstone building content for the event, February 17-19th at the Westin Seattle. Sponsorship opportunities still available can be viewed at newh.org or by reaching out to jena.seibel@newh.org. This conference and product showcase is for all members and truly reflects the heart of NEWH. Don't miss our keynote speaker Chase Jarvis—award-winning artist, entrepreneur, photographer, and author—along with so many other speakers and sessions that will break boundaries! Check more event details in this issue on page 8, or on our website for more information. Registration will be available soon, and we're looking forward to connecting once again at this incredible event.
Best in health and happiness as we move into great things together!
In the Spirit of Networking,



Chris Tucker
President, NEWH, Inc. Board of Directors
Principal, Tucker & Associates