Happy 2018 to all of South Florida!
As we look back on 2017, it's hard to believe how many remarkable events and memorable moments we all shared as a community. As part of our continual effort to provide scholarship, education and business development opportunities to all industry members our Board focused on developing programs and events that would foster these critical NEWH values.
Looking ahead at 2018 and beyond, the South Florida Chapter has some truly unprecedented and magnificent events to share with the hospitality community. In addition to some of our annual favorites such as Monthly Mingles, Wine and Design, and Bowling, we have some fresh events and pretty big conferences headed to South Florida. Our Golden Palm Award and Scholarship Dinner will yet again be our feature fundraiser in October, where we hope to continue to acknowledge design and award our creative scholars. This year, we are also kicking off a new tradition of a Member Appreciation Brunch in April. Look for details on this early in the year as we recognize TOP ID recipients and honor some long standing NEWH Members as well. Feel like heating up our Mingles, well don't miss our very first mingle at one of the Miami Heat Games! This will also be a year of some major planning as we prepare to host the 2019 Leadership Conference right here in Miami. We will definitely be very busy in the months to come and hope to count on our community of designers and vendors to tackle this as a team. As you can see, there are CAN'T MISS events this year and all of our members will benefit from exclusive offers, deals and early notification.
Our Board hopes to continue on its mission to build one of the best networks that balances education and fun so that we can all remain motivated and enthusiastic industry members. Help us build upon this already fantastic group of professionals and students so that NEWH South Florida can truly be one of the building blocks of the national organization and aid the industry as a whole to bring innovative, creative and motivational experiences to all of our esteemed members.
We invite you to be a part of this experience and join NEWH South Florida! Please reach out to any of our Board Members with any questions and we would all be happy to discuss opportunities with you.
Let's make 2018 a year to remember!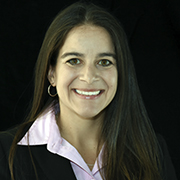 Jennifer Delmas
Director of Operations, EoA
2018 NEWH/South Florida Chapter President
Join This Chapter