Notice: Due to COVID 19 all Live events for 2020-2021 have been cancelled. We plan to continue the program when it is safe to do so. We appreciate your patience, and look forward to seeing you all in person at these very popular events featuring our brand partners. We hope you will join us for the Virtual BrandED Sessions while we wait for the safe return of live events!
Stay tuned for upcoming BrandED sessions!
Miss a BrandED event? click here for recordings of our past events


Note: Recordings are available for Members only – you will be asked to login if you are not already
Please reach out to Teri Urovsky, Director Elect/Brand Programs for more information 
For NEWH BrandED scholarship questions contact: newh.scholarship@newh.org
---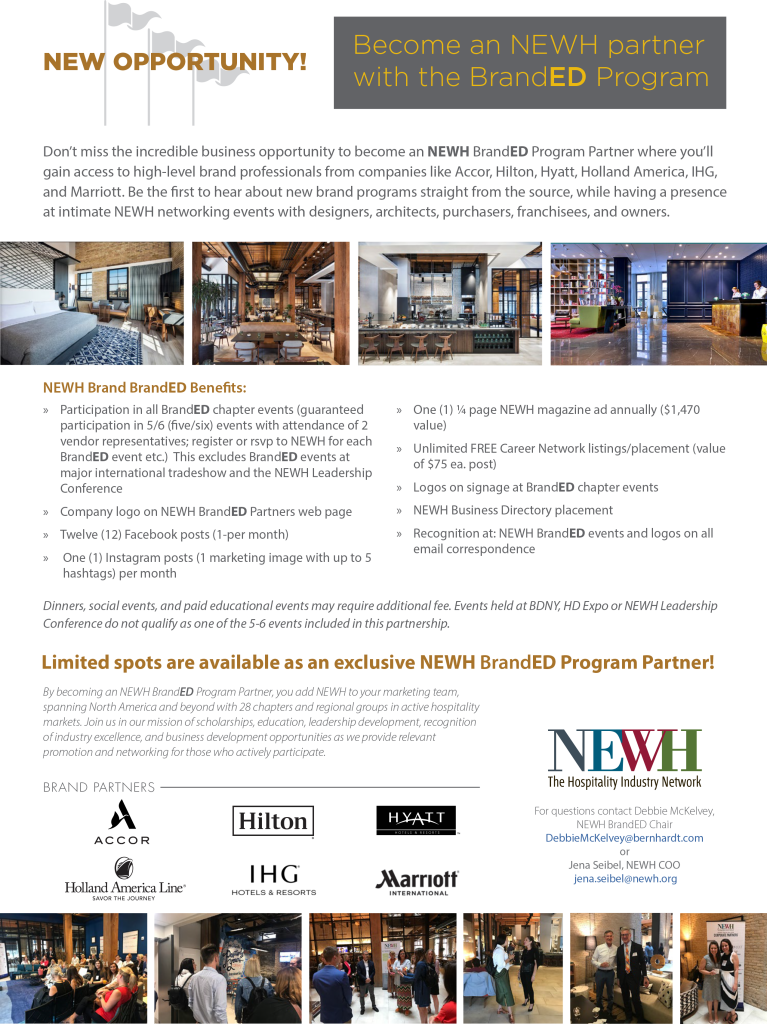 NOW FOR SOME GOOD NEWS!
NEWH introduces Virtual BrandED to the hospitality industry. We will keep you up to date with conversations with the hospitality industry's leading brand executives from around the globe. Although there is very little that is sure in the future currently, we will talk about design and topics that are relevant to our businesses and preparing for the future. These Virtual BrandED sessions will be held monthly so check back for more information on upcoming sessions and dates.
---
---
Tune in for conversations with these brands coming soon!