Check out the most recent episodes in each podcast! (click the thumbnail)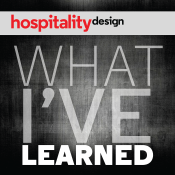 In this new series, Hospitality Design magazine's editor in chief Stacy Shoemaker Rauen will talk with influential hotel and design leaders on how they got to where they are today, what drives them, and their biggest lessons learned navigating an ever-changing industry.
---

They say good design is obvious, but great design is transparent. We're pursuing perfect hotel design – wherever we can find it. That means speaking to the brightest minds in the hospitality industry.
This is the HOTEL DESIGN PODCAST.
---
The Student Lounge is the definitive podcast for the next generation of budding interior designers. We're entirely run by a national network of students just like you who needed answers to the big questions about interior design: what does it take to make it in this creative but competitive industry? And how can I jump-start my career?
Students can ask their own questions to be answered on the show and go above and beyond the vague advice of textbooks. We'll do the hard work of finding the right designers, educators and students you need for inspiration.
---
No Vacancy with Glenn Haussman is the travel industry's most exciting podcast. A fun, fast paced genre bending program peeling back the travel business veneer. Perfect for road warriors, leisure travelers and industry insiders, we look behind the scenes of the travel business by sharing stories, experiences, and with interviews featuring the industry's biggest names.
---
Travel Channel's Anthony Melchiorri and hotel industry expert and No Vacancy podcast host Glenn Haussman empower your business, your career and your life.