Arcsine is an architecture and interior design firm that creates innovative and dynamic spaces within hospitality, restaurant, and workplace environments. We believe that good design brings people together, fosters relationships, and inspires creativity through the enhancement of our surroundings. Our goal is to provide compelling design, technical expertise, and a collaborative environment that exceeds the client's vision. 
arcsine.com
DREXL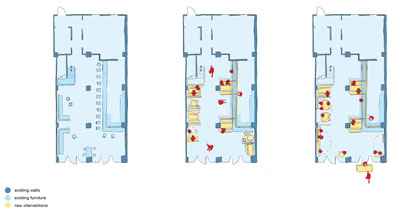 Bar, saloon, speakeasy, pub: socializing over a drink… or two! How can this familiar manifestation of one-on-one hospitality and community be sustained under social distancing? How can hospitality help to medi-ate isolation and intimacy? If, pre-pandemic, the bar seat was the prize, we are wagering that booth seat-ing is the next big thing.
Located a short walk from popular restaurants and cafes, DREXL thrived within the symbiotic critical mass of Uptown nightlife. The shotgun plan poses common challenges of congestion, perceived ranking of ta-bles, and frequent swings between clamor and calm.
To optimize space utilization and mitigate crowding, we proposed reconfiguring the room with lounge-type seating. Defined by flanking recombinant panels and mixed arrays of loose furniture, the space may be reconfigured at will for cocktails, lectures, and pop-up dining.
An online reservation system ensures full occupancy of the finite floor area at the optimum post-dinner drink window. Advance notice allows staff to configure seating groups to coincide with each party's arri-val. With circulation clearly defined by the array of seating along the walls, bar access is assured. With the addition of a translucent screen affixed to the leading edge of the bar, both the bartender and patrons are at ease during their repeated interaction across the counter.
Image description:
Slide 1: (from left to right) existing floor plan, adaptive seating options.
Slide 2: Exploded Axonometric
Slide 3: Seating Layout and Elevation
Slide 4: Diagrams
DUENDE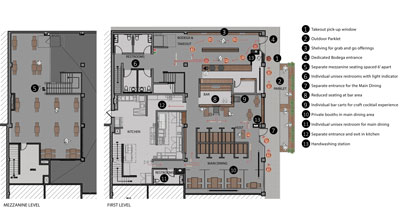 Name-checking a mischievous Iberian spirit gnome, Duende is an established buzzy restaurant and bar, serving Modern Spanish bar cuisine and craft cocktails long before that was a thing. One of the first chef-driven eateries in Uptown Oakland to emerge around the restored art deco Fox Theatre two doors down, this industrial loft space was converted by Arcsine in 2013 for chef Paul Canales, whose Oliveto had defined Californian cuisine in North Oakland since the early '90's. Effective mid-March, the spacious eatery has been idled by Covid-19.
Intent on reopening with new protocols and business plan in place, the new iteration – in the chef's words: "Duende 2.0" – aims to leverage the volume of the room to transform the business model while honoring the tailored-service model of the original.
Toward this goal, we identified three unique guest experiences: a tasting room-style bar with cocktail seating, an intimate reservation-only dining room comprised exclusively of booths, and a robust and convivial take-away service. This a la carte approach addresses safety, privacy, and profitability concerns, and suggests potential for a more specialized menu and related events.
The existing patinaed copper bar serves as the totem and organizer of the open-plan ground floor, delineating bodega from comedor (dining room), each served by a dedicated street entry. The bar is reconfigured to disperse seating, allowing bartenders extra space to hone their craft. The bodega, a compact specialty food hall offering prepackaged meals and culinary sundries, offers prepackaged meals for dine-in, and a storefront pick-up window for online orders. The loft directly above the bodega is outfitted with generously spaced tables for casual dining, as is a new sidewalk parklet. Integrated safety measures include handwashing stations throughout, and a dedicated entry to the kitchen, isolating the scullery from the cook lines.
Image description:
Slide 1: (from left to right) Mezzanine Floor Plan, Ground Floor Plan, Legend.
Slide 2: Exploded Axonometric
Slide 3: Bodega Perspective
Slide 4: Bar Perspective
Slide 5: Private Booths at Main Dining Room Perspective
MODERN COFFEE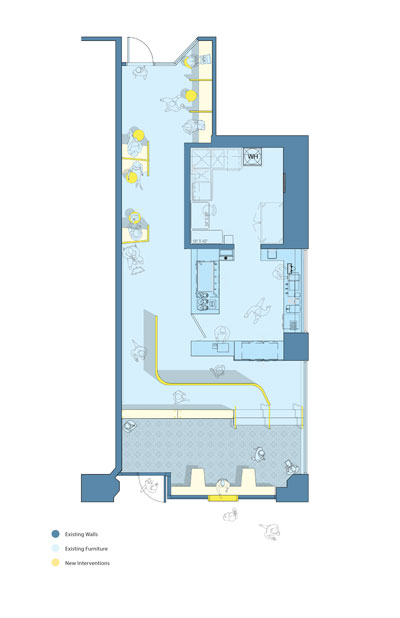 This proposal reconsiders Modern Coffee 2 on 19th, an 800-sf Oakland coffee bar designed by Arcsine as a big sister to their maiden location opposite our offices, six blocks to the south. This independent women-owned business is characterized by the open, personable, knowledgeable and creative individuals behind the counter. Its loyal clientele counts their daily visit an essential component of their downtown social universe. To sustain this familiarity while observing safety protocols, we explored a number of light-touch modifications that balance these contradictory essentials.
Occupying a narrow inline storefront in an historic commercial block, our original design negotiated a street level change by means of a secondary access from the building's inner court. We optimized the panhandle plan form by arraying rakish drink ledges along the generous glazing, opting for bookish deuces along the pathway to the auxiliary entrance. In this current effort, we repurposed the drink ledge as a service window, and provided enhanced partitions around the cozy seating.
To address surge periods, we supplemented the broad L-shaped service counter with a storefront pre-order window. In addition, a sidewalk coffee cart accommodates those who will decide what they want when they get there, or are simply passing by but anxious about entering.
Other enhancements to queue management in the interior include additional menus closer to the entry, decorative translucent dividers and bespoke graphics and signage. A program of rotating art exhibits and an open-mic podium provides staff and patrons opportunities to connect and share their passions.
Image description:
Slide 1: Proposed floor plan
Slide 2: Rendered floor plan and enlarged graphics
Slide 3: Proposed renderings and axonometric view
Slide 4: Proposed renderings and axonometric view
AROMA CAFÉ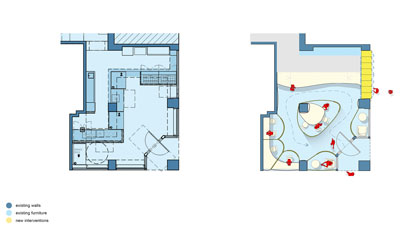 Aroma Café is a typical 400 sf deli occupying the corner of a mid-sized terra cotta-clad office building in downtown Oakland. Atypical is the relative volume and reliability of their lunchtime customer base, hailing from the many nearby government agencies, non-profits, insurance giants, and digital music service providers.
The café's current layout places staff and patrons in dramatically close proximity, shouting orders at the other across an L-shaped glass deli case. Further, placing an order constitutes sharing space with diners seated at a narrow drink rail adjacent. The vast majority of customers congregate inside while waiting for their take-away order. Adapting this business model post-pandemic poses a nearly impossible challenge.
Our proposal posits a retooling, embracing a two-component model of expanded online orders and a premium dine-in experience, supported by one kitchen. Turning the existing uses inside-out, a compact and streamlined order interaction provides space for a reconfigured dining area, a ring of translucent 'bubbles' pushed up against the generous floor-to-ceiling storefront windows. The petal-shaped outer forms of these eat-in rooms allow patrons to intuit a safe route to and from the counter. One retains, sitting within these organically-shaped bubbles, the lunchtime break experience of observing day-to-day street activity, as well as fellow café patrons opposite.
For that loyal take-away customer base, we provide translucent pick-up lockers built into the storefront, fulfilled from adjacent kitchen space. By separating pick-up from dine-in orders, the solution addresses lunchtime traffic, while rewarding dine-in patrons with an enhanced level of service and experience.
Image description:
Slide 1: (from left to right) Existing plan and Proposed plan
Slide 2: Axonometric view
Slide 3: Conceptual sketch for pick-up locker system at storefront