Aria Group Architects is a full-service design and architecture firm that brings to life high-performance, personality-rich spaces with an innate sense of welcome. We are known for our work in the restaurant, hotel, and entertainment sectors, and this reputation for service and expertise in hospitality informs the work across our portfolio. Every one of our projects benefits from our expertise in designing spaces that are welcoming and inclusive – whether it's a master planning project, retail design, multi-use development, or office space. Founded in 1989, Aria has been a different kind of design firm from the start. We are a group of honest craftspeople who differentiate ourselves with hard work, dedication, and soulful design. We celebrate storytelling and substance in equal measure and believe that this approach results in spaces that perform from the standpoint of both profitability and people.
ariainc.com

BBQ THYME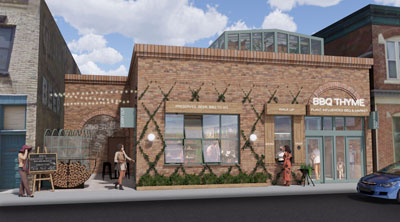 Amid the panic and silencing of the world brought by the pandemic, the hospitality industry – more specifically restaurants – has taken the hardest hit. The passionate individuals providing these services are the meat and potatoes of our cultural and social interactions. Because hospitality is based on compassionate services from one another, our solution is based around the ease, comfort and necessity of human socialization while incorporating the importance of social distancing etiquette. This casual green-barbecue restaurant embodies our concept within five key ingredients. The first ingredient being CARRY-OUT & DELIVERY. This is to address the surging demand of carry-out. Our design emphasizes indoor and outdoor pick-up options, providing a pick up window to assist customers who are not comfortable entering the restaurant and a large carry-out room which offers a visual connection to those who choose to dine in. Next comes RETAIL & REINVENT. With this ingredient we look to push the restaurant concept beyond just food service and look to reinvent their market by retailing their sauces, dry-rubs, and even bottled up cocktails. Thirdly TECHNOLOGY & FLOW. This ingredient is cultivated by integrating touchless technology and identifying the programmatic flow of unidirectional travel, not only for the experience of the customer but also employees. Fourth comes HUMAN & HUMBLE. Through this ingredient we nurture our understanding of the palpable environment as it relates to human comfort by highlighting the use of natural light and natural air circulation. Additionally, we have provided various experiences to meet individual levels of comfort by allowing for a connection to others, whether physically sharing the same experience, or visually connecting through the layering of spaces. Our final ingredient in this flavorful recipe is GREEN & GROW. With Biophilia making a strong statement on comfort and wellbeing, our design utilizes plant integration through space separations and cues for directional flow. Additionally, this adaptive reuse project houses two indoor gardens promoting the growth of ingredients to supplement our spice mixes, side dishes or serve as garnishes. Our five ingredients nurture the restaurant concept to become a communal hub for locals to depend on.
DESIGN TEAM
Elisabeth Battle, Dan Bernatek, Victoria Cavalcante, Kendra Cranford, Ana Hernandez, Caitlin Hubbs, Elizabeth Hutchinson, Dunja Jovanovic, Elizabeth Kozlik, Sarah Medcalf, Ndeye Fatou Daikhate Njie, George Pan, Emma Phillips, Shannon Sterne, Evelina Urbonaite
ILLUME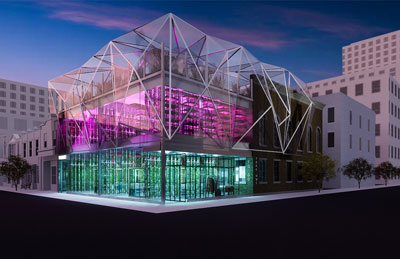 ILLUME explores how a restaurant can provide a safe and healthy environment that allows unmasked social gatherings, while minimizing potential exposure to infection by increasing autonomy. Through the use of strategic lighting and vegetation, the interior climate is purified while providing produce for the restaurant. During the day, available sunlight feeds the rooftop farm and streams through the transparent façade to nourish the vertical gardens, and play with layers of light and shadow. At night, artificial lighting throughout the space provides multiple functions. UV lighting cleans the air and surfaces, LED lighting sustains the indoor plants that will be harvested for food, and the transparent façade allows the light to shine out as a beacon to the neighborhood – highlighting the revitalizing action occurring within. When entering the restaurant, guests pass through a series of chambers designed to check temperature, sanitize and store outerwear, a handwashing station, and a seating chart to guide them to their table along a one-way path. With each progression, guests feel an increased sense of relief and comfort. Every table has an operable enclosure to allow for open seating when appropriate but can easily transform to partitioned seating when separation is needed. There is a dedicated floor vent supplying clean air and a dedicated exhaust above so that no contaminated air is recirculated. Orders are placed and the bill is paid from personal devices, while a rover provides table service to avoid contact between customers and staff. Restaurant staff can be seen through transparent catwalks above as they harvest food from the vertical gardens and rooftop farms to prepare in the display kitchen. By growing food on site, the restaurant makes a step towards being self-sufficient to minimize deliveries and thereby reducing outside exposure while also reducing the restaurant's carbon footprint. After the meal is completed, diners continue on the one-way path and have the option to pick-up their leftovers from a secure food-locker on the way out. The exit process acts in reverse, with hand-washing and putting on the protective outerwear that has been sanitized and stored during the meal before departing feeling restored.
DESIGN TEAM
Elisabeth Battle, Dan Bernatek, Victoria Cavalcante, Kendra Cranford, Ana Hernandez, Caitlin Hubbs, Elizabeth Hutchinson, Elizabeth Kozlik, Dunja Jovanovic, Sarah Medcalf, Ndeye Fatou Daikhate Njie, George Pan, Emma Phillips, Shannon Sterne, Evelina Urbonaite
NEIGHBORHOOD STREETSCAPE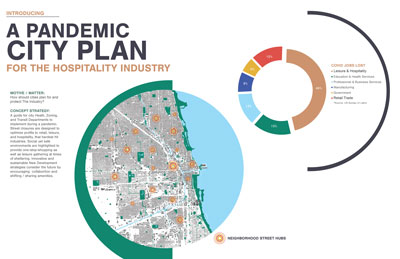 As we have struggled through weeks of stay-at-home policies, we have quickly learned the issues that a pandemic can cause within the retail and hospitality industry. Restaurants and non-essential retail stores have been forced to shut their doors, aiding to the highest jobs-lost in a sector. How can a city prepare to support its leisure and hospitality industry during a pandemic?
Our proposed, scalable solution considers fluid and flexible modifications of a neighborhood streetscape, allowing its businesses to stay open and offer safe and stimulating atmospheres.
Vehicle roundabouts at ends of the boulevard eliminate traffic and are used for restaurant and retail pickup. Modified storefronts include operable designs incorporating order windows and street markers for queuing. Expanded restaurant seating provides different shade options and solar-powered heat/light, within six-foot floor markings. Local grocery markets take on open-air space at intersections via food and pharmacy displays to lessen crowding inside grocery stores. Movable kiosks operate along the center lane of the road; future city planning includes out-of-commission public transit designed to transform into open-air kiosks, for small business to operate out of free of charge.
New construction developments necessitate future partnerships with hotel and grocery components. Grocery establishments have thrived as essential businesses, and can share services with other programming to reduce cost and gain efficiency. This idea is portrayed as a canopy structure including sky-bridge and green-roof garden, adding to the local supply chain of hotel, grocery, and restaurant. Permanent pick-up kiosks at street-level allow the public to drive-through and pick-up prepared food and groceries, minimizing contact. The grocery store provides food delivery to multiple restaurants on the street, and allows restaurants to sell prepackaged meals within their store. The hotel provides unused rooms/showers to essential workers at-risk before going home.
Restaurants and retail stores need flexibility to expand beyond their walls during a pandemic, and contract back to a sense of normal when the crisis subsides. They also need to find alternative partners who have thrived during this pandemic. Local governments should help implement a plan such as this throughout the city to help their hospitality and retail industries survive.
DESIGN TEAM
Elisabeth Battle, Dan Bernatek, Victoria Cavalcante, Kendra Cranford, Ana Hernandez, Caitlin Hubbs, Elizabeth Hutchinson, Dunja Jovanovic, Elizabeth Kozlik, Sarah Medcalf, Ndeye Fatou Daikhate Njie, George Pan, Emma Phillips, Shannon Sterne, Evelina Urbonaite