Founded in Richmond, Virginia, in 1897, today Baskervill is one of the nation's oldest continually operating architectural firms with additional outposts in Washington DC and Orlando. We offer creative architectural, interior design, and MEP engineering solutions to a varied client base, from corporate workspaces to healthcare, hospitality, higher education institutions, and more. While a sense of history grounds us, it's the idea that design can solve problems of the future that keeps our creative teams inspired. That's what's continued to connect our firm with exceptional clients resulting in award-winning work over our 120 years in business.
baskervill.com
HOTEL PUBLIC SPACES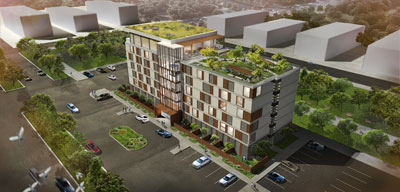 "The Chinese use two brush strokes to write the word 'crisis'. One brush stroke stands for danger; the other for opportunity." -John Kennedy
Our lives have been turned upside down…and inside out. However, we have also established a renewed appreciation for the outdoors. An outdoor stroll, a nice book on a grassy knoll – create a setting where this crisis is out of mind.
With this concept, we take the prototypical hotel and turn it upside down…and inside out.
The hotel is turned upside down by putting the lobby on the top floor. It's turned inside out by blurring the line between indoors and outdoors. Arriving guests are drawn to glass elevators accessible on the building's exterior. From here, the guest is transported directly to a lush, rooftop garden. This is your newly conceived lobby, your safe arrival, your smile moment. This garden space reimagines the hotel lobby as a natural, safe sanctuary of greenery. Of course, you can check-in and access food and drinks without human contact if you wish, but the experience is not about technology (there, just invisible), it's about a lush blend of distinct, inviting pockets of activity.
The garden progresses from public to private spaces as you move away from the sheltered lobby. Vegetables and herbs are grown on-site for guest's consumption and the kitchen. If you are seeking the bar, it's in the garden, complete with voice-activated cocktail dispensers.
The lobby encourages a reconnection to outdoors. Glass walls disappear, blurring the lines between indoor and outdoor space. The indoor lobby is a glasshouse, with panoramic views from this eyrie perspective. The use of natural materials makes the space warm and authentic, with a changing palette throughout the year as the garden goes through its natural cycle.
The ground floor is freed up to provide garden guestrooms with lush, outdoor terraces. These rooms are accessed directly from the sidewalk via keycard.
This upside-down, inside out, concept gives guests a chance to feel connected to the natural world, regain a sense of serenity, and take a breath of fresh air.
TEAM MEMBERS:
Patricia Lopez, David Wilbourne, Erin Brunner, Won Choi, and Kristin Fields