Creative. Connected. Curious. We are a design collaborative; inspired through partnership, thoughtfully creative, inherently curious and driven to fulfill our clients' needs.  Our approach to design is empowering and ego-free, forming proactive partnerships with our clients and project teams to create a shared sense of ownership throughout the entire creative process.  We design for our clients' clients, the people whose lives and experiences are enhanced by our work. We challenge ourselves to focus first on understanding the end user – the guests, customers, residents – while delivering on our clients' vision.  Interior Design, Architecture, Branding, Graphics, Strategy, Placemaking, Event Design.
bergmeyer.com

HOTEL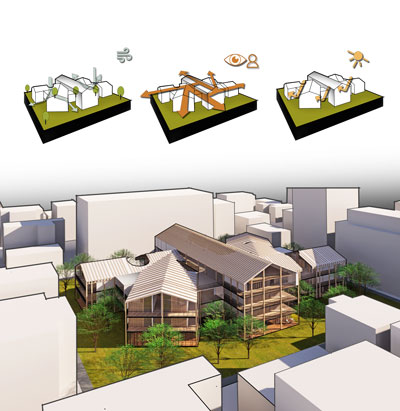 There are no one size fits all solutions for the future of hospitality. We boldly envision a hotel experience which strives to meet travelers' needs, both emotionally and physically. Being hospitable by bringing specialized experiences to travelers and guests whose comfort levels have been changed by the experiences of the global pandemic.
Ensuring that guests have ample access to fresh air, light, and natural elements will be the driving force for the organization of hotel public and private spaces. Guest rooms are individualized, entered from exterior spaces, and oriented to take advantage of exterior elements. These guest room clusters create the overall footprint of the hotel and create public spaces and courtyards for all guests to enjoy.
The hotel will respond to travelers whose needs have changed in terms of public and private spaces. Hotel amenities are designed to offer guests' experiences in communal, individual and virtual ways. A guest can choose to visit the sky lounge Fitness Studio, book a wellness guest room for private practice, or have
access to a virtual community through a wall sized screen in their guest room. The future guest's expectations won't simply raise the bar for the hospitality industry to deliver upon, they'll set a new standard of excellence to achieve altogether.
Using the future-fitness experience as our proof of concept allowed us to create a visual illustration of an actionable, replicable, and solution-based approach to designing for the future unknown. We strategically considered how this multilayered experience could easily be repurposed across several service offerings,
whether it be fitness, culinary, conference or entertainment.
A rooftop restaurant reinvents the dining experience, with additional VIP services that offer guests the rare chance to book a culinary guest room with chef-prepared/delivered meals, designed with a focus on a more personal, in-room dining experience. Curated events, programming and music take place in central courtyard spaces accommodating social distancing guidelines, with guests attending in person, from their terraces, or interacting from their rooms.
By rethinking the hotel experience, customizing guest rooms, and offering in-room amenities and custom-curated experiences, travelers can enjoy the hotel on their terms.
DESIGN TEAM
Amy Margolis, Jessica Williams, Anthony Kho, and JJ Nelson