Through the right mix of data, inquiry, and experience, B+H partners with clients to envision new possibilities that empower them to successfully flex with the demands of a fast-paced, dynamic marketplace. Our designs are: Thoughtful: Our curiosity is endless. We ask questions, listen, observe, and test new ideas. Data talks. Truthful: In our world, design reflects, reinforces and celebrates place and personality. Context matters. Experiential: Our work is driven by the user experience. We design with people in mind.
bhadvancestrategy.com

Working from home, when home is anywhere.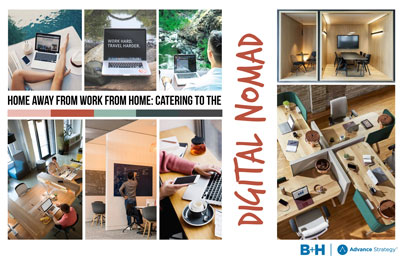 In a world where work can be done anywhere, anytime, we're going to need office space around the globe. Hotels can be the best place to find it. Why would we confine trips to the weekend, when we could spend a week, or two, or five, in a destination, getting in a full day of productive work? What if we could hit a white sand beach in the Caribbean for a lunch swim in pristine turquoise water before heading back for a few more hours of heads down time, feeling refreshed? What if we could start our Wednesday with a coffee and a fresh, warm croissant, then punch out at five and go spend a couple of hours getting inspired at the Louvre? A whole new era of travel is approaching, and we're going to need more than our father's business center.
With options on different floors, travelers staying at our hotels can rent a desk or small private office for a week or a day, maybe even a few hours. Primed with docking stations, dual monitors, incredibly comfortable chairs, and integrated F&B, the spaces would generate revenue for the hotel, while providing a much needed service for travelers. On some floors, this is a quiet corner office around the world, on others an active, energetic space next to the elevator lobby, bringing life and activity up, into the hotel while eradicating some of the more awkward rooms. Even people who've opted to stay at an Airbnb or with locals might opt to rent a desk out for a reliable place with the right equipment to actually get work done, and then run up a tab buying meals and coffee to keep them fueled throughout the day.
Opportunities for partnerships and sponsorships would abound – is this the first time someone gets a taste of a Herman Miller desk chair? Hotel branded backdrops and flattering lighting perfected for video conferencing are also ongoing marketing moments for hotels as travelers interface with their colleagues.
Hotels that make it possible to work from home away from home.
DESIGN TEAM
Katy Clark
Kailey Griffin
Allison Robinson
Cat Linton
Alexander Thomson