H O T E L   B R A N D S
---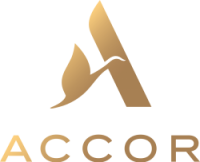 07 May 2020
by Juliana Hahn, Chains
Results are in: Accor reveals COVID-19 impact for Q1 2020
Accor experiences a downturn but remains optimistic overall.
Accor reveals that its Q1 revenue is down 15.8% like-for-like due to the COVID-19 pandemic's effect on the travel and tourism industry.
With the breakout of COVID-19 bringing many industries to a standstill around the world, it's no surprise that the hotel and travel sectors are hard-hit by security measures.
Now that the first quarter is over, companies like Accor are counting their losses and looking ahead at what future months may bring.
A look at the numbers
Accor revealed its Q1, 2020, financial information in a recent press release and reported €768 million in revenue. This is down 17% from the same time last year and 15.8% like-for-like.
RevPAR (revenue per available room) dropped by 25.4% worldwide. The decrease in RevPAR started in the Asia Pacific region, where the KPI fell by 33.7% and then progressed to Europe (-23.2%) and North America (-22.2%).
Currently, 62% of Accor's hotels are closed, meaning more than 3,100 rooms are currently not being sold. Operating properties are being used to house healthcare workers and COVID-19 patients with light symptoms.
Accor's mitigation measures
While Accor currently estimates a €170 million EBITDA shortfall for Q1, this number barely takes into account the company's drastic mitigation measures.
These include cancelling the dividend and suspending share buyback programs until further notice. Accor has also issued a travel ban, hiring freeze and reduced hour plans for 75% of global head office teams for Q2.
Cost-cutting measures paired with the group's strong financial position are a reason for optimism though. At the end of March, Accor had €2.5 billion in available liquidity and an undrawn credit faculty of €1.2 billion.
"The Group is in a strong position to address the current situation and we are taking aggressive measures to adapt our organization. Accor's recent transformation has left the Group with a robust balance sheet which will enable it to absorb the economic consequences of this crisis in the coming quarters. At the same time, we are preparing for the recovery alongside the authorities and professional organizations in the countries in which we operate so that the Group will be well-positioned to rebound as quickly as possible," said Sébastien Bazin, Accor's chairman and CEO.
Despite everything: Accor reports portfolio growth
Despite the difficult situation Accor and now finds itself in, the company still opened a solid 58 hotels with 8,000 rooms around the world in Q1. This brings the group's total number of hotels to 5,085 with 746,903 rooms worldwide.
Another 1,202 hotels with 208,000 rooms are currently in the pipeline, 76% of which will open in emerging markets. The launches of some of these new properties will likely be delayed due to the pandemic.
---
---
Since our founding 92 years ago, Marriott International has always placed an emphasis on health and safety for our guests and associates. Our founder, J.W. Marriott, used to personally inspect kitchens and guest rooms for cleanliness during his hotel visits. A high standard of cleanliness is in our DNA.The COVID-19 pandemic has required us to raise our demanding standards to an even higher level with new protocols for the current circumstances. To tell our story on how Marriott is elevating cleanliness standards and changing hospitality norms, across our portfolio of hotels, we tapped a hospitality veteran, the son of our founder and someone who, like his father, has been known to conduct cleanliness inspections while touring hotels – our Executive Chairman and Chairman of the Board, Bill Marriott. Take a look.
As you saw in the video, Marriott has put in place a multi-pronged approach designed to meet the health and safety challenges presented by COVID-19. Below is an overview of the key components of Marriott's Commitment to Cleanliness and you can read more details about our plan here.
Marriott Global Cleanliness Council
Consisting of in-house and outside experts in food and water safety, hygiene and infection prevention, and hotel operations, the council will work to develop a new generation of global hospitality cleanliness standards, norms and behaviors for our more than 7,300 properties around the globe.
New Cleaning Technologies
While our council develops its work, we have initiated plans to roll out enhanced technologies at our properties over the next few months, including electrostatic sprayers and the highest classification of disinfectants recommended by the Centers for Disease Control and Prevention and World Health Organization to sanitize surfaces throughout hotels.
When guests check into our hotels over the next few months, they will notice a number of additions to our cleaning regimen designed to set an even higher standard of cleanliness for the hotels as well as modifications to associate-guest protocols developed to be consistent with recommended social distancing guidelines.
The steps we're taking on cleanliness and new hospitality norms are as much about the health and safety of associates as they are about our guests. If we've learned anything during this pandemic, it is that we are all in this together. By taking care of associates and following these new protocols – we will be collectively taking care of our guests and the global community.

We are all facing an historic battle and most days it is simply about rolling up our sleeves to fight that battle. There are countless moments of humanity and resilience – I see them in how our hotel teams and individual associates are responding to the crisis around them. And that fills me with tremendous hope for the future.

We don't know when the COVID-19 pandemic will be over or when our lives will return to some sort of normalcy. But we want our guests and our associates to know that when the time comes to travel once again, we will be ready to welcome them back to a safe and clean hotel environment.

Until that time, please stay safe and healthy.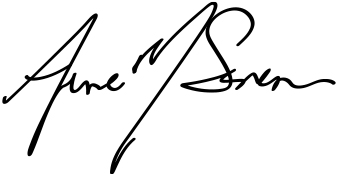 Arne Sorenson
President and CEO, Marriott International
---
April 30
Serenity Gibbons Former Contributor Entrepreneurs
I share insights gathered from purpose-driven entrepreneurs
3 Things You Can Learn From Marriott About Taking Care Of Employees
T

here's a good chance you've stayed at a Marriott hotel. The chain is one of the world's largest, with hotels in more than 100 countries. The nearly century-old company is also consistently voted one of the world's top employers. In fact, 85% of employees say Marriott International is a great place to work — significantly more than the 59% average for a U.S.-based company.
Even now, as the coronavirus crisis has forced Marriott to furlough tens of thousands of its staff, the company's leadership team remains committed to serving its employees as well as it can. CEO Arne Sorenson forfeited his salary for the year, and the rest of its executives pledged to cut their pay in half to reduce the financial burden on employees.
"I can tell you that I have never had a more difficult moment than this one," said Sorenson in his video address to Marriott employees, shareholders, and customers. "There is simply nothing worse than telling highly valued associates — people who are the very heart of this company — that their roles are being impacted by events completely outside of their control."
The Marriott experience isn't just about customers — in fact, it's primarily about employees.
Marriott has achieved rare status as a fortified category leader, despite heavy competition from companies like Wyndham and Hilton, as well as industry disruptors like Airbnb. This didn't happen by accident, and its industry prowess will certainly get the company through the current global crisis. The organization has long put its faith in the idea that taking care of employees would motivate employees to take care of customers, and that commitment has paid dividends.
From One Experience to Another
Business leaders in almost every industry agree that differentiation in the coming years will be a matter of offering superior customer experiences. When products and prices are similar, better experiences have the power to drive loyalty and create brand affinity among a consumer base that has more options than ever.
But here's the catch: Companies don't deliver customer experiences — people do. More specifically, employees do. If salary, benefits, and professional opportunities are largely equal from one organization to the next, employee experience is what separates your company and determines your ability to attract and keep top talent. Therefore, employee experience is critical to your bottom line and your ability to do business over the long term.
Once the pandemic has passed, rest assured: You'll be looking for ways to offer your employees an overall work experience that makes them want to stay. Now and into the future, you'll want to follow Marriott's model of practicing employee hospitality:
1. Help employees as you would guests.
Treat your employees exactly how you want them to treat customers, and you're likely to get positive feedback from both parties. Massive companies like Marriott International chiefly trust their brand reputations to desk clerks, housekeeping staff, and other frontline employees. If those employees aren't having a good experience at work, they'll have little incentive to make guests feel any better.
While hotel guests may be quick to ask for what they want, employees won't always do the same. That's why it's important to provide positive, meaningful feedback to keep them motivated and to make sure their needs are met. Gallup's research shows that employees who believe their managers have employees' success in mind are far more receptive to criticism, compliments, and advice. Thus, they're far more likely to adjust their approach to work in response to helpful feedback.
2. Align employees around your purpose.
You have a vision for your business's future. You won't be able to bring that vision to life without your employees, but they won't be much help if they don't know what your vision is. A 2019 survey from PwC found that only 28% of employees from around the world felt connected to their company's purposes; more than half weren't even "somewhat" excited or passionate about their jobs. However, at companies that communicate the value they provide to customers, at least 63% of employees feel some excitement, motivation, and even pride about their work. It goes to show that a sense of purpose and job satisfaction are deeply related.
After a recent acquisition and other major organizational changes, Marriott wanted to ensure its marketing team of more than 300 staff members was aligned on purpose. It partnered with Mitchell, a public relations firm, to organize a multi-day conference aimed at empowering the team with a clear purpose, resources to help drive their performance, and positive interactions with leadership. The experience gave the team a better understanding of the hotel business and its core business objectives, setting the stage for the next phase of growth.
3. Prioritize employee well-being.
David Rodriguez, Marriott's global chief HR officer and 2019's HR Executive of the Year, says the future success of the hotelier's business is completely dependent on its ability to foster a sense of well-being among employees. That philosophy has been ingrained in the company's DNA since the 1930s, when its founders hired a company doctor to care for employees as the business expanded.
Today, employee well-being looks like leadership salary cuts to get the company through the COVID-19 crisis, and the hospitality company is still providing furloughed employees with health insurance. Crisis aside, Marriott is a leading employer of veterans, ethnic minorities, workers with disabilities, and other segments often underrepresented in the modern workforce. The company also makes sure work-life balance meets employee expectations by giving birth mothers up to 15 weeks of paid parental leave and eight weeks to fathers and adoptive parents.
The end result of Marriott's efforts? By focusing so thoroughly on employee experience, Marriott has cemented its status as a brand that customers love. You can bet that vacationers and business people will be eager to book Marriott stays once they can travel again.
Serenity Gibbons is a former assistant editor at The Wall Street Journal. The local unit lead for the NAACP and a consultant helping to build diverse work forces, Serenity…
---
TOPHOTELNEWS Covid19 live blog roundup: hotel projects status in Europe
by Sorcha O'Higgins | 05 May 2020 | Projects
Empty Madrid during lockdown (Photo by: David Fernández)
We summarise updates shared on the TOPHOTELNEWS Covid19 live blog to draw a picture of how Europe's hotel projects industry is negotiating the ongoing crisis.
The international hospitality industry has been sent into a tailspin with the sudden onslaught of the coronavirus crisis. From lockdowns to travel bans and border closures, hotels, bars and restaurants are having to navigate more uncertain waters than ever before.
TOPHOTELPROJECTS has been tracking in real-time the developments within the industry as it reacts to the continuing crisis, and we recap some of the recent activity that has been happening in Europe in response to the pandemic.
The good
Leading with the good news, there is hope on the horizon for Europe's hotel industry. As restrictions are eased in countries such as Spain, Italy, Austria and Denmark, the hospitality industry is keeping a keen eye on developments and what they might mean for the reopening of properties and venues.
In Austria, one of the countries to be doing some of the heaviest lifting of restrictions, a date has been set for the reopening of hotels. On May 29th, Austrian accommodation venues will once again be able to welcome guests, but no doubt social distancing and strict hygiene regulations will be enforced.
Room Mate has outlined some new policies once the reopening of their properties in Spain occurs, with one strategy being to serve breakfast as room service as opposed to in a communal space.
Meanwhile in Germany, an ibis Styles in Nordlingen has had its official opening, but it is remaining closed for the time being until further restrictions are lifted. Over in Hannover, the new me and all hotel is not yet open, but is anticipating this in the near future as its booking system is now accepting reservations from the start of June.
The not-so-good
Of course, despite the silver linings in some parts of Europe for some properties and brands, the outlook for everyone is not that rosy. Many projects have been put on hold, a swathe of openings have been postponed and construction has stalled on other projects.
Construction on the Koncept Hotel Josefine Cologne should be completed by the end of May, but the property's managers have held off on confirming the opening of the hotel until they know more about the future of the crisis. The Yotel in London's Clerkenwell has also reached completion, but has not opened yet.
Despite the early lifting of restrictions in Denmark, the opening of the BOOK1 Design Hostel in Aarhus has been postponed, as has the opening of the Ibis Styles hotel in Klagenfurt, Germany, and the opening of the Adapt Hotel in Brunswick, Germany.
Many of the postponed openings have been pushed back to June, but it remains to be seen how the virus behaves once societies are reopened.
---
COVID-19 impact roundup: How Hilton is setting a positive example
by Juliana Hahn | 21 Apr 2020 | Chains
 A true industry leader, Hilton models how global hospitality groups can respond in times of crisis.

Although the coronavirus crisis has hit Hilton hard, the company is optimistic and focusing its efforts on supporting stakeholders at this time.
As the COVID-19 crisis continues to unfold, international hotel groups like Hilton are finding more ways to support their staff, local communities and healthcare workers.
But, of course, Hilton also faces immense losses due to travel restrictions and, in some cases, forced hotel shutdowns.
We find out more about how this hotel giant is weathering the storm.
COVID-19 impact on Hilton
After a strong start to 2020, the COVID-19 pandemic and its devastating impact on the hospitality and tourism industry quickly caught up to Hilton. With many hotels around the world temporarily closed or operating reduced services due to the plunge in occupancy, the group's revenue has plummeted across all markets.
However, with first improvements being seen in China, the company's CEO remains positive. "As a 100-year company that takes the long view, we are confident in our resilient business model, the performance of our leading brand portfolio, and our ability to respond appropriately to market conditions," Christopher J. Nassetta, President and CEO of Hilton said in a recent press release.
Mitigation measures taken by Hilton
To mitigate the situation and maintain liquidity, Hilton has taken drastic measures. This includes the CEO forgoing his salary for the remainder of 2020 and the executive committee taking a 50% pay cut for as long as the crisis will last. Corporate team members will be working reduced hours or will be furloughed. During this time, they will keep their health benefits and may be eligible for unemployment benefits, depending on their place of residence.
Non-essential expenses such as travel, or capital expenditures are suspended and new share buybacks, as well as dividend payouts, are on hold.
Supporting staff in hard times
Due to many Hilton properties temporarily closing their doors, the company has been forced to furlough many of its employees. To support them, Hilton has set up the Hilton Workforce Resource Center where team members in the United States get direct access to over 500,000 temporary jobs with companies like Amazon, CVS and Walgreens. More businesses and jobs are added regularly.
The Team Member Assistance Fund was set up to further support staff who are directly impacted by COVID-19 or have a family member who suffered from it. This effort is funded by donations of points, which are then converted to cash, or direct cash donations.
Standing by our healthcare workers
Apart from doing its best to support its staff, Hilton has also offered frontline healthcare workers support around the world. Most recently, Hilton announced it would provide up to a million free room nights to medical workers fighting COVID-19.
To ensure workers get easy access to these rooms, Hilton is working with 10 associations who represent healthcare workers who would otherwise have to pay for these rooms out of their own pockets.
"During this crisis, we have seen so many examples of medical professionals working in the most challenging circumstances, sacrificing their own needs for the greater good. They truly are heroes," said Hilton President and CEO, Christopher J. Nassetta in a recent media release. "We are honoured to extend our Hilton hospitality to them during this difficult time."
But it doesn't end with free or reduced-rate rooms. Hilton staff have been taking the extra step to make healthcare workers' lives a little brighter in this gloomy time, like the Hilton London Paddington, for example, which sent Easter eggs to all their medical worker guests.
Supporting local communities
Hilton's support also extends to local communities. Here are some great examples.
The Hilton Pune Chinchwad distributes food to workers on the frontline and neighbours in need. At the Downtown Embassy Suites in Knoxville, Tennessee, the valet lane was converted into a drive-through food pick-up station for service workers from local hotels, restaurants and bars who had been recently laid off. Finally, the Hilton Bournemouth donated its food supply to local care homes when it suspended operations.
Several more of Hilton's initiatives are listed here.
---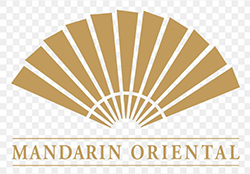 Mandarin Oriental leverages lessons of another crisis
GOSTELOW REPORT—"Two years ago the team looked at me rather strangely when I started talking about kindness. We had been weeks away from re-launching the hotel after a two-year massive renovation when J6 happened," says Amanda Hyndman, general manager of the 181-key Mandarin Oriental Hyde Park, London, and area vice president of Mandarin Oriental Hotel Group.
J6 was the hotel's much-publicized fire, on June 6, 2018, but from the start it has always been called J6.
"At the time, we did our utmost to keep our arms around our colleagues, supporting them both financially and emotionally. There were a lot of emotions and insecurities to tend to," she recalled.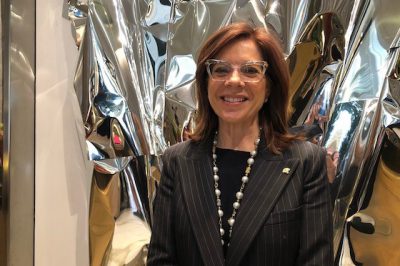 Amanda Hyndman, photographed in the welcome area of Mandarin Oriental Hyde Park, London, has put away her usual business attire for more normal times.
Owned since 1996 by Hong Kong-based Mandarin Oriental Hotel Group, the hotel retained, on full pay, its entire 600-strong team, including those running Bar Boulud, Dinner by Heston Blumenthal and The Rosebery.
''My main priority was to retain the team for the re-opening, and I knew that with so much time at home they could be bored and tempted to get other jobs. Everyone was so kind to us after J6 – from the Fire Brigade themselves and the Salvation Army to other hotels. They cared for guests and colleagues on the day itself."
To give back, FANtasticLondon enabled the team to volunteer, working with the underprivileged, including the homeless, senior citizens and local schools. They worked alongside colleagues from different departments and seniority to deliver, in all, 40,000 hours of community service before re-opening, and 7,000 hours after it.
"FANtasticLondon continues to an objective going forward. It really bonds the team, it supports almost 100% retention," the GM said.
The hotel re-opened on April 15, 2019, with the vision "to become one of the finest hotels in the world, reinvented and reimagined, through kind and generous service." Ironically, only 344 days after that glorious re-opening, the hotel had to close again because of coronavirus.
Once again, the team has been kept on (this time, the U.K. government makes up 80% of salaries). Once again, Amanda Hyndman is leading her troops, but this time partly from home as well as, in atypical smart-casual gear, visiting the property's skeleton maintenance and security personal several times a week.
"All virtually, I start with a senior team brief at 9 a.m. and a second one every day, same participants, at 3 p.m. They, in turn, lead weekly meetings with their own teams. We have regular update calls with department heads. Teams produce their own weekly fun newsletters. Senior team leaders check in with every individual for a weekly one-on-one just to check that they and their families are doing OK," Hyndman explained.
"Everyone can access our MyMO app, on which I upload a general update video every Friday. We have a new #StayingEngaged competition, to post pics and videos of what people are up to – we share recipes, wellness tips or highlighting new skills. All this communication is, in addition, complemented by purely voluntary daily learning and development activities led by HR, and by daily wellness videos from San Jose, California-based Grokker, to nurture hearts, minds and bodies."
Hyndman finds Microsoft Teams great for document sharing, video calls (small), and chats. Zoom is preferred for virtual meetings of 10 or more, and Skype is used for online training. When it comes to general messaging, and communicating with global colleagues she turns to WhatsApp, and for group calls it is LoopUp and GoToMeetings. The teams add Facebook and Houseparty too, she admits.
The entire team remains on standby. "Yet again, as was the case this time a year ago, we truly cannot wait to re-open and welcome our guests back. There will be more kindness than ever. This is our rallying cry for tomorrow."
---


Our Continued Efforts: We Will Travel Again
It's been three weeks since I last communicated with you about the dramatic impact of COVID-19 on our business. Sadly, since that time, we've all borne witness to how this insidious virus is impacting our families, our communities and our very way of life. What we're facing is daunting, but I am heartened by the moments of triumph in everyday acts of courage, humanity and love. Although these are trying times for us all, I remain optimistic that our world will thrive once again.
Today, I want to let you know how we're focused on supporting the communities where our associates live and work. I also want to provide you with an update on our room cancellation policy and Marriott Bonvoy status and points expiration dates.
In the Community
Marriott understands that the pulse of the world beats as one to overcome COVID-19 and its devastating impact around the globe. As we all watch the news unfold about this unprecedented event, it's clear that there is a need to assist and bolster healthcare workers and community caregivers who are on the frontlines working to contain this disease. To that end, we have established the following programs to aid in the urgent fight against the pandemic.
With support from our credit card partners, American Express and JPMorgan Chase, Marriott has committed to provide $10 million worth of hotel stays for healthcare professionals leading the fight against COVID-19 in the United States. The initiative, called Rooms for Responders, will provide free rooms in some of the areas most impacted including New York City, New Orleans, Chicago, Detroit, Los Angeles, Las Vegas, Washington, D.C. and Newark, N.J. To implement this initiative, we collaborated with the American College of Emergency Physicians and the Emergency Nurses Association to match doctors and nurses with free accommodations at participating hotels.
In a separate effort for frontline healthcare workers, we have joined with a number of our hotel owners and franchisee partners to launch the Community Caregiver Program. This initiative, available in the United States, Canada, the Caribbean and Latin America, provides significantly discounted rates for first responders and healthcare professionals who want to book rooms at hotels in close proximity to the hospitals where they're working. The rate is available on Marriott.com at nearly 2,500 hotels.
With both initiatives, our goal is simple – we want to support the frontline heroes who are selflessly supporting us.
Given the unprecedented disruption to the travel industry, a number of our hotels have, unfortunately, had to close temporarily. Even as the hotels were shutting their doors, associates from New Delhi, India to Santos, Brazil, have found multiple ways to support the communities in which the hotels are located. The Riviera Marriott Hotel La Porte de Monaco and AC Hotel Nice, for example, donated all of their unused produce and food products to a local children's charity, which provides housing and other services for endangered children. Many of our properties have contributed by providing food, pre-packed and cooked meals to crisis relief efforts and much-needed supplies like cleaning products, masks, gloves, anti-microbial wipes, sanitizers and shower caps for medical and other frontline workers. And in a beautiful sign of solidarity among us all, many of our teams have illuminated their hotel windows with symbols of love and messages of hope (some of these images are at the top of this email.)
For Our Customers
We remain committed to ensuring our customers experience flexibility during these challenging times, so we have further extended our cancellation policy and I wanted to give you an update on those changes.
For guests with existing reservations for any future arrival date, including reservations with pre-paid rates that are typically more restrictive, we will allow full changes or cancellation without a charge up to 24 hours prior to arrival, as long as the change or cancellation is made by June 30, 2020. Please note that any changes to existing reservations will be subject to availability and any rate differences.
For guests making new reservations for any future arrival date, including reservations with pre-paid rates, between March 13 and June 30, 2020, we will allow the reservation to be changed or cancelled at no charge up to 24 hours before your scheduled arrival date.
Please continue to visit our website for the most up-to-date information.
For Our Marriott Bonvoy Members
I also want to take a moment to address our Marriott Bonvoy members. Like many of you, frequent travel is a way of life for me and most of the Marriott team. It is the way we connect, get inspired and evolve our business every day. While it is the right thing to do, it's been hard not to be able to travel. We know that when you get back in the air and on the road, your points and status will be important to you.
Status Extension: We want you to be able to enjoy the status that you earned in 2019. With that in mind, the status you earned in 2019 will be extended to February 2022.
Points Expiration: To provide you ample time to redeem points, the expiration of points will be paused until February 2021. At that time, your points will only expire if your account has been inactive for at least 24 months.
As the days unfold, we will continue to monitor and evolve our program requirements as necessary.
We've heard from many of you asking how you can help. Through Marriott Bonvoy's Giving Platform, you can donate your Marriott Bonvoy points to relief organizations that are active in COVID-19 responses around the world and that Marriott is also supporting, including the American Red Cross, International Federation of Red Cross and Red Crescent Societies, UNICEF and World Central Kitchen.
Thank you for being a member of our loyalty program or simply for staying with us – we consider you a part of the extended Marriott family. We will travel again, and we can't wait to welcome you back.
Until that day comes, stay well.
Arne Sorenson
President and CEO, Marriott International
---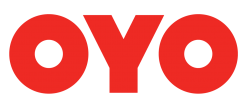 April 3, 2020
London, England
Diana Arakelian, Regional Project Manager, OYO UK
• What have been your greatest challenges so far?
Re-building all of OYO's processes, so we can continue working remotely during the pandemic.
• What do you think is most important to know about your business right now?
OYO is actively working to build partnerships and provide accommodation for NHS and other key workers who need to be close to their workplace or need to avoid returning to a household shared with more vulnerable individuals. We are offering low flat rates and a number of free rooms, so are keen to hear from anyone who might need our assistance.
• How are you able to stay positive amidst crisis?
I am lucky to be working in a team with extremely positive and supporting people, so we stand and support each other.
• Any WFH pro tips?
Stay active, exercise, meditate – a healthy body is the key to a healthy mind.
• Do you think any of the changes in how you do business could be permanent?
Yes, the remote process which we've set for Hotel owners to roll under the OYO umbrella are working perfectly well and we might consider keeping them after Covid 19 is over.
• What is your favorite social isolation hobby, recipe, tip for beating boredom? Have you picked up anything new?
Extra complicated jigsaw puzzles
---

As we navigate this worldwide crisis, our thoughts are with individuals and communities impacted by this unprecedented event. We remain steadfast and committed in helping our guests, staff, clients, partners and local authorities through this difficult situation.
As the public health response to COVID-19 continues, we are closely monitoring the Novel Coronavirus outbreak and have activated our response teams worldwide to provide 24/7 support to our guests and hotels.
We have given guidance to our hotels in terms of business continuity plans as well as implementation of increased cleaning and disinfection measures according to official World Health Organization (WHO), local medical and government authorities, and our leading hygiene partners. These measures include, but are not limited to:
Providing our hotels with ongoing instructions & briefings on operating/monitoring best practices and procedures required to ensure the safety of our guests and staff
Heightening our already vigorous hygiene and prevention measures to ensure the highest cleanliness and sanitary conditions, with enhanced cleaning protocols and disinfection products in place which have proven effective in minimizing the spread of viruses and contagions
The introduction of supplementary hygiene measures in some markets including the introduction of additional hydroalcoholic gel dispensers
While the severity of the crisis varies from market to market and hotel to hotel, properties that remain operational are fully committed to serving our guests, government personnel and other authorities that require our services. Nevertheless, in accordance with requirements from national and local authorities, some hotels may be temporarily closed or operating with limited services.
Accor has also advised all of its hotels to adopt flexible conditions in terms of cancellation or modifications for travelers with new or existing bookings through April 30, 2020. Accor continues to monitor the situation closely and will provide additional guidance and updates to its hotels as the situation evolves.
Of course, we recommend all travelers review guidance from the WHO and follow any travel advice issued by their home countries prior to travel.
We want to thank our guests, staff, government authorities and members of our health services. Our industry has never before been faced with such a challenge however our spirit of community and commitment has never been stronger.
---


April 2, 2020
Bill Marriott, Executive Chairman of the Board at Marriott International
The Party in Wuhan that Made My Heart Sing
In the midst of the unprecedented COVID-19 crisis gripping so many parts of the world, I was delighted to receive news this week that about 350 medical support personnel who had been staying with us at the Sheraton Grand Wuhan Hankou Hotel in China for the last six weeks or so were, at last, headed to their home cities and provinces as the pandemic there begins to abate.
Most of the medical staff in Wuhan staying at our other hotels (The Westin Wuhan Wuchang, Renaissance Wuhan Hotel, Wuhan Marriott Hotel Hankou and Four Points by Sheraton Macheng) have also departed for home.
We were honored to serve these heroes — in total more than 1,000 medical staff and journalists — who fearlessly risked their lives for their countrymen, and it was with great joy that we participated in a warm sendoff. Thank you, well done and Godspeed. Looking at the picture, you can see it was a beautiful celebration. The sendoff made my heart sing and gave me hope. We will overcome this crisis. I look forward to the days we can host similar celebrations across the world. Until then, please stay safe and stay healthy.
---
---