Founded by Larry Carver in 1983, Carver & Associates was a hotel specialist from the start, providing procurement services to the hospitality market, with the highest standards of integrity, transparency, and ethics. Carver & Associates grew carefully to include Consulting, Interior Design, Procurement, Project Management, Turnkey Solutions and Installation Management – and we bring our diverse understanding of hotel operations, construction, design, and management into every decision. Carver & Associates is now a global company with offices worldwide and maintains an excellent standing with over 45 leading brands including those by Accor, Hyatt, Marriott, Wyndham, Hilton, IHG, and Choice.
carverassoc.com
HOTEL PUBLIC SPACES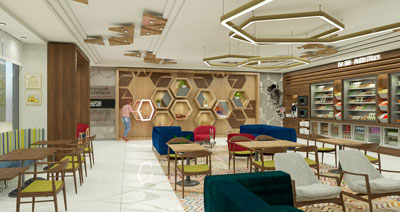 Knowing that guest comfort and safety will be paramount in the post‐Covid‐19 hotel environment, how do we minimize contact but not enjoyment, especially during mealtimes?
Grab‐and‐go and vending style foods will be abundant, however hot meals and familiar flavours will also be sought. Throughout this pandemic, restaurants continued to offer delivery and pickup services, and it's that concept we've extended directly into the hotel dining area. This model could be applied to budget hotels or be upscaled to a boutique experience.
Our design requires only a smartphone with a hotel app, allowing guests to order a variety of foods, be billed, and access the honeycomb inspired delivery system with Q or bar codes.
Restaurant drivers access an exterior entrance into a delivery room adjacent to the lobby, where the food cubbies line the wall. Access is granted electronically to a recently sanitized cubby by the front desk staff, and the guest's order is placed inside. The guest is immediately notified and upon scanning their unique code into the lobby area screen, the correct compartment automatically opens so they can retrieve their order, and then sit to dine nearby or retire to their rooms.
There is no contact between people or surfaces, no money exchanged, and compartments would be monitored and cleaned after use, offering a near endless variety of meal options and allowing many guests to utilize this system at one time and at their convenience.
Hotels could partner with various local restaurants for shared benefits, and/or delivery charges incorporated with companies like Uber Eats to extend variety. The cost of a fully operational kitchen is eliminated, replaced by this system and small preparation area to service the permanent market‐style wall of additional easy food offerings. These are also purchased and accessed by the app, and minimal staff is needed throughout.
Comfortable yet flexible seating arrangements, flooring changes indicting appropriate spacing at registration, and self‐check‐in stations complete this conceptual hotel, intended to provide each guest with a safe and unique dining experience, a regained sense of control, and a delicious familiar dinner too… perhaps with the hotel's signature honey.

DESIGN TEAM
Sidharth Bhatia, Sara Jabeen and Manuela Kennedy