2023
First Merit Scholarship resulting from the collaboration between the Master Interior Design and NEWH – Milano Chapter.
The winning project is among those carried out within the workshop on hospitality spaces coordinated by the Simone Micheli studio
2023 – As part of the 19th edition of the Master Interior Design, the "Merit Scholarship" of NEWH, global network in the hospitality sector, Chapter Milano, was awarded today, Friday 10 March 2023, among the sponsors of the Master of the Politecnico di Milano dedicated to interior design, managed by POLI.design in collaboration with SPD – Scuola Politecnica di Design.
The Merit Scholarship worth €2,500 is dedicated to innovation in the hospitality sector, and was established with the aim of enhancing and promoting the creativity and professionalism of young designers around the world.
This first acknowledgment is the result of the partnership between POLI.design and the Milan Chapter of NEWH, The Hospitality Industry Network, created to promote specialization courses in the hospitality sector, offer scholarships in the sector to build the leadership of the future, improve skills in the world of hospitality business and develop opportunities for exchange and networking of students with some of the most important companies and design studios in the sector in Italy and around the world.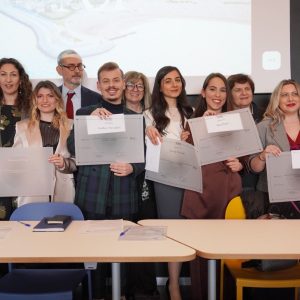 The winning group made up of Alessandra Orengo, Alessia Nicastro, Anna Skoula, Elisa Pinna and Gianluca Travagliati was decreed by the jury made up of Francesco Scullica, Giulia Gerosa, Angela Mazzotti and Cinzia Pagni, respectively Scientific Director, Deputy Director, Didactic Coordinator and teacher of the Master in Interior Design, together with Enrico Cleva, Marisa Corso, William Loloey of NEWH.
Among the distinctive features taken into consideration by the jury were functionality, technologies, environmental sustainability, but also the aesthetic quality of the presentation, considerations regarding the technical feasibility of the project and attention to materials.
Click here for more information
2021
POLI.design and NEWH Chapter of Milan begin a collaboration:
a reference point in teaching for the world of design and an international association join forces to support and promote the hospitality industry.