Achieving Design Excellence requires uncompromising attention to detail, profound reverence for quality and the guts to step out of bounds in search of a new approach. It goes beyond the surface and demands that every step of the process and every component of the project be examined for its value. D&D is a full-service integrated architecture and interior design firm. We are specialists in hospitality – hotels, resorts, residential lifestyle living and other facilities that are designed for public accommodation. Our work is throughout the United States, Canada, and Asia. Projects include both new construction and renovation. No two projects are ever alike.
ddseattle.com

Fishbowl Kitchen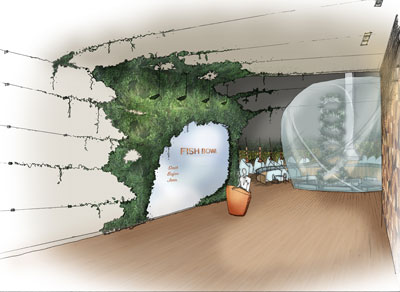 The COVID-19 pandemic has created tension between celebratory gathering and safety. Gathering in groups over a meal has been come a source of anxiety and uncertainty. Guests seek assurance of safety without the emphasis on sterility and hygiene.
Fishbowl Kitchen turns the dining experience inside out. It provides a highly personalized, fine dining experience that provides comfort and assurance and turns food handling into performance.
Transparency becomes luxury. The kitchen is brought front and center where guests can see their chef preparing every meal. The kitchen is the fishbowl, both a centerpiece display and spatial sculpture.
This indoor/outdoor, inside /out restaurant balances modern materials with elements of nature to promote a sense of well-being, health and connection.
Watch the team of chef's at stations within the Fishbowl. An herb tower at the center provides fresh ingredients on display and a connection to nature. Your personal chef prepares and plates your meal in full view bringing theater to food service. Your food never leaves your sight.
In this singular, personalized chef experience each guest is paired with a personal chef who will serve them exclusively. The moment you are seated your chef joins you tableside via video connection to discuss fresh options and special preparations designed to your particular tastes.
All fresh ingredients are stocked on hand. As your meal is prepared it is captured under a glass cloche and served by your chef on a custom cart. Contact is minimized yet everyone is united by the experience.
Tables are well distanced for safety and shrouded in garden pods. The design emphasizes an indoor / outdoor freshness that evokes dining al' fresco.
Fishbowl Kitchen turns restaurant service inside out. Putting everything on display in a fully transparent experience that brings the guest joy and confidence.