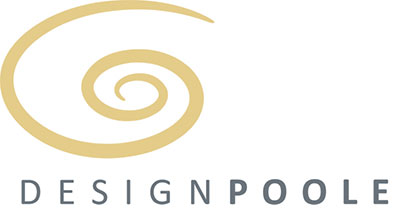 Design Poole Inc is responsible for creating some of the most inviting and relaxing get-away destinations in the Americas and beyond. The team of insightful professionals strike the perfect balance in delivering aesthetic solutions that capture the best qualities of a region, while providing a unique experience for each property.
designpoole.com

SOLARIUM SUITE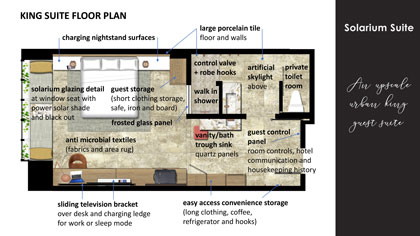 This upscale "Solarium Suite" embraces the look and feel of a new hospitality experience following COVID-19 with the combination of physiological and psychological positive design influences. The guest assurances begin from the exterior with architectural details at window sills selectively placing greenery for a natural biophilic invitation. Branded hotel technology guides you directly to your room for keyless access and guestroom management from a panel as you enter your sealed room.
When you reach your suite the open sky meets the inside where the interiors bask in a glow of simulated natural light from the lighting technology that creates a skylight over the bath area. Warm natural light lays over the smooth, clean surfaces of the guestroom giving added comfort to a cozy window seat and sleeping retreat. Vertical and horizontal non-porous surfaces are thoughtfully selected throughout the suite for easy maintenance and improved resistance to bacteria and virus.
The room immediately opens to a gracious vestibule presenting an innovative use of "stone-like" quartz panels integrating the design of a motion sensor hand sink on entry side with "easy lever" copper faucet on the interior of the bathroom. The bathroom's open layout allows easy movement from vanity, bath to shower functions with limited touch required. Large format quartz panels and porcelain tile on floor and walls lessen grout for clean and maintainable finishes. The guest sleeping area is a warm respite with modern appointments, clean details and minimal drawers required to clean. The warmth of the inherently nonporous cedar wood millwork provides positive assurances while warming up the cool urban palette. Smooth, cool quartz finish at nightstands and desk area include hands-free charging technology for devices and powered solar shades at windows giving guests the control to manage their interior environment hands free. Antimicrobial textiles soothe with softness at window seat, headboard, desk chair and area rug.
This Solarium Suite tells the age-old story of how man embraces nature for safety and security even in our modern urban environments when faced with epic challenge.
DESIGN TEAM
Jorden Adams, Jaymie Borchardt, Lindsay Spraul, and Jheanelle Brown