Attendees
Online registration is closed
Please note: we will not be allowing non-exhibiting vendors, consultants, or media on the show floor.
If you did not get a chance to pre-register, you can still join us!
Just stop by the attendee registration desk when you arrive for your entry badge. Please bring Business Card or complete this form and bring along to complete registration.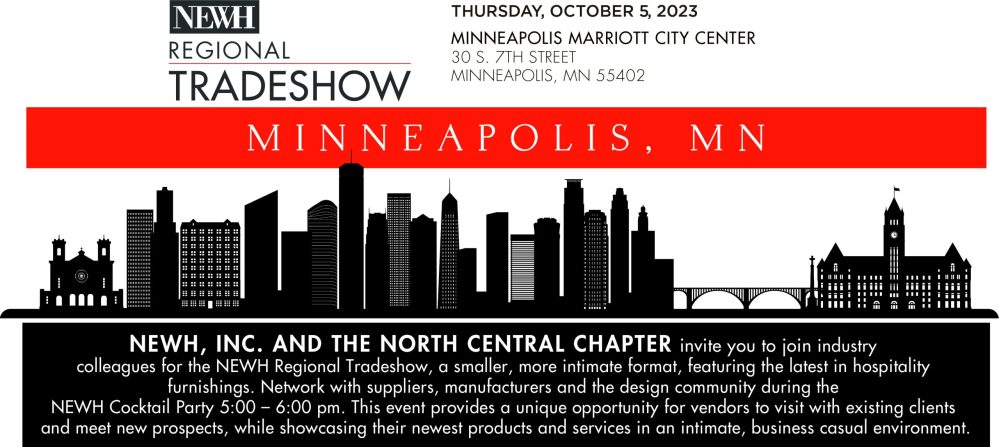 Show Schedule
12:00 – 1:00 pm
Panel Discussion
STATE OF HOSPITALITY
Join our 2023 NEWH North Central TopID Firms for a discussion regarding designing for the future! Panelists include: DLR Group- Valentina Castellon, National Hospitality Leader/ Principal and Danielle Farchmin, Senior Interior Designer / Senior Associate; Shea, Inc.- Cori Kuechenmeister, Director of Design / Senior Associate and Heather Sorensen, Director of Design / Senior Associate; Studio Grey- Alexa Bloom, Business Development /Account Manager and Amanda Maday, Owner / Design Director. Moderated by Leonardo Luciano, P/Kaufmann Contract.
Show Hours: 1:00 pm – 6:00 pm
This event provides a unique opportunity for vendors to visit with existing clients and meet new prospects, while showcasing their newest products and services in an intimate, business casual environment. There will be a food and cocktail reception held in the tradeshow floor area, allowing for additional networking and extended sales opportunities!
Free lunch provided in the exhibit hall for all attendees arriving between 1:00 pm and 2:00 pm. Get away from the office, grab a bite on us, and enjoy the show.
Student Networking Event – Meet and Greet the NEWH/North Central Chapter: 2:00-3:00pm
Join the NEWH/North Central Chapter members for networking and a lively interactive discussion on tips and tricks to succeed in the industry!
Door Prizes: 3:30 pm & 5:45 pm
Two $500 cash door prizes will be awarded to two lucky winners. Drawing will be held at 3:30 pm and 5:45 pm. You must be present to win. Visit the exhibitors at the show with your door prize card and collect 45 stamps to qualify. It's so simple!
Cocktail Party: 5:00 pm – 6:00 pm
Enjoy additional networking time with hors d'oeuvres and a cash bar.
Exhibitors
Booths sold out – Click here to be added to wait list