Online registration is closed – please join us for our next event!
Registration closed May 11th at midnight
CEU Course Description:
"Wellness Works" explains there is an evolution of space typology happening today. The way people desire to use space is fundamentally changing across a variety of vertical markets. As the lines continue to blur and spaces evolve to new visual standards, this CEU will tie key performance measures to design solutions that not only look fresh, but still function and perform to the highest standards.
Presenter Information:
Elem Quirino-Sanchez is currently an Account Executive of MDC Interior Solutions. Elem Quirino-Sanchez is an account executive based out of New York. She holds a degree in Biology and has worked in the A&D community for about five years. Previous experience include; inside sales for Maharam. Joined MDC in 2017. Outside of work you will find Elem exercising , reading, and spending time with family/friends.
Company:
MDC Interior Solutions is one of the world's largest sources of commercial wall designs and coatings. MDC's extensive portfolio includes eco-friendly products, digital imaging; acoustic solutions; handcrafted wall designs; dry-erase coatings; textured wall panels; luxury textiles; metallic foils; grasses; woods and Type II wallcovering. The company is known for its ability to produce solutions that meet the needs of the design community.
Presenter Contact Information:
Elem Quirino-Sanchez
Contact Number: 516-633-3089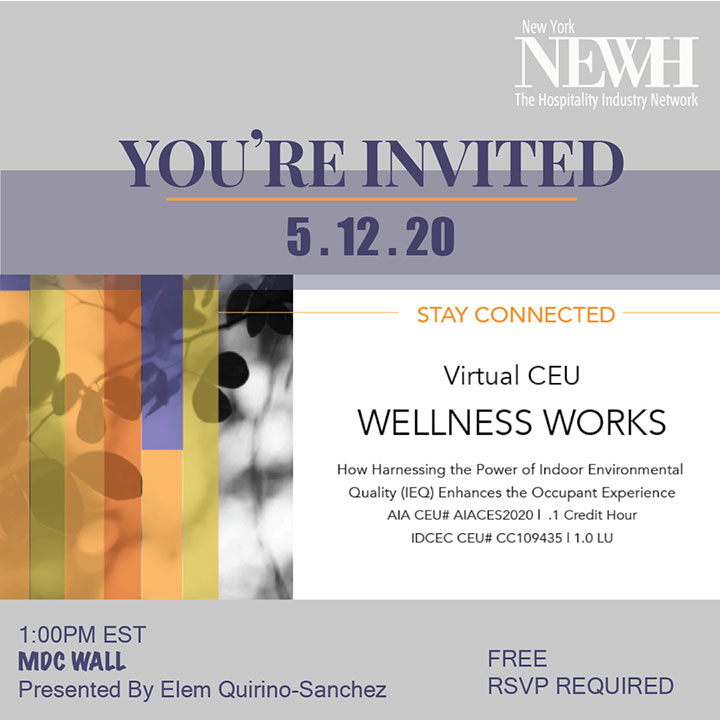 *An email will be sent to all registrants with login/connection information prior to the event – please be sure to indicate the correct email you'd like that sent to on the checkout page
Please note this event will take place May 12th at 1:00pm EST