ForrestPerkins is a renowned, award-winning firm known for designing hotels, resorts and residences that touch the emotions. We approach each design as an opportunity to tell a unique story and choreograph a personalized guest experience through attention to design, detail and service, inspired by a sense of place. With offices in Dallas, New York, San Francisco and Washington DC, our culture centers on collaboration across all of our locations and teams. A distinct studio of Perkins Eastman, our projects range from North America to Europe, the Middle East and Asia.
forrestperkins.com

PUBLIC RESTROOM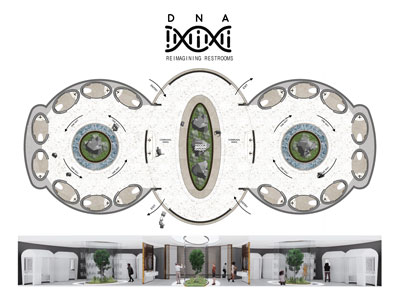 With social distancing and regular disinfecting now normalized, we were inspired to create a unique restroom experience with biophilic elements such as indoor gardens and water features, with generous space centered on completely self-contained, custom bathroom pods. Upon entry and exit, guests transition through seamless portals emitting UV cleansing light. Technology is used in wayfinding to help the user understand the layout, operation, and occupancy of the space. The view into the restroom is opened up, the hygiene stations have become a feature to be experienced as you travel around a large, oval interior garden below a grand skylight bringing in the warmth and wellness provided only by the sun. As one travels into the pod chambers, they're welcomed by a calming interior rain curtain and circular pool which also helps to filter the air and provides a calming soundtrack to the senses.
The pods incorporate touchless sensor and self-cleaning technologies and utilize anti-microbial finishes throughout. By design, these pods can stand alone, be positioned within a public space or even perhaps as a sculptural element in a beach-side resort garden. The pod facade can be one of great sculptural value to any space.
The design of the pod interiors can be easily scaled to fit any market. We imagine the luxury pod to be one of immersive and choreographed experience, with welcoming messages, soft transition lighting controlled by sensors, individual temperature control, personalized music, and even voice-activated ability to request a weather update or even assistance should one feel ill. All surfaces are seamless for ease of cleaning and instantly convey safety and cleanliness. The "plug-and-play" attribute of the pod design makes it flexible for a variety of applications – whether interior or exterior, traditional or "out of the box". Not only would this reduce construction schedules and lead times but it would provide an increased sense of calm and comfort for those using the facility while promoting health in a non-intrusive way. Regardless of the market application, the pod provides for a private, safe and curated experience – by definition, it is the new luxury we didn't know we needed.
DESIGN TEAM
Barbara Best-Santos, Toby Bishop, Jeremy Cembrano, Graham Fahye, Deborah Forrest, Kenneth Gray, and Rori Williams