Innovative Designed Environments Associates, Inc., is a Portland, Oregon, interior design firm specializing in the design and restoration of hospitality, commercial and historic properties. IDEA excels at shaping the unique aspects of hospitality design – creating spaces which are classic, timeless and eminently beautiful.
idea-interiors.com

PUBLIC SPACES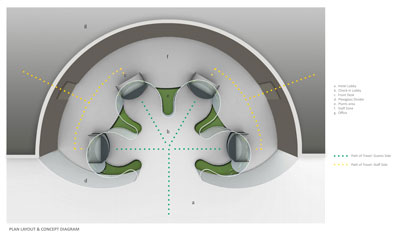 The design concept is to reconfigure the typical linear setting of check-in counters to adapt to social distancing. The counters are placed in an outward circular layout, allowing guests turning different directions and walking toward distanced check-in spots that are enclosed by transparent dividers.
The flower like shape that is formed by curved Plexiglas panels distinguishes public versus private areas, as well as creating opportunities for placing plants between check-in counters. There are cut-outs on glass panels for voices to pass through. The foliage patterns coincide with indoor plants to bring natural elements into the space.
The aspiration is to explore the fabrication possibilities of Plexiglas. In this design, the see-through dividers are not just simply present as a health barrier; its role has been redefined and transformed to a prominent design feature. This check-in lobby enhances the well being of the traveler experience during the post-pandemic period. The modular system of glass dividers can also be reassembled and repurposed at different locations or settings in the future.
DESIGN TEAM
Sophia Man