Kevin Hamby, RID, IDEC, ASID, IIDA
Founder & Owner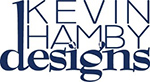 Kevin has always had the gift of creativity and artistry of design. Even as a child, and now as an adult, everyone who knows him, knows Kevin has that special combination of style and substance, form and function. He is inspired by distinguished interior designers, from the celebrated Dorothy Draper to Kelly Wearstler, Candice Olson and Lauren Rottet, each of whom fuels his ambition to be just as exceptional. Over time, the refinement and cultivation of Kevin's design aesthetic allowed him to create spaces that are engaging and dynamic, while being comfortable and inviting. His design style captures the essence of transitional style with a flair for glamour.
Kevin is the founder and owner of Houston-based interior design firm, Kevin Hamby Designs. Prior to launching his company in 2013, Kevin was employed as an associate interior designer for Kirksey Architecture, one of Houston's top 10 Architecture and Interior Design firms. Working at Kirksey gave Kevin exposure to a broader base of clients, such as River Oaks Country Club, Minute Maid Park-Houston Astros, Lakeside Country Club, Baylor College of Medicine and Landry's Seafood Restaurants, Inc. Prior to Kirksey, Kevin worked for Portfolio for Hospitality where he learned about the world of exceptional hospitality design and visited HD Expo several times to really immerse himself into what hospitality design is today.
In addition to running his company, Kevin is also the Program Coordinator & Faculty – Interior Design Program, at Houston Community College (HCC). Each Spring he leads a commercial design class with the goal of teaching students how to design, specify, and document hospitality projects. Last year's project was called "Designing Dining" – a collaboration between Interior Design & Culinary Arts students with the purpose of designing a 20,000 sq.ft. conceptual restaurant that reflected and represented the culinary student's cuisine. The project culminated in a student portfolio show of each design and a tasting of the food.
Kevin's involvement with NEWH started when he was in school. He was a past scholarship recipient and eventually served on the Houston chapter board for a couple of years as Scholarship Director. He remarks, "It was a fantastic experience and [I] was so proud of all of the students who received grants. Working at HCC, I am excited that our students [can] apply for these scholarships. Last year, two of our students received awards [and] I could not be prouder of them!"
Kevin graduated Magna Cum Laude from the University of Houston with a Bachelor of Fine Arts in Interior Design and a minor in Architecture. He is a Registered Interior Designer and holds a license to practice from the Texas State Board of Architectural Examiners. He is currently pursuing his Master's Degree in Human Science/Interior Design from Stephen F. Austin State University. Kevin has also been the President of the University of Houston LGBTQ Alumni Association for the last two years.