During a time when face-to-face interaction is not possible, we want to give industry members a place to stay connected with their network of hospitality peers. NEWH will provide video conferencing for all of its chapters and regional groups and will continue to connect its chapter boards and members to one another. Look for more specific information on each chapter/regional group website.
Now as then … we need to stand together and take care of one another. This industry is very special, we are all family – we are huggers – when will we be able to hug again? My heart is breaking for all of us. Please stay home and take care of yourself and your family because I want to see you soon and collect that hug!
---
Happening this week…
CHAPTER/REGIONAL and CEU Online Events – click here
---
A Nice Thought and Reminder From One of Our Members
Keep reaching out
Look at all the incredible work design firms are doing
Continue to network
Stay positive
Take a break from your computer and call a peer
Update and refresh your social media profiles
Focus on what you CAN control….
Cheers,
Chris Chmura
NEWH/Pittsburgh Region
Newport Brass and Ginger
---
---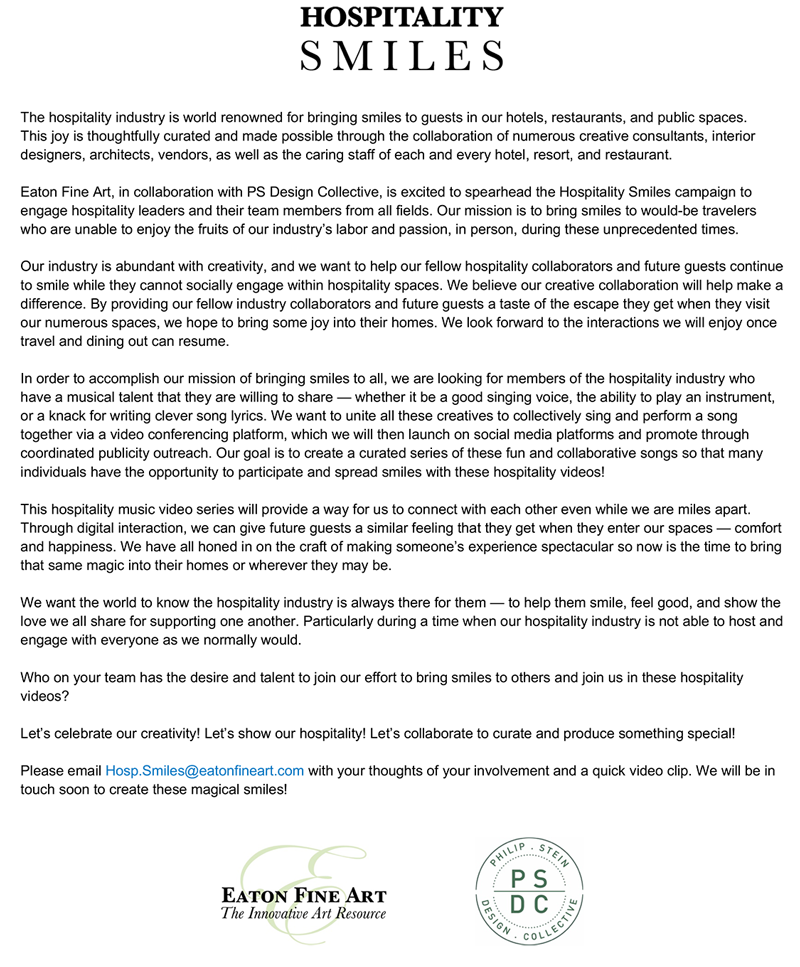 ---

TOPHOTELNEWS Live Blog roundup:
How hotels are helping during the corona crisis
by Juliana Hahn | 15 Apr 2020 | News
Four Seasons, New York. Hotels around the world are stepping to offer support in these difficult times.
Hotels with heart: From food and cleaning supply to donation to offering rooms as quarantine units or as a place to stay for healthcare workers, hotels around the world are stepping up.
While the hospitality industry has been hard-hit by the COVID-19 pandemic, many hotels around the world are doing their part to make a bad situation a little easier to bear.
Rounding up info shared by the hotel community on the TOPHOTELNEWS Covid19 live blog, we find out which steps hotels are taking to ease the stress caused by the coronavirus.
Donations of unused food supplies
Many hotels getting ready to close their door temporarily have donated their unused food supplies to staff or local charities. Event organisers facing last-minute cancellations of large dinners and parties as well as airlines have done the same, thus offering their staff and those in need welcome help in this time of crisis.
"We had planned for a 600-person plated lunch and a 1,000-person dinner," said Kayla Petsche, Pacificwild's director of sales. "But with the cancellations and food already ordered, we wanted to ensure our community benefited by donating the food to a local meal-provider like Blanchet House."
Welcoming healthcare staff and supporting hospitals
It is undeniable that healthcare workers around the world deserve help and support available in these trying times. To do their part in this, hotels have started offering free or reduced-rate stays. The Four Seasons Hotel New York, for example, which is temporarily closed now, will house doctors, nurses and other medical workers free of charge. Other hotels, like the Gran Hotel Colon and the Marriott Auditorium, are supporting hospitals by offering rooms to mild-case coronavirus patients.
The cruise industry is also doing its part. Carnival Cruise Line has offered to provide shifts for use as temporary hospitals for non-COVID patients, so they don't risk infection due to a hospital stay.
Being there for staff
Although many hotels have furloughed their employees, especially the larger groups have pledged to support their teams at this time.
Hyatt has set up its Hyatt Care fund, to offer funds to staff who are in financial distress due to hours being cut. Accor has launched a similar program and has even promised to foot the hospital bills of employees who don't have health insurance but need treatment for COVID-19
---


Shelby Williams | Falcon | Thonet | Howe
March 27, 2020
Steve Cohen, Corporate VP Sales & Marketing
For NEWH
EPICURUS AND THE RECIPE FOR HAPPINESS
If you believe Lennon and McCartney were right when they said, "Money can't buy you love," then certainly a fancy car or expensive handbag will not bring you happiness. Today's world is a fast paced, commercialized environment is designed to create a constant state of personal dissatisfaction. This environment is meant to make you feel like shimmering things will make you happy or happier.  It has been proven that a constant pursuit of more money, more belongings or more status can strip us of our happiness. Certainly, money and status can be good things, but if they do not truly make you happy, what will?
Epicurus was a Greek Philosopher born in 340 BC and is thought to be one of the original leaders on the topic of happiness. Upon reading lessons thought to stem from his teachings, it is amazing how relevant his thoughts are today.
Epicurus had a simple 3 ingredient recipe for happiness: friendship, freedom, and an analyzed life.
For friendship, the thinker believed that you must surround yourself with people you know and love. In fact, he tested this theory by buying a home outside of town and asking his circle of friends to move in with him. He learned it was not enough to just be surrounded by friends – you must engage in personal relationships. In today's world, we talk a lot about social media and the pressure it puts on ourselves and our relationships. Many believe that sites, like Facebook, prey on our insecurities and even cause us to feel isolated from friends, when the site was meant to bring people together. I might argue in a digital society like today, social media helps people that would otherwise lose touch, stay at least somewhat connected. Yet, I know we are individually responsible for our own relationships and our own happiness. We must learn to identify and choose who makes us happy and invest in those relationship whether it be in person or digital.
Epicurus' second principle is freedom or self-sufficiency. Becoming financially independent will without a doubt eliminate certain fears and insecurities. However, there is more to the thought of self-sufficiency besides monetary motivations. We are each capable of unlocking personal freedom, pursuing a career and spending our time doing what we love. We are all working to earn money and build financial security. Hard works is rewarding and an important element in happiness for most people. Epicurus would have said freedom was a journey, not the destination. 
Lastly, an analyzed life is an area where many of us lack focus. In a world that is 24 hours of email, tweets and getting pinged, who has time to analyze his or her own life? Epicurus believes that in order to be happy, you must be able to stop and think about your life and what makes you happy. In a sense, you must really consider how you spend your day, who you may spend it with and if these things are fulfilling to you. I am sure there are nerves and concerns about your job, the economy, your health or the health of others. It can all be so exhausting. These feelings probably come natural to you because you have been locked in your house for the last several days. Yet, what have you done with your time?  People I have spoken to have baked cookies for the family or played a game. Almost everyone has called a friend or family member they have not spoken to in a long time. But when you go to bed at night or wake up in the morning, I hope this change is something you embrace. Hopefully you can take a few minutes to think about what is important and who is important to you. 
These are not happy times in the common definition of happiness. However, I hope you can take a moment to think about the lessons given to us by Epicurus. Happiness is a gift, not a gift that you can buy yourself at the mall or something someone else can give you. It is truly something we can control and can give to ourselves. The truth is, happiness costs nothing, but it takes a concerted effort on our part to achieve and maintain it.
Times like these will test the happiest and most optimistic among us. Try and consider the teaching of Epicurus and focus on friends, family, clients and work associates while doing some soul searching about your definition of freedom and what in life really matters to you.  
March 29, 2020
New York, NY
Sasha Cohen
The Pros and Cons of Streaming Performance
As people wait to be admitted into a theater, nothing builds anticipation more than colorful Playbills, anxious audience members and bright flashing lights boasting a show's title. Once they are in their seats, the proud, closed curtains command their attention just before the unbelievable talent emerges. Such an experience is truly something that cannot be replicated, yet due to the COVID-19 outbreak and subsequent social distancing, how can anyone watch the performing arts without leaving their houses?
Luckily, services and artistic companies, like The Met and PBS, are providing streaming services that bring high-quality plays and other performances to our computer screens. Yes, these programs provide an amazing opportunity to explore artistic facets that are typically inaccessible, but they also raise a concern. If we grow accustomed to watching any form of entertainment from our bedrooms, the possibility of the performing arts becoming entirely digital is not as far-fetched as we may think. With this in mind, now is an essential time to consider the advantages and disadvantages behind both forms of execution to recognize that one cannot replace the other.
While everyone should have access to the performing arts, our expensive world tends to wrongfully characterize them as exclusive through expensive ticket prices. Fortunately, streaming artistic performances promotes accessibility. By watching on a laptop, absurd ticket prices are immediately reduced or eliminated and commuting to a faraway theater is no longer necessary. Not only this, but the footage is high-quality, helping viewers feel as if they have front-row seats, even though they paid nowhere near what those seats would cost and are not sitting too close to other people.
While film is for the screen, theater is for a stage. Theaters set the mood, creating a dramatic, almost luxurious experience the second audience members sit in their seats. They keep the drama contained, which makes each moment theatrical. Music beautifully resonates off of the stage, traveling from people's ears down to their toes, and the immersive scenery transports people to the story's realm. Whereas at home, a TV speaker's fuzzy resonance, the slightly crooked picture on the wall and a sibling's obnoxious chewing — something we are probably all too familiar with — take away from the overall experience.
In person, seeing more than two shows in a day is difficult to achieve. Most venues only offer matinee and evening performances, run a selection of shows and ticket prices for multiple performances add up quickly. Online performances allow a viewer to see an infinite amount of classic operas, ballets, musicals and even comedy acts in a short amount of time. People can then obtain a greater understanding and appreciation for the diverse types of performing arts.
Watching any sort of play, dance or comedy is undoubtedly a priceless experience, even if it is online. However, numerous streaming services only provide mainstream classics with big names. These types of performances are nostalgic and valuable, yet they do not typically support local theaters and their original content. If the performances become completely digital, this accessibility will jeopardize smaller productions and their artists, potentially leaving thousands of individuals unemployed and preventing innovative content from flourishing.
The performing arts are transformative because they intertwine personal narrative with performance, permitting audiences to connect with moments of individual instances. Everyone deserves to witness such impactful experiences without worrying about a price tag or distance. Yet, once these performances transfer online, the power, content and jobs theaters provide will disappear. So, as we currently spend more time at home, please take advantage of the abundance of entertainment that is available — but remember to support and attend live performances once the theaters open again.
---


Shelby Williams | Falcon | Thonet | Howe
March 25, 2020
Steve Cohen, Corporate VP Sales & Marketing
For NEWH
Happiness and Doing Business
Have you heard of the Science of Happiness? It is a casual term for the field of Positive Psychology, which did not exist until Dr. Martin Seligman and Dr. Mihaly Csikszentmihalyi created it in 1998. Positive Psychology is not a fad or self-help mumbo jumbo; it is the study of wellbeing. I find the topic fascinating. Traditional psychology focuses on negatives or areas we are deficient in, helping us improve, whereas Positive Psychology focuses on maximizing the good in life. So, what does this have to do with selling your design concepts or furniture for that matter? Sales trainers teach us that relationships are paramount to success. They are the centering point in our personal and work lives.
Regardless if you are in Sales or Design, you probably know a question is the basis of uncovering the information needed to guide the presentation process. After all, how do you know what the client wants without asking?  Did you know a question also builds relationships and passes on happiness? Allow me to explain. According to research, human connection is vital to business. The quality of these connections affects how individuals flourish, ultimately impacting the organization as a whole. There are two types of connections: life-giving and life-depleting. Life-giving connections are strong, resilient, genuine, and supportive, often building trust and providing care individuals need to feel secure. Life-depleting relationships are antithetical. They hurt other people due to their lack of interest, communication, empathy, and overall disengagement. None of us are negative in our approach, but I recognize that sometimes emotion or time constraints can cause me to communicate in this manner. Almost all of us can be more life-giving by enhancing our connections with people.
What is a life-giving question? According to the Wilson Learning Corporation's Counselor Selling Technique, you have two question types: fact-based and feeling-based.  A fact question is designed to get the customer talking. They are noninvasive and do not require the client to expose uncomfortable things. An example would be questions like, "How long have you worked here? Have you ever seen one of our projects?" Who is your typical customer? Feeling based questions are aligned with life-giving relationships and reserved for later once you have established rapport. What do you hope your customers say about your renovation?  What type of people do you expect to attract?   How long do you want a person to stay in your facility? These types of questions ask the client to expose opinions, values, strategy, or objectives.  It takes a certain amount of trust to get an honest answer.  Working through this, allowing the client to share their thoughts and ideas will make them feel good about the exchange.  The more they reveal, the happier they are the more trust they are extending to you.
Thought-provoking questions will generate more interaction than whether or not someone likes the color blue or green. That interaction and conversation will build on the relationship, adding to the life-giving phenomenon. To develop life-giving or high-quality relationships, studies say you must be focused and completely "unplugged" from technology or other preoccupations. Make eye contact, respond thoughtfully, and ask questions. Interacting in this nature will allow an individual to feel safe and put trust in you. As a result, this person will respond in kind naturally (due to a release of oxytocin, which reduces anxiety and increases activity in the sympathetic nervous system) creating feelings of vitality, aliveness, and positive regard. All of this makes good sense and, in regular times, would be more easily achieved.
How do we do this in today's environment?  We cannot meet in person, so there is no eye contact. Many of our clients will never return to the formal office daily. The home office will probably grow in popularity. So, consider the following suggestions for the near and long-term future:
Video calls are awkward for those not accustomed to it, but I encourage you to try Google Hangouts, Zoom or other tools to help create deeper connections. Millions, if not billions worth of software, is sold this way and often have zero in-person experience.
Provide thoughtful email response vs. "Okay" or an emoji. Know your customers are worried about the economy, their families, and work. Avoid dwelling on the negatives related to these topics. Talk about something their kids are doing to cope. I was talking to Jordan McInturf, VP of Sales for Shelby Williams, and he is playing a game with his kids every night as they eat dinner. To some, that sounds painful, but to him, it is fun and fulfilling. When I heard the story, it made me feel good about his family time and how he was making the most of this situation.
Take a moment to thank a customer for an order or something nice they did for you. The handwritten note is almost a lost art form.  I believe it will make people happy to receive one.
Call a person just to see how they are. In this fast-paced world, I am guilty of rushing through this at times, but allowing the client or employee to have a few minutes to tell you how they feel, what they see, what neat thing just happened are all keys to the relationship.
It's not just about the client. We should consider our own teams. Consider what Michael Uhler of Specified Agents in Atlanta is doing. He is working with his team to create a plan of attack once his clients start seeing him again. Who will Specified Agents see first? What do they want to present?  What can the factories they represent do to help? To me, this is exciting work. It is like a battle plan that everyone on the team can contribute.
While different things make each of us happy, quality relationships, if nurtured, will bring joy and business to everyone. So, take some time to learn from Dr. Martin Seligman and Dr. Mihaly Csikszentmihalyi.  Focus on the positives during a time full of negatives. Remember, the right question, followed by active listening, maybe the most powerful relationship-building tool you have and will undoubtedly make your customer happy!
---

March 16, 2020
I hope you are well in the France, Uk and US!
Italy and Lobardy in particular, has been hit very badly by the virus. Our region has an excellent public and free healthcare system, worldly well known, but in some areas it is in critical conditions due to the number of infected people which are keeping hospitals under an extreme pressure. 
It is simply a matter of numbers, as this virus sends too many people to hospitals, and all at the same time. Healthcare is generally not prepared for massive numbers of infective patients in need for intensive care. There would have not been any reason for it! For many of us the virus is like a flu, but for too many, it is a bad pneumonia with the need of life support.  
The cut of all social relationship is the only way to stop it or slow it down, so we are all at home, working remotely or just waiting for this emergency to get to an end. For Sara and myself it is easy as our office is directly connected with home. 
The situation for the economy is quite complicate as most businesses have been closed and no-one knows when the economy will start again. France and Spain seems to be just a week late, but in similar conditions. Germany will come as well as the rest of Europe. We have so many exchanges and travels that viruses do not recognize borders or languages. 
Tourism and events have been hit badly, and in consequence everything related to hospitality. Hotels and restaurants are either closed or empty. 
This virus is really shaking the pillars of our economy, and there will be a brand new world economy system to rebuild. 
I hope the earth and our environment, not only money, will be at the very center. 
Everything will be ok!
All the best,
arch. Enrico G. Cleva IDC