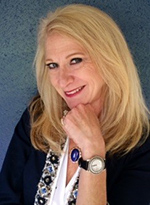 Mary Phelps
Strategic Account Manager, Healthcare Leader
Mary is a Strategic Account Manager for Sloan, a manufacturer of commercial plumbing systems and products. She works with architectural firms, mechanical and plumbing engineer firms, designers, mechanical contractors, wholesalers, and even some plumbers. Mary focuses on educating these industries about Sloane's products, familiarizing them with the products and company, and working with them on specific projects. While Sloane doesn't make residential products for guest spaces in hotels, they offer a designer sink series that can elevate any design and a full line of commercial china products, flush valves, and sensor faucets.
From a young age, Mary always wanted to be in design. She received a great scholarship offer from Exxon to go into Chemical Engineering at Texas A&M University (TAMU), but she notes that "chemical engineering and I didn't really get along so she transferred into [another] program." She eventually wound up with an Industrial Distribution (ID) degree, but design was always where her heart was.
Upon graduation, she worked for Brown Oil Tools selling down hole fishing equipment for oil rigs and was later laid off after the oil bust of the early 80s. Not one to let this setback dissuade her ambitions, Mary joined American Standard in the plumbing industry. As the first female factory rep in the city of Houston, Mary gained a lot of experience, through successes and challenges – most notably "from the industry [she] called on, not [her] employers. Every single person who worked with one particular wholesaler… didn't want to work with [her] because [she] was a woman." Mary went on to prove that she was more than cable of doing her job, staying 32 years with American Standard, before accepting a leadership role with Sloane.
Several years ago, Mary became a member of the NEWH / Houston Chapter after a client's recommendation. She feels it's been a great organization and wonderful networking opportunity, where she's developed not only good solid business relationships, but also personal relationships. Her enjoyment in NEWH stems from her pursuit to become a mentor to future generations. Mary wants to help and encourage women to follow their dreams and discover their own career path in the industry. Her advice to young women – "Go get what you want, it's not going to come to you. You may get push back, but work hard to be the best you can be."