Since 2009, MatchLine Design Group has been transforming hotels, resorts, spas, corporate offices, multifamily properties and active adult living facilities throughout the country with a shared vision to provide relevant, current design for clients. Principals and co-founders Lesley Hughes Wyman and Tamara Ainsworth helm the Dallas-based multidisciplinary firm, which is a WBENC-Certified Women's Business Enterprise. The entire team of tightly knit, dynamic Designers ensures each property's locality is highlighted in a distinctive narrative, while executing ideas with great care and attention. The team has seen the successful completion of many notable full-service hotel projects with Embassy Suites, Tapestry, DoubleTree, Hyatt and Marriott properties and independent hotel properties. Named a Top Hospitality Design Firm for the past four consecutive years by Hotel Management, the team brings all elements of design and construction together just as pairs of match lines on architectural drawings join to create a cohesive plan.
matchlinedesign.com

Norms Café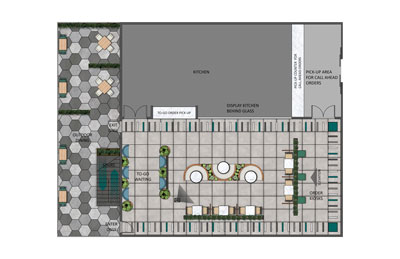 Norms Cafe—the new neighborhood go-to for fast casual eats—is a one-of-a-kind private garden dining experience, with both indoor and outdoor seating options. In the post-COVID dining era, newly conceptualized exclusivity dining zones will be considered a sought-after feature. Minimizing feelings of social separation, or the longing for the nostalgic, pre-COVID restaurant experience, Norms' design will prioritize authentic materials, biophilia, and a thoughtful floor plan. Through placing an emphasis on patrons' connection to nature, Norms will bridge the gap between the 'old' and 'new' F&B experience—reassuring patrons that dining need not sacrifice connectivity, socialization, beautiful design and delicious food.
Verdant greens, crisp whites and light wood tones underscore the fresh, open space that highlights the exclusive seating groups. Resin-coated, wood divider panels create subtle divisions between seating groups, with easily cleanable flush surfaces. Similarly, tiled and wall-covered surfaces throughout support ease of scrubbability for enhanced cleaning measures enforced by the CDC. This hygienic materiality will be communicated to patrons through signage, conveying that the brand, ownership and staff are implementing even higher cleaning standards than before.
Those dining-in will be required to utilize a numbered reservation system, receiving phone alerts when their table is ready (read: safe) to be seated. Guests will find QR codes custom printed on their tables for pop-up menus on individual devices, and single-use paper menus will be provided for those without mobile technology. Phone-in orders have a separate entry, minimizing gathering while waiting. Upon entry to the main dining area, walk-in to-go orders will follow an integrated path of color tile floor accents at specific intervals. These subtle visual cues allow for guests to maintain proper distance, leading them to semi-private order kiosks. The pathway then leads past the display kitchen, where guests may view food preparation and witness measures of kitchen cleanliness en route to the pick-up order station. Semi-private bench nooks with ample greenery and spacing provide a safe waiting area.
Utilizing a design scheme that prioritizes nature—including soft lighting, human-scaled terrariums with lush plants, and anti-microbial materials—Norms Cafe provides unparalleled ambiance, proving that the 'new order' of dining need not sacrifice good design.
DESIGN TEAM
Tamara Ainsworth, Lori Cupp, Khrystina Gullett, Katie Hendrix, Elsie Kuruvilla, Emily Rager, Jessica Ruiz, and Lesley Hughes Wyman