Founded by Anissa Mendil, WELL AP, and Ben Meyer, AIA, Mendil + Meyer Design Studio is a team of designers, architects and creatives who are committed to the creation of conscious, purposeful spaces that delight, relax, and heal.  An important part of intentional, or conscious, design is understanding what makes people feel good about the space they are in. Given our European origins, our perspective is global, and this has served us well in understanding the diverse needs of different cultures when designing for clients serving an international clientele.  Where possible, we look to incorporate ideas and materials that contribute to wellness and sustainability—values that have long been important to us both personally and professionally.  As experienced professionals, we understand the importance of collaborative relationships built on empathy and trust. Guiding the project from start to finish, we recognize things change and there is always the need for responsiveness, resourcefulness and flexibility.  This open, dynamic exchange also exists between the disciplines of architecture and design. Rather than existing in separate silos, we maintain a flow of ideas back and forth. Working in this way—from the "inside out" and the "outside in"—not only enhances the interplay of creative ideas, but also results in greater efficiency and ultimately, a better product.
mandmds.com
HOTEL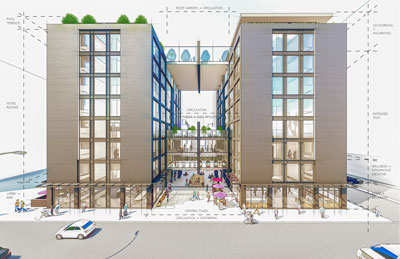 To consider a post pandemic urban hotel we started by revisiting the essence of hospitality; 'the friendly and generous reception and entertainment of guests, visitors, or strangers'. To achieve this there needs to be a feeling of safety, transparency, and choice for guests (as well as staff) which will promote trust, loyalty, and a sense of responsibility to those in their care.
Hotels will rise and be the heartbeat of the community where locals and travelers alike see them as a place to gravitate to. A property that offers a variety of amenities from accommodation to nourishment and from a place to work to a sanctuary to revitalize. Should a pandemic happen in the future, they can quickly flex to become a command and treatment center.
Split into two distinctive wings, conventional hotel on one side with restaurant/fitness/wellness/extended stay and co-working on the other, the multiple functions will create different revenue streams where cross pollination of uses will activate the property.
The central courtyard is the first touch point for the hotel as well as a place for the community to gather, reminiscent of a European Plaza. The rooftop garden brings biophilia to an urban landscape with the benefit of growing produce for the onsite F&B outlets, achieving a degree of sustainability and self-sufficiency. Multiple outside spaces allow for access to fresh air and connection to nature all in a controlled environment, promoting health and wellness as a foundation.
The hotel offers the ability to control circulation both vertically and horizontally with secondary elevators accessed from the exterior courtyard which allow for minimal human interactions and the connecting transitions can be closed off at the midway points via a rain curtain. This level of control will allow for each function to be completely independent if required.
Daily fitness, meditation and wellbeing classes can be attended in person or steamed live to guest rooms and the wider community where the sense of inclusion is maintained but physical interaction is limited to those who want to be in their own spaces.
Hotels beyond COVID-19 will be community focused at their core: flexible, safe and supportive.
DESIGN TEAM
Anissa Mendil and Ben Meyer