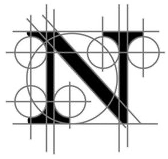 Since its inception in 1994, Niemann Interiors has delivered transformative interiors that delight in uncommon and unexpected ways. With expertise in hospitality, commercial, and residential design, Niemann Interiors focuses on surpassing your expectations in execution, service, delivery, and commitment to your budget, while providing you exceptional interior design.  Niemann Interiors has grown steadily and specifically on a foundation of strong relationships and repeat business.           niemanninteriors.com
HOTEL PUBLIC SPACES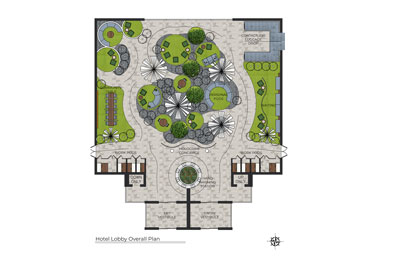 In a world of uncertainty, guests will find refuge, harmony, and calming biophilic design in the hotel lobby of the future. Guests are enveloped in a cocooning sense of serenity as they enter a space, lush with indigenous plants and the soothing sounds of nature and music. This greenery not only provides a beautiful texture and connection to earth, but offers natural barriers to keep guests safe without instilling a sense of enforced division. Organic looking solid surfaces add bright clean materials, while copper accents are utilized for their aesthetics and inherent anti-microbial properties.
A temperature scanner guarantees the admittance of healthy guests into the lobby. A one-way circulation path is established upon entry as guests are led by flooring changes to a sculptural handwashing station. Guest check-in is touchless as they proceed straight to voice-activated elevators. The guest looking for a more personalized experience may virtually interact with live hotel staff via screens or a high-tech concierge hologram. Contactless luggage drop is also available for guest convenience.
The lobby will remain a sanctuary for guest socializing, working, and waiting, while also continuing to be a revenue builder for the hotel. Personal pods are available for small groups or individuals that wish to be connected to the hotel community experience, but benefit from the safety of clear enclosed pods. The pods glow with an accent UV-C light that is both aesthetically pleasing and helps to sanitize the space. The modular design is adaptable to many lobby sizes.
A connection to the outdoors and sunlight is important in making a guest feel safe. Floor to ceiling windows and a retractable glass ceiling maximize the amount of natural light in the space. The lighting reinforces the lobby's cleanliness and transparency that keeps guests feeling connected without being physically close.
This lobby design exhibits how all spaces can be reimagined to create a safe, organized, and peaceful experience for their users. We believe that design can continue to drive and facilitate human's innate desire to gather and commune together safely in a post COVID-19 world and beyond.
DESIGN TEAM
Pam Niemann
Suzanne Meyer
Kelly Wilhite
Hannah Anderson
Rendering company
Genesis Studios