Our vision is to enrich our communities' quality of life through innovative, holistic, and cost-effective solutions. Pond's staff of 550+ professionals provides a deep bench of experience and the capabilities to offer customized solutions that help clients manage projects from concept to completion—and everything in between—with confidence and clarity.      pondco.com
SILVER LINING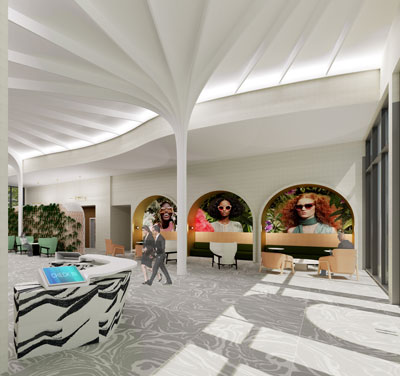 A stir within basic human interactions causes opportunities for a design resurgence
Hotel Silver Lining is a mid-scale, full-service hotel opening in 2022. The lobby of the Silver Lining embodies the reawakening of the hospitality market with a guest journey focused on Flexibility, a Spirited Escape, & Wellness.
Thoughtfully composed spaces provide experience options to suit all levels of comfort, so guest feels safe and at ease. An inviting lobby envelopes guests with an environment that allows collaboration, focus, or a private retreat.
The spacious layout allows guests to move freely at their preferred distance. The Arch Alcoves create refuge for guests in individual or small group clusters. The Focus Nooks are a twist on the classic business center and communal table by offering separate enclaves that open to one another and to the outdoors.
Our palette is inspired by a re-enchantment with nature allowing guests to seek refuge in an immersive environment. Light fresh colors inspired by the earth's elements are layered alongside interesting textures and organic forms, creating a unique identity that feels fantastical and enchanting.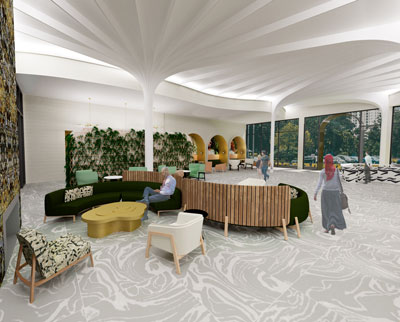 Using Evidence Based Design fundamentals, the interior is centered around the use of natural materials and of biophilic elements, with increased natural light and views and access to the exterior, creating an interior of magic realism where the realistic setting is invaded by nature. Finish materials such as terrazzo flooring, antimicrobial and bleach-cleanable fabrics, and nanoseptic coatings on all frequently touched surfaces promote cleanability and lessen the spread of germs. To enhance guest comfort, handwashing sinks are incorporated into the design.
The technology used empowers guests to make choices within their comfort level, to consider the impact it may have on the guest experience. Not only does the Enchanted Market grab and go increase revenue with its convenient location, it also helps to protect staff and guests with its self-pay feature.
Human Nature craves social interaction and a resurgence with the natural world. Silver Lining desires to impose a sense of awe and inspire us to become a part of something greater than ourselves. It shows what is possible and gives hope.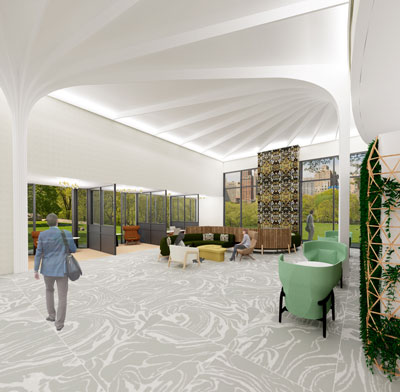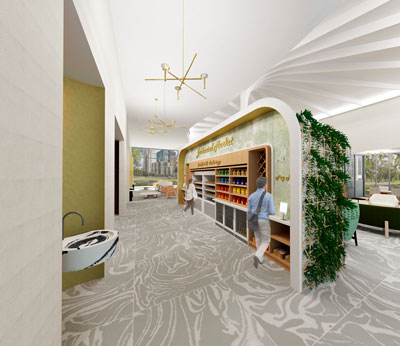 TEAM MEMBERS:
Anna Dis Sveinbjorndottir
Hart Owen
William Mathis
Margaret O'Neil
Paige Ivey
Esther Maldonado