For 33 years, we have committed our practice to performing meaningful work that strengthens community. Housed in one of the most energy-efficient buildings in the USA, Rice Fergus Miller blends the personal aspirations of its team, with a vision for sustainable and vibrant communities. We are proud to be a Certified BCorp and our integrated practice of Architects and Interior Designers work across five markets including: Civic, Community, Healthcare, Hospitality and Housing. We believe it is our responsibility to be your partner, to help you craft your vision, identify and confirm your goals and to create a plan that can be executed successfully.
rfmarch.com
Phantom Restaurants: Off-Site Profit Leaders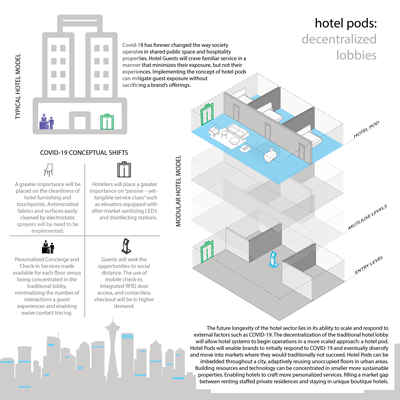 The current hotel restaurant model is unfortunately a profit loss in most cases. The kitchen, although able to serve double duty in providing for both the restaurant and the room service, takes up valuable square footage that could be better utilized. By removing the hotel restaurant from the immediate premises, the owner is able to re-imagine that space as a lobby coffee shop and bar or profit-generating event and meeting rooms.
The phantom restaurant concept is a standalone kitchen without a dining room, located in an area close enough to provide delivery to the hotel in a timely manner but with significantly lower rent. Utilizing a hotel's software app, the guest can order food from anywhere on-site via their personal device and have it conveniently delivered to their location of choice.
Using a fraction of the space that was once used for the on-site kitchen, a transfer station would accommodate the delivery and reception of the prepared food. On one side of the wall, the delivery driver would place the items into drawers that would maintain the desired temperature of the food, either cold or hot as needed. On the other side of the wall inside the transfer station, a staff member would retrieve the ordered items from the drawers and deliver them to the guest's desired location. Or, if preferred the guest could receive the delivery with the use of their mobile room key, thus reducing unnecessary contact between individuals.
DESIGN TEAM
Kenya Jones
Jamie Hysell
Hotel Pods: Decentralized Lobbies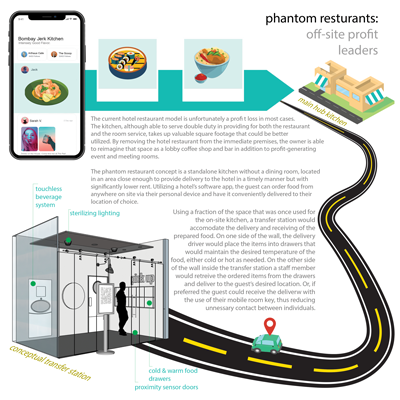 Covid-19 has forever changed the way society operates in shared public space and hospitality properties. Hotel Guests will crave familiar service in a manner that minimizes their exposure, but not their experiences. Implementing the concept of hotel pods can mitigate guest exposure without sacrificing a brand's offerings.
Hoteliers will place greater importance on "passive – yet- tangible service clues" such as elevators equipped with after-market sanitizing LED's and disinfecting stations.
Personalized Concierge and Check-in Services made available for each floor versus being concentrated in the traditional lobby, minimalizing the number of interactions the guest experiences and enabling easier contact tracing. Guests will seek opportunities to social distance. The use of mobile check-in, Integrated RFID door access, and contactless checkout will be in higher demand. Greater importance will be placed on the cleanliness of hotel furnishing and touchpoints. Antimicrobial fabrics and surfaces easily cleaned by electrostatic sprayers will need to be implemented.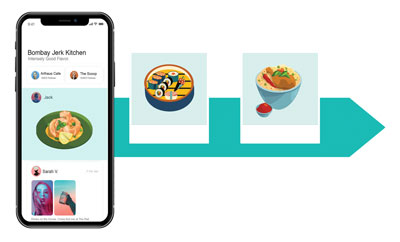 The future longevity of the hotel sector lies in its ability to scale and respond to external factors such as COVID-19. The decentralization of the traditional hotel lobby will allow hotel systems to begin operations in a more scaled approach: a hotel pod. Hotel Pods will enable brands to initially respond to COVID-19 and eventually diversify and move into markets where they would traditionally not succeed. Hotel Pods can be embedded throughout a city, adaptively reusing unoccupied floors in urban areas. Building resources and technology can be concentrated in smaller more sustainable properties. Enabling hotels to craft more personalized services. filling a market gap between renting staffed private residences and staying in unique boutique hotels.