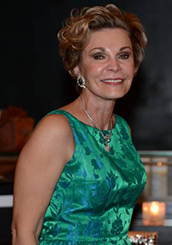 Click here to donate to the SUSAN CROWDER SCHOLARSHIP FUND.
The Arizona Chapter of NEWH is broken hearted that we have lost our own, Susan Crowder on December 31, 2016. Holding a variety of positions from Programming Director to President of our chapter, Susan brought an energy and freshness to our group that enlivened everyone. It was known to us all that Susan first and foremost loved her husband, Steve, her daughters, Rachel, Jade, and Amber and most of all, her eight grandchildren (or as she jokingly referred to them – her baseball team). In the immortal words of Tom Jones, "She's got style, she's got grace, she's a winner" is how we choose to remember Susan Crowder.
Susan will be dearly missed…but not forgotten.  To contribute to the NEWH ARIZONA CHAPTER SUSAN CROWDER MEMORIAL SCHOLARSHIP FUND click here or call the NEWH, Inc. Office at 800-593-6394.
This scholarship will be administered by the NEWH/Arizona Chapter and awarded annually.