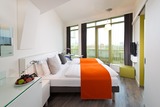 From

CI Press Releases

June 26, 2019
Abstract: Conservation International Senior Vice President for Global Policy and Government Relations James Roth released the following statement today on the Save Our Seas Act 2.0 (S. 1982) ​Arlington, Va.…
Abstract: Conservation International Senior Vice President for Global Policy and Government Relations James Roth released the following statement today on the Save Our Seas Act 2.0 (S. 1982)
​Arlington, Va. (June 26, 2019) – Conservation International Senior Vice President for Global Policy and Government Relations James Roth released the following statement today on the
Save Our Seas Act 2.0
(S. 1982):
The Save our Seas Act 2.0 is a welcome bipartisan effort to confront the marine debris crisis through alignment and innovation. It establishes funding for cleanup response, innovation for a circular economy, enables smarter disposal, and prioritizes marine pollution in future international negotiations. For the life-essential benefits of healthy oceans, including breathable air and a stable climate, this is a welcome demonstration in US leadership.
​​
The Save Our Seas Act 2.0, introduced by US Senators Sheldon Whitehouse (D-RI), Dan Sullivan (R-AK), and Bob Menendez (D-NJ), aims to reduce the production of plastic waste, repurpose plastic waste already in existence for additional use to keep it out of the Earth's oceans, spur innovation and tackle the plastic debris problem on a global scale. Also, Senators Lisa Murkowski (R-AK), Tom Carper (D-DE), Rob Portman (R-OH), Cory Booker (D-NJ) and Chris Murphy (D-CT) sponsored the bill.
Roughly 8 million metrics tons of plastic waste is annually mismanaged, thrown into oceans and has broken down into the marine food chain so far that it has been found in the Mariana Trench, the deepest known point in the ocean on Earth.
About Conservation International
Conservation International uses science, policy and partnerships to protect the nature that people rely on for food, fresh water and livelihoods. Founded in 1987, Conservation International works in more than 30 countries on six continents to ensure a healthy, prosperous planet that supports us all. Learn more about Conservation International, the groundbreaking "Nature Is Speaking" campaign and its series of virtual reality projects: "Drop in the Ocean", "My Africa," "Under the Canopy" and "Valen's Reef." Follow Conservation International's work on our Human Nature blog, Facebook, Twitter, Instagram and YouTube.
​