Miss any of the La Pause European webinar series? click below to check them out!
NEWH European Webinars – La Pause
24 September 2020 – Hotels
15 October 2020 – Trade Fairs/Shows
19 November 2020 – Manufacturers
17 December 2020 – Designers
21 January 2021 – Sustainability in Hospitality
18 February 2021 – Biophilia in Design
18 March 2021 – The evolving cruise sector (apologies, no recording available)
22 April 2021 – Hotel Industry Perspective
20 May 2021 – Wellness & Spa
21 October 2021 – What's next
25th July 2022: A great evening for our Chapter: many people at NEWH / Milan summer cocktail party, a lot of members and more and more new friends! It was fantastic being together in the prestigious location of Crowne Plaza Hotels & Resorts Melchiorre Gioia in Milan and meeting before the summer break. See you in September with new events and dates with Hospitality DNA.
24th June 2022: Happy Birthday NEWH Milano! Just 2 years but NEWH Milano is growing fast. Special guest at Grand Hotel Victoria Concept and Spa *****L for Celebration in Menaggio – Como Lake, Chris Tucker, President at NEWH, The Hospitality Network. (click here to see all photos)
3-4 May 2022 – NEWH/Milano at GUEST LAB – We were very proud and happy for had finally the opportunity of meeting all the board and the members at Palazzo delle Stelline in Milan! A lot of people dealing with or interested in the world of hospitality who had met together, to know each other and for business networking. Enrico G. Cleva, President of NEWH Milano, Francesco Antonio Scullica from Politecnico di Milano, Andreas Profanter from NOA, Gianpietro Sacchi and Alberto Zanetta, our partner of POLI.design" were top speakers during the meetings in the morning. (click here to see all photos)
25 November 2021 – NEWH/Milano 2022 TOP ID Awards: The Winners were Gasstudio , Studio D73, Ceccaroli Architettura.  (click here to see all photos) Click here to for the Facebook video
22 October 2021 Great NEWH/Milano Networking Cocktail last October at Raddisson Collection Hotel in Milan. NEWH/Milano presented to its members the best practices of hospitality and design world. (click here to see all photos)
23 September 2021 – NEWH/Milano @Guest Lab by Teamwork Hospitality (click here to see all photos)
NEWH/Milano 2021 TopID Award Winners (click thumbnail to see photos)
Studio alberto Apostoli
CaberlonCaroppi
Studio Marco Piva
June 24, 2021 – Milano's first in-person networking/membership event. NEWH/Milano Birthday. The first NEWH/Milano took place and it was a wonderful to finally meet friends and colleagues in-person after month of on-screen exchanges. (click here to see pictures)
Click on image to view video.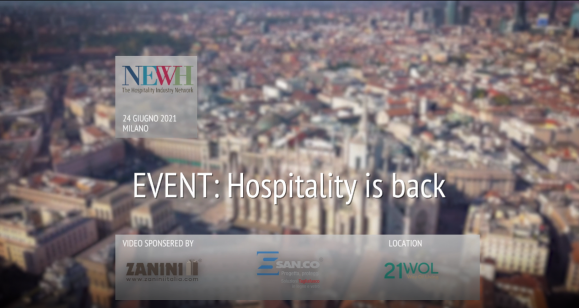 June 9, 2021 – Italy: Heritage, Design and Beauty; new ways of living (see also The most beautiful villages in Italy and Borgo Office – Smart working and farm supporting in an italian borgo)

Recognizing design excellence: the prestigious TopID award of NEWH for the best in the hospitality industry.
We are honored to award the prizes to Studio Marco Piva, CaberlonCaroppi ItalianTouchArchitects, Studio Apostoli

Check out the Video below!
Video sponsored by – Loloey – Resstende Srl – RH Contract

25 November 2020 – NEWH/Milano Alle Event
(click here to see all photos)
13 October 2020 Hospitality Day
(click here to see all photos)
1/2 October 2020 – NEWH/Milano Design City Event
(click here to see all photos)
July 2020 NEWH/Milano AREL Aperitive Event (click here to see all photos)
25 May 2020 NEWH/Milano Members Cocktail online!
NEWH Milano Chapter hosted Italy's first meeting online on 9th of April, 2020 with great audience and massive interactive engagement! Click here for a summary of the meeting
See meeting video below!
31 January 2020 Milan Chapter Founding!