June 8, 2023 – Another successful NEWH "Enchanted Garden" TopID and Scholarship Gala in the books! This annual fundraiser helps support the mission of NEWH Rocky Mountain Chapter and its scholarship fund so that we can continue to fund our important scholarships that help the next generation of our hospitality industry. This year we were able to give away $12,000 in scholarships to three deserving students. A HUGE thank you to our annual sponsors and gala event sponsors – we couldn't do this without your generous support!  @newhinc #NEWHEnchantedGardenGala #newhtopid
February 23, 2023 – The NEWH Rocky Mountain Chapter had a fabulous time at our first Student Scholarship Info Event kickoff, at the Tarkett Hospitality showroom in downtown Denver. We were joined by 15+ students from a variety of local Colleges & Universities within the Colorado area. Our event focused on helping students understand the process of applying for the NEWH scholarship. We offered free headshots by our very own VP of  Administration Kyla Chambers, with Kyla Chambers Photography, capturing their best side to get them ready to enter the professional world, and an opportunity to network with many of our members and our 2023 Top ID recipients.
A big thank you to our Scholarship Committee: Ashley Aniston – RMC Scholarship Director, Kyla Chambers – RMC VP of Administration, Aurora Salinas – RMC Programming Director, Andrea Vergani – RMC Co – Chair Scholarship and, Sylve O' Rourke RMC Marketing Committee.
Take a peek at who was there – check out the videos:
May 12, 2022 – The Rocky Mountain Chapter held a Membership Appreciation Hotel Tour on May 12th, 2022 at the Catbird Hotel in Denver, Colorado. The event took place on the Catbird's amazing rooftop with views of the Denver skyline. 64 guests were in attendance and toured the property, stopping at 5 key locations along the way. Each stop showcased a different feature of the property and was discussed by an expert involved on the project. Experts included – Will Balinbin of Sage Investments, Stephanie Gearhart from DLR Group, Jonathan Fu from CF Kent, Aleksandra Kaplin and Amanda Arguello founders of Swan Dive Design Studio, and Kelli Groh from Absolute Procurement. The weather was beautiful, and the event ended with cocktails and networking, membership gifts, and a door prize staycation to the Catbird Hotel. (click here for entire photo album)
April 2, 2022 – The NEWH/Rocky Mountain chapter board of directors held a board training session hosted at OZ Architecture. It was a great day of learning, planning, and networking!
May 15 2021 – NEWH/Rocky Mountain host a Virtual Mentoring Event. Students and mentors gathered virtually to gain powerful advice that will help them with their future careers. We had a group of panelists from all aspects of the hospitality industry ; Art consultant, Purchasing agent, furniture fabricator, carpet designer, independent sales rep, and an interior designer who did senior living. The valuable insights into their specific aspect of the hospitality industry helped them to see that they can use their creativity in many other ways than just interior design. Each panelist discussed what the ideal candidate would be at their company to give the students more paths to explore after they graduate. We had 11 mentors and 22 students register for the event.
April 29 2021 – NEWH/Rocky Mountain hosted a Virtual Regional Mixer. The Rocky Mountain encompasses several states and it is not often that we get to mix and mingle with our design friends in other states. In this unique virtual format, we were lucky to have three design firms from throughout the region discuss projects that they have worked on. Denton House Design, InnSpace and Chipman Design Architecture presented their incredible projects that all left us inspired.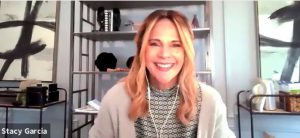 March 25, 2021 – NEWH/Rocky Mountain together with NEWH/Atlanta welcomed Stacy Garcia presenting 'Embrace the Uncomfortable: How to overcome your fear and live a life of purpose' – Miss it? click here to check out the recording!
January 28, 2021 – NEWH/Rocky Mountain rang in 2021 with Sound Healing and Visioning for the New Year. The Rocky Mountain Chapter provided their organization with a much needed mental health break from the crazy year that was 2020. Ann Martin, a sound artist, provided a sound healing session using quartz crystal singing bowls. She provided content that allowed attendees to relax, and envision their goals for 2021. The sound healing was used to spark creativity and open up the mind to bring about a sense of rejuvenation our industry needs for 2021.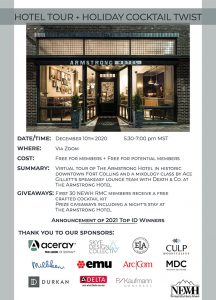 December 10, 2020 – Over seventy of our Rocky Mountain Chapter members gathered virtually to celebrate the end of another year, and the occasion was truly one to remember! We kicked off our tour of the Armstrong Hotel with a mixology class hosted by Ace Gillett, the speakeasy located within the hotel. Together we created a French 75 using the ingredients from our cocktail kits that were provided by our incredible sponsors, and generously dropped off to our front doorsteps. Before moving into the tour portion of the evening, we learned that Shalls Design Studio, our hosts for the tour and designers of the Armstrong hotel were selected to be one of our chapters Top ID Firms for 2021! What an incredible honor, and a sweet surprise for the ladies of Shalls Designs studio and our guests! Our tour portion of the evening was hosted by Sara Shalls and Crystal Nodsle of Shalls Design Studio, they were the masterminds behind the project. They walked us through the incredibly rich history of the building, and the unique elements that they added to the space that paid homage Old Town Fort Collins, and the historic charm of the building.What we could not have anticipated was how successful the virtual format of the tour would be. We were blown away with what was quite possibly the best tour any of us had ever attended. Through a series of stills and short video clips, we were able to see how the whole design unfolded. We learned of the challenges faced and even heard firsthand from some of the manufacturers who worked on the project. The way that Sara and Crystal walked us through the space made us feel like we were truly there! Perhaps the designers said it best themselves, "The Armstrong is a rare gem to be celebrated through thoughtful interior architectural details, modern décor and vintage finds." It was truly a unique experience that we will never forget! The energy we received from sharing a few laughs, and a festive beverage together reminded us of how things were before, and it was a great way to say our goodbyes to 2020. We ended the evening by giving away two one-night-stays at the hotel provided by our sponsors, Nine dot Arts and Better Lighting Design. Congratulations to our prize winners, and congratulations to our 2021 Top ID winners that were announced during this event: Shalls Design Studio, Johnson Nathan Strohe, and HBC Design Group! We look forward to curated event to celebrate you in 2021!
A special thank-you to our hosts, Sara Shalls & Crystal Nodsle, and a special thank-you to our sponsors for the evening, Aceray, Skye Design Collectiv, ELA Sales, Culp Hospitality, Milliken, Emu, Arc Com, MDC, Durkan, Delta, & P/Kaufmann Contract., Faurot Construction, Nine dot Arts, and Better Design Lighting.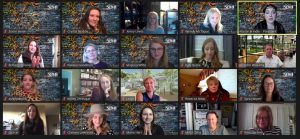 October 28, 2020 –  On Wednesday, October 28th the NEWH Rocky Mountain Chapter gathered via Zoom to learn about designing for health and safety in a current and post-COVID-19 world. The first 30 RSVPs received Care Packages filled with self-care goodies donated by our generous sponsors. Kravet, Wall Resources, and Elite Hospitality donated cash door prizes. Wendy McTague, a WELL AP Interior Designer, spoke about the WELL Building Standard and Barbara Kane from Ecolab provided a futurecast. As a last-minute surprise, we featured a panel of professional members who shared their thoughts on what the future holds for hospitality design: Natalie Goodman, Laura Hilpipre, and Holly Byrne. We also selected two vendors we thought were making innovative product solutions for use during the pandemic: Nydree Flooring presented an innovative wood flooring that holds up to hand-sanitizer, and Elite Contract presented their Vanguard Smart Partition Systems. Overall, it was a great event filled of lots of useful information for our design community, and we had over 40 attendees! Thank-you to our sponsors, and committee for putting together such a fun event!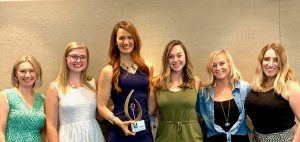 August 14, 2020 – NEWH/Rocky Mountain TOP ID Virtual Gala and Awards Night – The Rocky Mountain Chapter honored their 2020 TOP ID Designer firms OZ Architecture, Johnson Nathan Strohe, and Kimberly Timmons Interiors as well as our 2020 scholarship recipients. Our top interior design firms were panelists for the event and provided a presentation on what projects they were most passionate about. Our scholarship winners were introduced and we are looking forward to their futures in the industry. Our Annual sponsors generously donated $2350 worth of giveaways to help support our hospitality industry.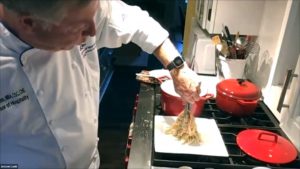 June 25, 2020 – NEWH/Rocky Mountain held its 1st virtual cooking class with Chef Lamb. There were attendees from all over the country and guests thoroughly enjoyed the 3 course Italian meal.
click on thumbnail to see entire slideshows
April 25th, 2019 – Haute Seat – NEWH/Rocky Mountain held a Haute Seat – Artist Edition. Attendees celebrated the 2019 student scholarship winners and honored the 2019 Top ID winners.
March 7, 2019 – Sundowner at Improper City
December 5, 2018 – NEWH/Rocky Mountain held its 7th annual end of the year bowling extravaganza at Lucky Strike in Denver.
November 8, 2018 – NEWH/Rocky Mountain held a student speed mentoring event in collaboration with IIDA and ASID. Student received valuable input and advice from the best in the industry and professionals got a first look at the newest generation of designers.
September 13, 2018 – NEWH/Rocky Mountain held its annual golf tournament fundraiser!
April 25, 2018  NEWH/Rocky Mountain held a Haute Seat – Spotlight Edition. Attendees celebrated the 2018 student scholarship winners and honored the 2018 TopID winners. Design teams worked together to create a custom light shade out of vendor provided materials.
2018 – NEWH/Rocky Mountain held a community service event – VOC Trail Building at Floyd Hill.
December 6, 2017 – NEWH Rocky Mountain held its annual Bowling Extravaganza!
October 26, 2017 – NEWH/Rocky Mountain hosted a student speed mentoring event, connecting hospitality and design students with local industry leaders in a fun, fast paced speed dating format.
August 10, 2017 – NEWH/Rocky Mountain held a members only Edible Beats Tour with restaurateur Justin Cucci.
April 20, 2017 – NEWH Rocky Mountain held its annual Haute Seat event – Spotlight Edition – at Daltile Showroom, celebrating its 2017 scholarship recipients and the chapter's TopIDs.
November 10, 2016 – NEWH Rocky Mountain hosted its 5th annual Bowling Extravaganza at Lucky Strike in Denver. Attendees enjoyed a night of bowling and networking with industry professionals.
August 2, 2016 – NEWH Rocky Mountain hosted its golf event at Highlands Ranch Golf Course. A great time was had by all!
April 28th, 2016 – NEWH Rocky Mountain hosted our Haute Seat where we celebrated the winners of the 2016 NEWH Student Scholarships.  Sixteen design teams paired up to create chairs out of creative design materials.
December 1st, 2015 – NEWH/Rocky Mountain held it's Fourth Annual End of the Year Bowling Extravaganza!
September 16th, 2015 – NEWH/Rocky Mountain held its Annual Membership Appreciation Rockies Game at Zi South and Coors Field Denver.
July 14th 2015 – NEWH/Rocky Mountain held its Bi-Annual Summer Golf Fundraiser at Highlands Ranch Golf Club.
December 3, 2014 – NEWH/Rocky Mountain Chapter hosted the end of the year Bowling Extravaganza at Lucky Strike Lanes. Attendees enjoyed a night of networking with peers and holiday socializing.
June 5, 2014 – NEWH/Rocky Mountain Chapter hosted Happy Hour at the Corner Office Martini Bar. Designers from DLR toured groups through The Curtis Hotel and the ultra-themed guest rooms, meeting areas, and lobby.
May 1, 2014 – On May 1st over 200 people came out to support The Bears and Blankets Fund's major fundraising effort "The Make Believe Ball". This was a joint effort with NEWH, the premier network for the hospitality industry. The event was held at Denver University's Joy Burns Center and comprised of "The House of Bears" spring runway competition, silent auction, culinary delights and networking. Funds raised that evening went to support the Oncology Unit at Children's hospital, Newborns in Need and the NEWH scholarship fund. Major thanks go to all the volunteers who gave their time and especially our generous sponsors.
April 16, 2014 – Haute Seat Scholarship Event – NEWH Rocky Mountain Chapter hosted its third annual Haute Seat Scholarship Event! At this event we honored our 2014 Scholarship Winners, Erica Smith, Michael Bent, both from Colorado State University, and Stephanie Williams from Rocky Mountain College of Art and Design. This year, NEWH was able to award $9,500 total in scholarships! Thanks to the generous support of our sponsors, this is our largest amount yet! The Haute Seat Event continues to build on our scholarship fundraising efforts with a chair design competition. We paired design teams with vendors and tasked them to create completely unique chair designs. Check out the photos of some of the amazing and creative chairs that were auctioned off at the event! Thanks to all of the designers, vendors, and sponsors that helped make this event a huge success! We appreciate your support!!