click on thumbnail picture for complete slideshow
September 25, 2022 – The chapter held its annual fundraising event – Garden Fete at the Golden Gate Club – Presidio. Attendees enjoyed a social day of live music, food, wine, and prizes!
May 21, 2022 – The chapter toured The Lodge in Sonoma. Click here to view entire slideshow.
May 5, 2022 – The chapter toured Fyrn workshop and learned of their green design practices.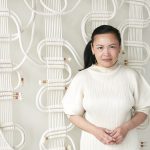 May 18, 2021 – The chapter hosted a membership drive with the talented artist, Windy Chein. It was a fun, engaging, and inspiring event where the art of rope making was on brilliant display. The event was wrapped up by Windy Chein virtually guiding the audience in making a doughnut knot.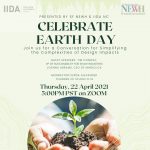 April 22, 2021 – The chapter collaborated with IIDA to host an EARTH Day celebration. There was a lively conversation with Tim Conway, VP of Sustainability for Shaw Industries and CEO of MindClick, JoAnna Abrams while Verda Alexander, founder of Studio O+A moderated the event. The discussion included how product manufacturers and MindClick programs are simplifying the design decision-making process to start with values that put the health and wellness of our people and planet first.
March 2, 2021 – NEWH SF hosted a virtual tour of the SFO Grand Hyatt. The hotel was designed in collaboration with Brayton Hughes Design Studio and Rose Barnard. Kiko Singh lead the event and moderated an expert panel including Anwar Elgonemy (San Francisco International Airport), Charles Register (Couristan/Custom Flooring), Eric Brand (Custom Furniture), Henning Nopper (Hyatt SFO – General Manager), Joel Villalon (Brayton Hughes Design Studio), and Rob Polacek (Rose Bernard). The virtual event was made possible by our event sponsors: Eric Brand and Couristan. The chapter is looking forward to more events with hopes to be back in-person in 2021.
June 16, 2020 – NEWH SF held its State of Hospitality virtual event. Participants heard dialogue from top industry leaders as to our "new normal" and the future of hospitality. Check out the video recording!
February 18, 2020 – NEWH SF held its Hotel Tour and Membership Drive at the well-crafted, boutique Palihotel in Union Square. Attendees received a tour of the guestrooms, along with mingling in the Fisher Loft Bar and Lounge area. Participants enjoyed delicious hors d'oeuvres and drinks served by Fisher Loft on the 2nd floor of the Palihotel.
September 21, 2019 – NEWH San Francisco held its 10th anniversary of Wine by Design – festival edition! Attendees enjoyed a fabulous day of great wine, food, music, raffles and activities! click here for full slideshow
July 16, 2019 – NEWH San Francisco celebrated our July Happiest Hour at the Palette Tea House in Ghirardelli Square on July 16th, 2019. We enjoyed a tour of the restaurant, cocktails, and dim sum tasting. Thank you to the Palette Tea House for their warm and welcoming hospitality!
June 18, 2019 – NEWH San Francisco held our Annual State of Hospitality Event at the Autodesk Gallery in downtown San Francisco on June 18th, 2019. The Keynote presentation was given by Tyler Ward of JLL Hotels + Hospitality Managing Group. Attendees enjoyed roundtable discussions with California's hospitality industry leaders, networking, and cocktails! Thank you to everyone who came to the event, it was a great one!
April 24, 2019 – NEWH SF held its April Sustainability Event at the beautiful Fairmont in Nob Hill. Attendees received a tour of the penthouse suite, along with the sustainable honeybee farms that are on the rooftop of the Fairmont. Participants enjoyed a tropical cocktail at the famous Tonga Room afterwards.
March 22, 2019. This year nearly 200 industry professionals joined us in celebrating our 4th Annual Awards Night at the historic San Francisco Olympic City Club on March 22, 2019. Our chapter had the privilege to honor Brayton Hughes Design Studios, Hirsch Bedner Associates, and Puccini Group as SF Bay Area Top ID firms of the year, and 5 scholarship awards to deserving students entering hospitality from local schools. A night to remember!
February 19, 2019 – We had such a fun time at our annual hotel tour in February at the LODGE @ THE PRESIDIO. A very special thank you to Julie Coyle and Laura Cook for sharing with us the story behind this amazing property.
January 22, 2019 – Wellness Event – Thank you all for attending our first event of the year hosted by STARK CARPETS at their beautiful showroom. We loved taking some time for self care with an amazing sound healing session…OMMM
Monday, December 4, 2018 – There was lots of holiday cheer and creative energy as over 60 members and new friends gathered to kick off the holidays. The evening's events were generously sponsored by Meile & Gallaher Showrooms who opened their doors and provided cookie decorating and ornament making activity stations. We also wish to express our gratitude to everyone who brought gift cards to benefit the families of the Camp Fire. We truly have an amazing, caring member community!
October 22, 2018 – Student Mentor Event – We had over 75 attendees from local schools San Francisco State University, City College of San Francisco, Academy of Art University as well as Interior Design Program Directors and Several Faculty and Staff. The event captured a night with both NEWH and Gensler bringing students the opportunity for an inside tour at the new Gensler Headquarters led by Interior Designer, Sergio Mondragon and the chance for students to receive a portfolio review by the Gensler Hospitality Studio lead by Studio Director, Sondra Law. Food and drinks were provided courtesy of Gensler and all attendees had the opportunity for a professional head shot courtesy of Rob Brodman for NEWH San Francisco. The night proved to be a high light in mentoring and networking for both students, NEWH members and network professionals.
September 22, 2018 – Over 170 NEWH SF chapter members, sponsors and student scholarship recipients gathered for our 9th Annual Wine by Design Madd Hatter Edition.   The day could not have turned out  more beautiful, sunny and filled with the most amazing views overlooking the vineyards of Comstock Winery.    The participation in our hat contest was amazing!   Thank you to everyone who took on this  DIY challenge  and impressed us with your creativity, ingenuity, fun and outstanding style!
Attendees enjoyed wine tastings, photo booth, gigantic bubble making, bocci ball and brunch.  The day topped off with desert, raffle prize draw, hat contest and more wine tastings at Hotel Healdsburg.
Thank you to all of our sponsors, raffle prize donors and ticket purchasers.  The event was a huge success in raising money to support our student scholarships.
August 27, 2018 – NEWHSF Members were treated to an exclusive, private tour hosted by Avroko's Andrew Leiberman of China Live's Eight Tables Restaurant and Cold Drinks bar.  The event was a true highlight on this year's agenda!
July 17, 2018 – We had an amazing turnout for our July Happiest Hour at the beautiful Daltile/ Mohawk Showroom and Design Center. Members also had the opportunity to experience the latest in virtual reality technology and how it is being used to bring design concepts to life. Thank you all for making this fun event!
June 26, 2018 – Our members and guests joined together at Monroe Bar for an informative State of Hospitality presentation by Andrea Grigg from Jones Lang LaSalle. Leading industry members then hosted break out round table discussions to share their insight on trends and recent project experience. The evening also recognized Eileen Slora for her retirement after 31 years with Fairmont Hotels and Resorts as Executive Director of Interior Design. Eileen has always been a long term supporter of NEWH SF and active participant on panels over the years. Thank you to our Sponsors! Cossley Axminister, Room 360, Lewis Mittman Hospitality, HF Collection, MTS Seating
May 22, 2018 – Members enjoyed craft cocktails and yummy bites @ TANK 18 for an evening of networking and catching up with fellow colleagues and friends.
April 17, 2018 – Kevin Barry Fine Art generously hosted another informative event highlighting the many ways to achieve sustainable construction beautiful gallery at the Design Center. Industry consultant, STOK, presented the various sustainable certifications present in the marketplace, what aspects they are seeing requested by ownership clients, and how vendors and project managers are providing the necessary documentation and support to see those demands through.
February 23, 2018 – NEWH San Francisco hosted its Black Tie Gala at the San Francisco Olympic City Club. Guests enjoyed a champagne reception, dinner program, wine, music and dancing.
January 23, 2018 – NEWH San Francisco kicked off 2018 in the newly opened Hotel Design Lab. Attendees had fun networking and mingling over win, light bites and good company.
September 23, 2017 – NEWH/San Francisco held its 8th annual scholarship fundraiser – Wine by Design: Yacht Edition! Guests enjoyed a private yacht for a day on the Bay, enjoying friends, food and wine.
June 20, 2017 – NEWH/San Francisco held a State of Hospitality event at Monroe with an Industry Expert roundtable and TopID award recognition!
September 2016, Local Members, Hoteliers, Purchasing Agents and Sponsors joined us for our 7th Annual Wine by Design at Starmont and Castello di Amorosa wineries in Napa. Through donations, raffle, and sponsorships we were able to raise more money than ever for scholarships, and enjoy incredible wines, food and networking. Click here for more photos available on our Facebook Page.
A very special thank you to all of our sponsors who made this year's Wine By Design Fundraiser possible: Stone Source, Moore & Giles, Waterworks, Littman Brands Contract, Bernhardt Hospitality, Durkan, Lexmark/Northwest Hospitality, Dunkirk, Fil Doux, Emser Tile, JL Furnishings, Coast to Coast, iWORKS, Hallmark Lighting, Design Within Reach, Serta, Mitchell Gold + Bob Williams, Alter-Triton, MTS Seating, P/Kauffmann, TOTO, Aqua Hospitality, Lasvit, Eric BRAND, Garrett Leather, OW Hospitality, Electric Mirror, Kalisher, Moz Design Inc., Standard Textile, Kravet Contract, Sapphire Chandelier, Room 360 by FOH, Fabric Innovations, Lodging Concepts Manufacturing
August 2016 – Our Blankets and Bonfires event at San Francisco's Presidio Park. Members and Industry partners network in casual SF style- an evening bonfire with a Bay view.
July 2016 – Hotel Tour and networking at the newly renovated and historic Fairmont Claremont Hotel in Berkeley.
June 2016 – The SF Tenderloin Museum created an interesting backdrop for our panel discussing gentrification, renovation, and it's effects on our industry, as well as local communities.
April 2016 – Members join together at San Francisco's LEED Platinum Academy of Sciences Building for an evening of exploring sustainability and networking.
April 2016 – Our annual Mentorship Breakfast brought together members and prospective students for mingling with top ID firms, and hosted showroom tours at San Francisco Design Center.
March 23, 2016 – NEWH San Francisco Members, Hoteliers and Guest designers gathered at San Francisco's recently redesigned Hotel Axiom. Here they enjoyed wine and hors d'oeuvres, and a hotel tour of public spaces and guestrooms, and a panel discussion revealing insider perspectives.
February 11, 2016 – NEWH San Francisco met for networking and wine tasting at Couloir in Tibouron, just north of the Golden Gate.
January 19, 2016 – NEWH San Francisco had its Fresh Start event. Local members and friends joined up at San Francisco's Sports Basement for a group yoga class and networking.