Online registration is closed.
Questions? contact Stella
Each year, NEWH South Florida hosts The Golden Palm Awards, an evening dedicated to recognizing both local designers and hospitality students.  Local design firms are awarded for their most recent outstanding projects that exemplify hospitality excellence.  Collegiate hospitality students are recognized for their talent and abilities through scholarships to assist in propelling them forward to their hospitality-related careers.
As a 501(c)3, NEWH is the premier networking resource for the hospitality industry, providing scholarships, education, leadership development, recognition of excellence, and business development opportunities.  NEWH, Inc. recognizes the talent and ability of students and encourages involvement in all areas of the Hospitality, Foodservice, Senior Living and related fields through scholarships, seminars and educational programs.
The upcoming Golden Palm Awards event will be held on October 22nd at the intimate Hyatt Regency Coral Gables outdoor courtyard.  The semi-formal, Paris-themed, affair will begin with a cocktail hour at 6:00pm; a seated dinner with awards and scholarship presentation will begin promptly at 7:30pm, followed by a decadent dessert and dancing.  All proceeds from this event go directly to funding scholarships for local college students focusing their studies on entering the hospitality industry.  This year, $20,000 in scholarships will be awarded between five local students.
Our seated dinner includes an entree salad of baby greens with goat cheese, spiced pecans, dried cranberries, sweet onions and raspberry vinaigrette; followed by the main course of herb crusted chicken with grilled vegetables. For dessert, we have included a trio bite combination of fresh fruit tart, tres leches and chocolate mousse. If you have any allergies or prefer a vegetarian option, please add a note when purchasing a ticket or sponsorship.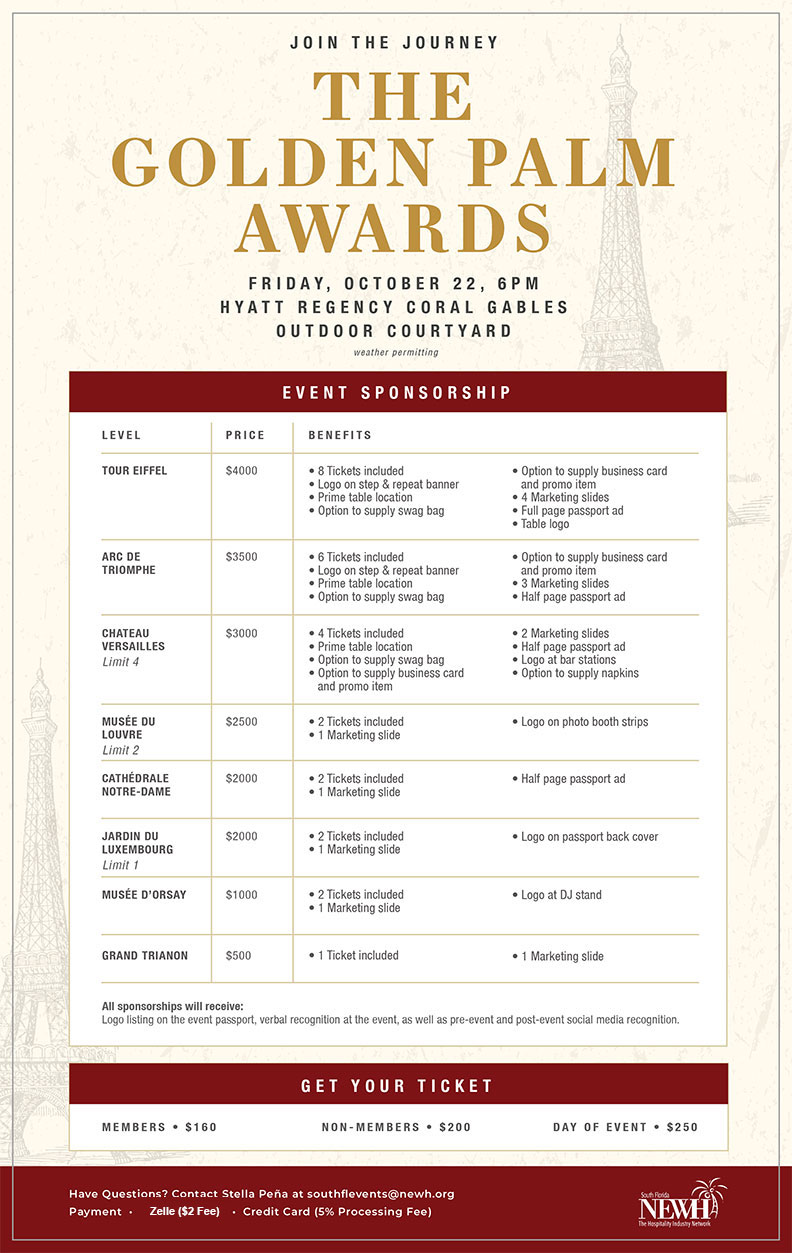 The Fair Market Value of this event is $170 and may be tax-deductible as a business expense. The remainder can be considered a charitable contribution.
NEWH South Florida Chapter and NEWH, Inc. invite you to attend this event solely at your own risk. Measures will be taken to comply with applicable health and safety directives, but by attending the event you assume any and all risks associated with your attendance, including without limitation exposure to the COVID-19 virus.