Online registration is closed. You can still attend! Tickets will be sold at the door

This will be a live event, held at The Bloomsbury Hotel on Tuesday 28th September and we would love to welcome you there.
Our Round Table event starts at 4pm, with our host, Hamish Kilburn, Editor, Hotel Designs and a diverse array of round table hosts – Nir Gilad, Nous Design, Kerri Lewis, K&J Solutions, Diana Espejo, Six Senses, Alan McVitty, M Studio, Paul Bevis, Four Seasons, Jane Moyses, Hilton
Later that evening, starting at 6.30pm, the event that brings together all of NEWH's core values – our Fundraiser & Scholarship Awards evening. This year will take a slightly different format, and will include a panel discussion with the scholarship winners, followed by nibbles, drinks and networking. This is your opportunity to speak to the students, judges, roundtable hosts and your industry peers.
A huge thank you to our sponsors – Grohe, Sanderson Group, and Ulster for making it possible for us to put together this event and, most importantly, award the scholarships to our students. We couldn't do this without you!!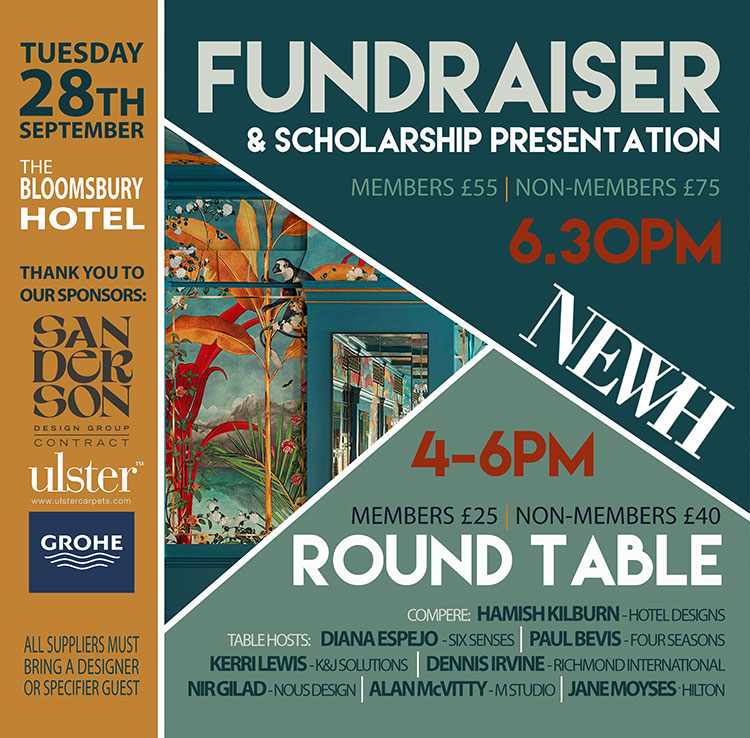 NEWH United Kingdom Chapter and NEWH, Inc. invite you to attend this event solely at your own risk. Measures will be taken to comply with applicable health and safety directives, but by attending the event you assume any and all risks associated with your attendance, including without limitation exposure to the COVID-19 virus.