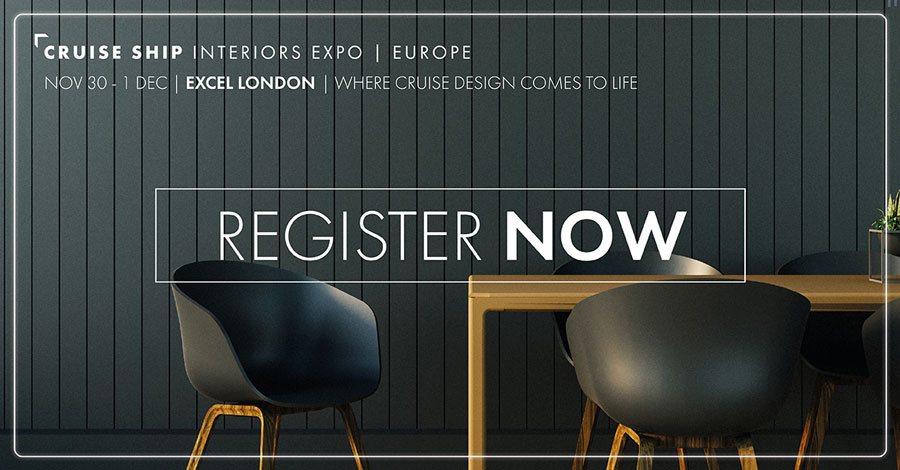 Brighton, July: Registration opens for Cruise Ship Interiors Expo's return to the London ExCeL 30 November – 1 December. Cruise lines, design studios and shipyards will refill their samples and update their understanding of the industry's latest challenges and trends at the two-day exhibition and free-to-attend conference.
Cruise ship interior design is a specialist industry, and the European market contains its own distinct niches, including the rapidly expanding expedition cruise market, small ship specialists river cruise market and the luxury-laced European ocean cruise market. CSIE will be matching expert industry suppliers with the buyers they most need to meet at its first-ever Speed Networking event. Following the immensely successful roll out of Speed Networking at its US sister event, CSI, two Speed Networking sessions will run per day.
Never-before-seen products and services make their debut at CSIE. Interior design continues to be an exciting frontier for sustainable product development; Segula Lighting will be demonstrating their low voltage bulb while Finnish company Secto Design bring their sustainable expertise. The crossover between European luxury small ship design and the superyacht industry continues as GlassDeep, a company who build underwater structures for superyachts, join CSIE for the first time.
Herbert Parkinson, a fabric & textiles company under the nationally beloved John Lewis brand will be making their cruise industry debut, while European masters in decorative painting and finishing Devlin in Design will be bringing their extensive experience to the cruise ship interiors industry.
Interactive workshops will take place on different stands across both days, creating ultra-focused and highly targeted conversations across the industry's hottest topics, including sustainability, the supply chain and project delivery.
CSIE will bring the London flavour to the European cruise interiors industry with the CSIE Pub, open across both days of the show and featuring classic social games and of course, good, old-fashioned British pints. No CSIE would be complete without the annual Opening Party, taking place this year at The Fox, (29 November) and happy hour crowning day one (November 30).
Register today at [LINK] for updates and exclusive content about CSIE. https://cruiseshipinteriors-expo-europe-2022.reg.buzz/pr1
About Cruise Ship Interiors Expo Europe
Cruise Ship Interiors Expo Europe is the world's only exhibition and conference exclusively dedicated to connecting the buyers and suppliers of the European cruise design industry! For more information on CSIE, please contact Marketing Manager Olivia Irving at Olivia.Irving@elite-exhibitions.com or call on +44 1273 086 330.