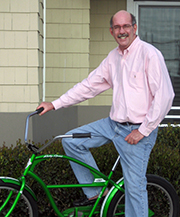 Steve Higgins, born December 27, 1953, passed away on December 25, 2014.
Steve Higgins entered the hospitality industry after attending the Fritz Knoebel School of Hospitality Management at the University of Denver. He first worked as a hospitality analyst for the prestigious firm at Laventhol and Horwath. He then joined Hyatt Hotels in operations management. He was quickly promoted and given the task of operational upgrades and transformations of underperforming properties in the United States.
After working at Carver & Associates, San Francisco, Steve then founded Higgins Purchasing Group, "HPG", in 1988. HPG became an industry powerhouse with office in San Francisco, Los Angeles, Baltimore, Atlanta and Hong Kong. Some of his international prestigious projects include: the Grand Hyatt Wailea, La Costa Hotel & Resort, Ihilani Resort Hotel, Stouffer's Wailea Hotel, the Hyatt Mexico City, the Ritz Carlton Half Moon Bay, the Nikko Tokyo, the Westin St. Francis, the Inn at National Hall, the W Times Square, the W Seoul, the Wynn Hotel Macau and the Sheraton Kuan Tah Malaysia. Starwood Hotels tapped Steve to roll out their branded products including the Westin Heavenly Bed, the Sheraton Suite Sleeper and the entire development of OS&E for W Hotels.
After expanding the hospitality industry through the Pacific Rim and throughout Asia, Steve turned his focus to establishing the first client-focused, service-driven boutique purchasing company, which he named Canoe Hospitality in 2006. Canoe Hospitality has recently completed such prestigious projects as: Hotel Bel Air in Los Angeles, SLS Beverly Hills, Miami and Las Vegas, Ace Hotels, The Beverly Hills Hotel Bungalows, Hilton Hotels & Resorts, Marriott Hotels & Resorts, The Kor Group, Kimpton Hotels & Restaurants, Renaissance Hotels & Resorts, Belmond Hotels and numerous Starwood Luxury Collection Hotels.
Steve's true gift was his ability to find and mentor talent throughout the hotel industry. Steve has mentored countless individuals throughout the industry and touched and impacted us all. His innovative brilliance is reflected in Canoe's Executive Board and Canoe's Project Management team. Steve's legacy and spirit lives on in his employees, family and friends.
Steve is survived by his sister, Debbie Higgins, by his nephew, Ryan Shera, and his niece Sydney Shera.