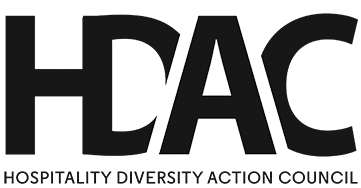 ---
The 2023 scholarship is closed. Stay tuned for 2024, opening in December 2023

The mission of the Hospitality Diversity Action Council (HDAC) is to be a catalyst for addressing the issues of systemic and institutionalized racism which has contributed to the lack of diversity within the hospitality industry. Through demonstrated leadership, as well as collaboration with the community, HDAC will work toward the creation of a more diverse, inclusive, and equitable industry through the implementation of programs, scholarships, and initiatives that promote and support Black, Indigenous People of Color (BIPOC) within all facets of the hospitality ecosystem.
The $5,000 Diversity in Hospitality scholarship, a partnership between HDAC and NEWH, and underwritten by Emerald, works to encourage diversity, equity and inclusion in and access to the hospitality industry by supporting students who identify with under-represented and minority groups interested in careers in the industry. Applicant must have submitted all required application materials to be eligible.
Eligibility
Open to domestic and international students.
Actively enrolled student; 2-year program freshman and above, 4-year program sophomore/second year and above, or graduate level attending college
3.0 GPA (Cumulative) overall "B" average or grade percentage of 83% – 86% equivalent
Financial need through college for past/current/upcoming tuition or program approved books/supplies
Major and career objective within a hospitality related field (interior design, hospitality management, culinary, etc.)
High priority will be given to those who identity with an under-represented group in the industry.
Awardee will be honored at an NEWH breakfast at HD Expo + Conference, sponsored by Hospitality Design magazine, attendance is encouraged.
Applications must be received by February 24, 2023. If mailing, application must be postmarked four (4) days prior to deadline. Applications can be mailed to: NEWH, Inc., P.O. Box 322, Shawano, WI 54166.
Application Requirements
Official Transcript: We understand sometimes transcripts and letter(s) may need to be sent in separately per college policy.
Up to 2 letters of recommendation: (example from professor, advisor, employer, etc.)
Student essay (500-word maximum) to include: What will your impact be?

Your goals and objectives
What prompted you to choose this career?
Why is obtaining this scholarship important to you?

Short Biography (150 words max)
High – Resolution Headshot
Submission
Please collect all required materials (essay, transcript, letters) and combine into (1) PDF document and mail or email your submission. Include first and last name on all items submitted as header. We understand sometimes transcripts and letter(s) may need to be sent in separately per college policy.
Notification
All applications will receive an email notifying them of their application was received within 2 weeks of the scholarship deadline date. Winning students will receive notification no later than March 25, 2023. Other students will receive an email stating their application was not accepted by April 1, 2023.
Awardee will be honored at HD Expo + Conference, sponsored by Hospitality Design magazine, attendance is encouraged. Travel and lodging are covered by HD Expo.
Awarded funds are made payable to students' college or university and mailed directly to the institution. NEWH is unable to make funds payable directly to a student. Awarded funds may only be applied toward tuition or program-approved books/supplies for past, current or upcoming
expenses or debt; unused funds are returned to NEWH.
Awarded funds may not be used for students' other expenses (housing, personal needs, etc.)
Students may apply for multiple NEWH scholarships, even if previously awarded.
Scholarship Funds must be paid out by NEWH within 12 months after awarding. Any remaining funds will be returned to NEWH and no longer available to the scholarship recipient.
I have fully completed this application, supplied all necessary information accurately, included required attachments and submitted prior to the deadline date or my application will not be considered. I hereby verify that all information included in this application is true and accurate and understand that if NEWH, Inc. learns that any information is false, this application will not be considered. If awarded a scholarship, I understand that funds will be made payable to and directly mailed to my college and applied towards my tuition or program approved books/supplies. I understand unused funds will be returned to NEWH, Inc.
WAIVER OF LIABILITY AND HOLD HARMLESS AGREEMENT. If I receive a NEWH Scholarship award, including the opportunity to attend a scholarship awards event ("the Event"), I hereby release, waive, discharge and covenant not to sue HD, HDAC, Emerald, NEWH, Inc., its Chapters, affiliates, officers, directors, agents and employees (hereinafter referred to as "releasees") from any and all liability, claims, demands, actions and causes of action whatsoever arising out of or relating to any loss, damage or injury, including death, that may be sustained by me, or to any property belonging to me, whether caused by the negligence of the releasees, or otherwise, while participating in the Event, or while in, on or upon the premises where the Event is being conducted, while in transit to or from the premises, or in any place or places connected with the Event.
---