Alpharetta (GA) – June 7, 2017 – HD Expo, the leading tradeshow and conference for the hospitality design industry, saw upwards of 12,000 attendees at this year's show, which featured more than 850 booths across many product categories.
Hospitality professionals from around the globe convened at the Mandalay Bay Convention Center, May 3-5, 2017, in Las Vegas to check out innovative and new products on display, listen in on over 30 inspirational and educational conference sessions on and off the show floor curated by the editors of Hospitality Design magazine, and network with their peers.
"We are pleased with both the quality and quantity of exhibitors and attendees at HD Expo 2017," said Liz Sommerville, Group Show Director. "This show has securely positioned itself as the premier global hospitality design event and we will continue to lead that charge with innovative programming and interactive events that encourage design inspiration."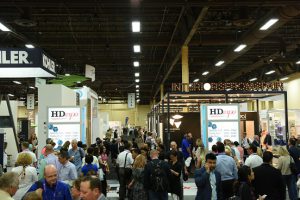 Highlights from HD Expo 2017
Keynote Address – The iconic duo of mega developer Steve Wynn and veteran designer Roger Thomas (executive vice president of design for Wynn) delivered the show's keynote address before a record-breaking, standing room-only crowd. The pair joined Hospitality Design magazine's editorial director, Michael Adams, retelling the story of how they got their start in the hotel business, anecdotes from their decades-long collaboration, and how thinking like a guest, not like a designer, initially set them apart from other hotel properties. Watch the rare public appearance on hospitalitydesign.com.
HD/ISHP Town Hall: Owners' Roundtable – HD Expo's signature event, the Owners' Roundtable, gave attendees the opportunity to meet face-to-face with owners, developers, brand executives and decision makers representing many of the most significant brand and ownership groups in the world.
CEO Talks: Lessons from the Top – A gathering of some of today's leading lifestyle brand and development companies shared their view of the hospitality industry, where brands are headed and what ultimately effects their day to day decisions. Speakers include Mark Harmon, founding and managing partner, Auberge Resorts Collection; Jay Stein, CEO, Dream Hotel Group; Brad Wilson, president, Ace Hotel Group; and Bill Walshe, CEO, Viceroy Hotel Group.
The New Visualization – Led by innovation and design studio ICRAVE, and in collaboration with Hospitality Design magazine, this two-day virtual reality workshop showcased cutting-edge visualization and digital experimentation. Attendees were exposed to a mix of presentations, demo and free-play, allowing them to engage directly with this new technology and learn the various ways it can be integrated into the design process.
The Social Hub – The Social Hub at HD Expo served as the pulse of the show floor. This year, the Rockwell Group was tasked with designing this floor space. The New York firm, known for its iconic interiors, brought the energy, camaraderie and color palette of a cool 1980s cafeteria and assembly room with a variety of seating, including custom bleachers designed to encourage conversations and socializing.
IIDA Awards – The International Interior Design Association (IIDA), in partnership with Hospitality Design magazine, selected its 2017 award recipients. The competition honors innovation, function and aesthetic advancements in product design for the hospitality industry. Belle by Fire Farm Lighting received the Eric Engstrom Best of Competition Award. The 2017 jury included Chris Evans, Senior Associate, Rottet Studio; Kelie Mayfield, IIDA Principal, Mayfield and Ragni Studio; and Patricia Rotondo, IIDA Senior Principal/Director of Interior Design, Antunovich Associates.
In addition to the plethora of show floor programming and conference sessions, other show highlights included the NEWH Annual Expo Breakfast, Best Booth Awards and two evening networking events.
"This year's programming brought together some of the brightest minds in the industry to share their game-changing experiential designs and concepts, and to tackle top-of-mind issues," said Stacy Shoemaker Rauen, editor-in-chief and associate publisher, Hospitality Design magazine. "From dining trends to new innovative hotel brands, we tried to raise the bar in terms of engaging, and thought-provoking programming with veterans and rising stars alike sharing their unique perspectives. We looking forward to continuing to bring together some of the most compelling programming for the industry next year."