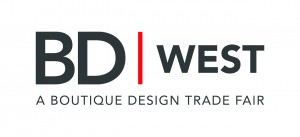 Joint fundraiser for NEWH Orange County Regional Group and NEWH Los Angeles Founding Chapter to culminate in Hospitality Fashion Show & Cocktail Reception, March 31 at Exchange LA, presented in conjunction with Boutique Design West
——————————————————————————————————————–
CINCINNATI, OH, January 19, 2016 – Sixteen teams from leading hospitality design firms and hotel companies will compete in the NEWH Hospitality Fashion Challenge: Design in a Box competition and event, held in conjunction with the fourth annual Boutique Design West (BDwest) trade fair and conference, March 31 – April 1 in Los Angeles.
A joint fundraiser supporting NEWH's Orange County Regional Group and Los Angeles Founding Chapter, the competition challenges design teams to create a garment and accessory from a box of materials— fabric/textiles, metal/laminate/glass/tile chips, tassels, carpet/wallcovering and other FF&E items—provided by BDwest exhibitors and sponsors.
The garments are modeled runway-style to an audience of more than 400 design professionals at the NEWH Hospitality Fashion Show & Cocktail Reception, to be held March 31 at Exchange LA, a four-level nightclub in the former Los Angeles Stock Exchange building.
Design teams participating in the NEWH Hospitality Fashion Challenge include:
Aria Group Architects – Oak Park, IL
BG Studio – NYC
Bricolage – Santa Monica
Diamond Interiors LA – Los Angeles
EDG Design – Novato, CA
ForrestPerkins – San Francisco
Gensler – San Francisco
HBA International – San Francisco
HOK – NY
Indidesign – Los Angeles
Kay Lang + Associates – Los Angeles
KMBR Architects – Vancouver, British Columbia
KNA Design – Los Angeles
Marriott International – Bethesda, MD
Studio Partnership – Hunt Valley, MD
Wimberly Interiors – Beverly Hills
"We are excited about partnering with NEWH Orange County Regional Group and LA Founding chapter on this years' event, and thrilled with the caliber of design teams participating in the "design challenge". We can't wait to see the couture creations designed by leading hospitality design professionals using material provided by BD west exhibitors, benefitting a worthy cause," said Michelle Finn, president of Hospitality Media Group (HMG), which produces BDwest and sister trade fair BDNY.
One winner and one finalist will be determined by a panel of hospitality owners and developers. Judges for this year's event include:
Michael Fuerstman – Co-Founder & Creative Director, Pendry Hotels / Montage Hotels & Resorts (Orange County)
Daniel Hyde – VP of Design, Dev. & Construction, Pacifica Hotels (Santa Barbara)
Paula Lemme – Head of Interior Design, All Inclusives Collection (Miami)
Tina Martin – Managing Director of Interior Design, Cachet Hotel Group (Hong Kong)
Jeanne Starling – Director of Design Development, MGM Resorts International (Las Vegas)
Judging criteria for the Hospitality Fashion Challenge include creativity, innovative use of material, craftsmanship of construction and runway performance. The winning team will receive a $3,000 cash prize; the finalist, a $1,000 cash prize. All participating design teams will be featured in Boutique Design magazine.
"The Design in a Box Fashion Challenge and runway event at BDwest has supported scholarship for the NEWH Orange County Region for the past three years, allowing us to help students achieve their goals and dreams.  We are looking forward to this year's runway which will unveil amazing fashion creations from some of the premier design firms in our industry.  The auction of the garments creates an exciting atmosphere in which everyone becomes a part of the show and proceeds will benefit scholarship for NEWH Orange County Region and Los Angeles Founding Chapter.  Thank you BDwest, our judges and design teams for helping to make it happen," said Christine Wasmer, Executive Advisor of the NEWH Orange County Region.
Now in its fourth year, BDwest will expand to 40,000 square feet of exhibit space in its new home, the Los Angeles Convention Center in Downtown L.A. The fair will feature 300+ manufacturers and marketers of furniture, fixtures, lighting, seating, wall coverings, accessories and other design elements for hospitality interiors. More than 2,500 hospitality design professionals from the western U.S., Hawaii, Mexico and Latin America are expected to attend.
Registration options for BDwest 2016 include: Exhibit hall pass for attendees, $50 ($75 after March 4); exhibit hall pass for non-exhibiting manufacturers or manufacturer reps, $300; two-day conference session pass, $175; one-day conference session pass, $100.
Ticketed events include: the BDwest Opening Reception Celebrating the Boutique 18 on Wednesday, March 30, at the Conga Room at LA Live; the NEWH Orange County Regional and L.A. Founding Chapter's Hospitality Fashion Challenge: Design in a Box Fashion Show & Cocktail Reception on Thursday, March 31, at Exchange LA; and the Boutique Design Power Players: Women Leaders in Hospitality Breakfast & Panel Discussion on Friday, April 1, at the Los Angeles Convention Center.
Attendee registration and trade fair details are available at boutiquedesignwest.com.