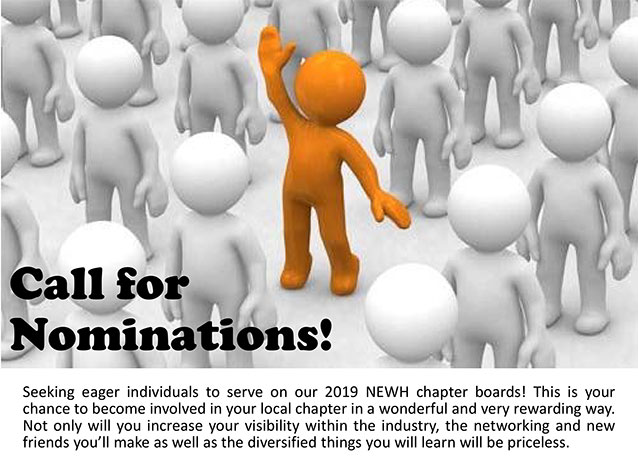 Get Involved
See below for board opportunities and don't miss your chance to contribute to your NEWH chapter and… have fun doing so!*
*Please note:
According to NEWH By-Laws, no person shall serve on a chapter board more than 10 terms, a term being one (1) year. This does not mean we are saying Good Bye – we still need your involvement! You are our Brain Trust. You know and understand the mission and vision of NEWH. Whether you are just going off the Board or you have not been actively involved for a number of years, we look forward to your involvement mentoring your chapter directors and committee chairs to keep our foundation strong as we pass the leadership roles on.
CHAPTER BOARD EXECUTIVE COMMITTEE MEMBERS*Succession Plan Description:
The VP/Administration, President, Past President, and Executive Advisor positions are part of succession planning and begins at the VP/Development position, which is elected. After one year, the VP/Development becomes the VP/Administration, then President, then Past President, and finally Executive Advisor. Succession planning

ensures

knowledge and stability for the chapter and follows the

NEWH

, Inc. Board Model. By accepting to run for VP/Development, you are making a five-year commitment to your chapter.
President
(non-elect)

The President will supervise and direct the business of the chapter, keeping all board members focused on setting and meeting the goals of the chapter. The president will encourage teamwork and ensure involvement of all members in the chapter. The President will automatically assume the position of Past President following his/her President term.

VP/Administration –


NEWH

Delegate
(non-elect)

The VP/Administration oversees the positions of Secretary, Treasurer, and Scholarship director and affiliated committee chairs. This person will also serve as the NEWH, Inc. Delegate representing the chapter at the NEWH, Inc. board meetings. The VP/Admin will automatically assume the position of President following his/her VP/Admin term.

VP/Development
(elected)

Be your chapter's future leader! The VP/Development oversees the positions of Membership, Programming, Marketing, and Fundraising directors and affiliated committee chairs. The VP/Development will automatically assume the position of VP/Administration following their VP/Administration term.

Secretary
(elected)

Do you like organization and structure? Be the keeper of minutes/notes! The Secretary will keep minutes of all meetings and actions of Directors, committees of Directors, and members.

Treasurer
(elected)

Are you a numbers person? Are you detail-oriented? Do you play Suduko? Do you like money? Keep your chapter's books in order! The Treasurer keeps and maintains adequate records of the business transactions of the chapter.

Past President –


NEWH

Delegate
(non-elect)

The Past President/Parliamentarian serves as parliamentarian and chairs the Nominations Committee. This person will also serve as the NEWH, Inc. Delegate representing the chapter at the NEWH, Inc. board meetings. The Past President will automatically assume the position of Executive Advisor following his/her Past President term.

Executive Advisor
(non-elect)   

The Executive Advisor serves as support to the president and is his/her mentor.

CHAPTER BOARD DIRECTORS (all elected)

Membership
Do you like people? Be your chapter's cheerleader! Encourage current members to renew and prospective members to join.
Programming

Do you like fun and exciting events? Are you a planner? Plan chapter events your chapter members will love! The Programming Director will organize fun, educational and exciting events highlighting your local hospitality industry.

Fundraising

Is paying it forward your passion? Be your chapter's mission seeker to fund your chapter scholarships! The Fundraising Director organizes the fundraising efforts of the chapter, such as an annual fundraising event, auctions/raffles, or other such FUNdraising things.

Scholarship

Helping students achieve their goals… does that tug at your heart strings? The Scholarship Director meets students, visits schools, reviews student scholarship applications, determine recipients, and presents scholarships to awarding students.

Marketing

Do you talk, tweet and post in your sleep? Be the Marketing Director and ensure consistent, effective, and timely communication to your NEWH members and the hospitality community.

CHAIRS (appointed by chapter board)
Interested in serving as a Chair? Chapter Chairs can include: publications, internet communications, sustainability, public relations, hospitality, community service, farewell ambassador, historian, strategic alliances, mentoring/education, database, ways and means, CEU, regional tradeshow, by-laws and ethics, committee development, strategic planning, or student representative. Chairs are appointed by the chapter board.COMMITTEES  
Are you brand new to

NEWH

, or not quite ready to commit to a director or chair position? Join a committee under a director or chair in your area of interest to get your feet wet and help your chapter grow and succeed!
Want more details? 
Click here for a brief description of the board positions.
Feel free to contact the NEWH office to answer your questions at 800-593-6394 or email nominations@newh.org Let us help you find a match that will fit your involvement to your particular interests and time limitations. We are committed to your success in office and continued growth and success of your Chapter.
Yes, I'd like to be involved!
click here for an online Nomination Form 
Deadline to nominate is August 15