With the Hotel's new branding as their inspiration, the Ulster Carpets' designers created a striking and contemporary design for the stylish Clayton Hotel Chiswick. Working with Cunningham McLean, the company designed bespoke woven axminster carpets for the public spaces of the hotel during its recent refurbishment.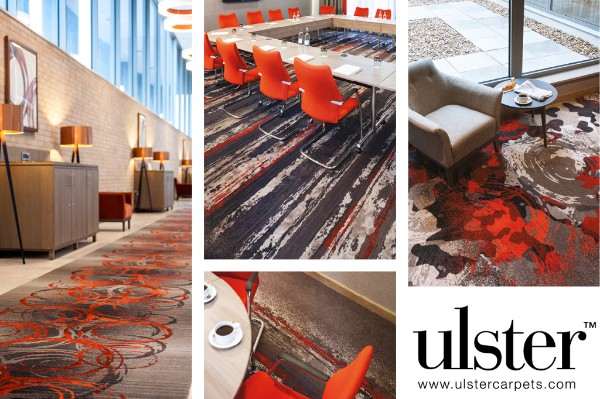 Perfectly located in the fashionable West London Borough, the hotel is an ideal location to explore London for both work or pleasure. Working with a sophisticated colour palette of burnt orange and warm neutral tones, Ulster created a multi layered design with a circular theme to create affinity with the hotel's brand. The textural, distressed look continued into the meeting rooms, where the design became more linear and circles were replaced with 'brush strokes' of colour.
With a design office based in Central London, Ulster Carpets are well placed to service the capital's most prestigious hotels and create 'on brief' designs which impress both the client and visitors alike. This local service, combined with UK manufacturing are the reason Ulster have secured recent high profile projects including; the DoubleTree by Hilton Hotel London – Docklands Riverside, the Savoy Hotel and the Mandarin Oriental, Hyde Park.