DURKAN SHARES STAGE WITH CARRIE UNDERWOOD AT EXCLUSIVE ALBUM LISTENING EVENT IN NASHVILLE
CALHOUN, Ga. Sept. 18, 2018—Cry Pretty, the new album by multiplatinum-selling global superstar Carrie Underwood, was introduced to music industry insiders at a recent listening event held at a most improbable site for a major music debut—the sonically-challenged Parthenon in Nashville. However, Underwood and her team at Universal Music Group Nashville pulled off the event with the help of flooring from Durkan, the hospitality brand of Mohawk Group.
The Parthenon in Nashville's Centennial Park is an exact, full-scale replica of its namesake in ancient Greece. It is an open structure made of stone and concrete with a 42-foot-high statue of Athena, 46 Doric columns and a tremendously high ceiling.
"We reached out to Durkan for a creative way to solve the acoustics problem," said Gary Keffer, director of strategic marketing, UMG Nashville. "The Durkan brand had the elegance in design that we needed and the quality we required for this particular environment and for a high-profile, exclusive event. Finding a carpeting product that worked acoustically and with the esthetics of the building was critically important for us, and we couldn't be happier with the outcome."
The success of the Cry Pretty listening event was crucial for Underwood, who weighed in on all decisions, including the carpet. The event showcased Underwood's talents as singer, songwriter and, for the first time, producer.
The project used 567 square yards of bound area rugs in Structure Revival, a Definity In-Stock pattern that balances strong modern design and a softly blended palette of blue, gray and black accented with shimmers of silver and blue opal. The carpet reduced the reverb in the building by three seconds, which meant that the nearly 200 people in attendance were able to listen to Underwood's music as it was truly intended to be heard—with clean sound and crisp vocals.
"We wanted to create, for lack of a better term, the reverence of a church service in this event space," said Keffer. "We took a huge stone room with bad audio and found a way to overcome that, and we did it in style."
To the knowledge of John Tumminello, vice president of the Conservancy for the Parthenon and Centennial Park, no one has carpeted the Parthenon to this extent, and the result was worth it. "The Parthenon was transformed," he said. "The team did an excellent job of taking this national icon and decorating it to the level of branding of the Cry Pretty album. It was like a one-of-a-kind, club-type atmosphere."
In addition to the stunning carpet, the Parthenon's massive columns were draped in pink and gold fabric and balloons and the exterior of the Parthenon was strikingly illuminated in fuchsia.
Utilizing the capabilities within the new Definity In-Stock rug program, offered by parent brand Mohawk Group, was a lifesaver for the event in another way. "Timing was critical," said Keffer. "If we didn't address the flooring, we couldn't address the sound, and if we couldn't address the sound, we couldn't have the event."
Definity In-Stock offers a select group of award-winning, elegantly designed, hospitality-style and grade rugs available for quick delivery for all commercial segments. "When UMG Nashville reached out to us, it was a perfect pairing," said David Duncan, senior vice president of sales for Durkan. "Definity In-Stock allowed us to meet their tight timeframe while providing a luxurious carpet that made a design statement and also served an important purpose. The project showed how beautifully our product can transform a space in no time."
Durkan donated five area rugs, two of which were seamed together on-site to cover the main event space called the Naos. A square rug was used in the large Treasury Room, which served as the reception area, and matching runners were made for the long outer walkways.
After the event, the carpet that had been installed in a day for only one night's use had to be removed. Both Underwood and UMG Nashville were adamant that the carpet be disposed of responsibly. Durkan leveraged ReCover, parent company Mohawk Industries' carpet recycling program, to give the broadloom from the Cry Pretty event a whole new life. Smaller bound area rugs were made from the large carpets and auctioned off to raise funds for the Lifecycle Building Center (LBC) in Atlanta. Founded in 2011, LBC is a nonprofit that converts discarded building materials into a resource for communities and empowers energy-saving, sustainable solutions. To date, LBC has diverted more than 4 million pounds of usable materials from the waste stream and extended $2.5 million in community savings through material discounts and free material donations to 155 nonprofit organizations.
In just over a decade, Mohawk's ReCover program has given nearly 150 million pounds—or almost 33 million square yards—of carpet new life. In total, the program has donated enough carpet to cover more than 5,000 professional American football fields.
Cry Pretty by Carrie Underwood was released by Capitol Records Nashville last Friday, Sept. 14.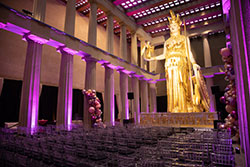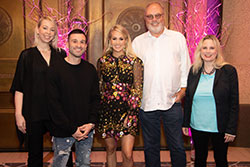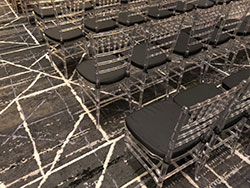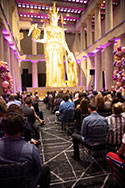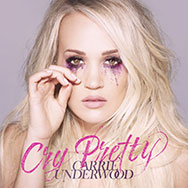 About Durkan
From the hotel lobby and corridors to guest rooms and ballrooms, casinos and areas of assisted living facilities, Durkan is world-renowned as an industry leader in innovative design solutions and high style, high-performance hospitality flooring solutions. Durkan's products are offered in a wide range of exclusive innovative pattern and texture technologies, including Definity™, an advanced generation precision sculpturing technology that produces the highest definition of texture, pattern and color available in hospitality carpet; and Synthesis™, which provides a three-dimensional layering effect using a custom base and Precision Dye Injected (PDI) surface that enables unprecedented image quality. Durkan is the hospitality brand of Mohawk Group, a leading commercial flooring manufacturer and a pioneer in the design of sustainable flooring.