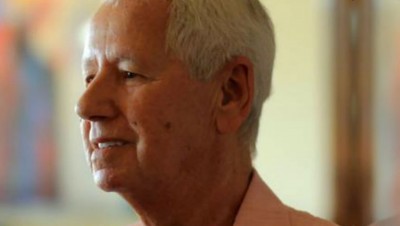 HARVEY NUDELMAN, formally of Tulsa, passed away on Friday, October 18, 2013, in Las Vegas, Nev., after a short illness. He was 74.
Harvey was an influential leader in the textile industry for more than 50 years. He most recently served as president of Fabricut Inc., overseeing the sales for its hospitality divisions, Fabricut Contract and S. Harris Contract.
Born in Chicago, Ill., on December 26, 1938, Harvey attended Michigan State University's Hotel and Restaurant Management School and graduated from DePaul University with a Bachelor of Arts in Business.
He began his textile career in Chicago in 1961 as a salesman for Tempo Fabrics and later was the owner/partner of Westport Fabrics in Kansas City. In 1968, he moved to California and joined Fabricut Inc., as vice president of sales focusing on residential and hospitality sales. Harvey was then promoted to president of Fabricut Inc., in 1979, and shortly after moved to Fabricut's corporate headquarters in Tulsa, Okla. From 1980-2004, he worked alongside the Finer and Guterman families helping to steer the company through significant growth, acquisitions, and industry challenges and opportunities. In 2004, Harvey and his wife, Laura, moved to Las Vegas from where he worked and traveled. He maintained offices in both Las Vegas and Tulsa, and specialized in hospitality sales until the time of his death.
Throughout his 45 years with Fabricut Inc., Harvey served as a mentor to many current industry leaders and associates. He was an active member of Network of Executive Women in Hospitality (NEWH) since its inception as a corporate sponsor, scholarship advocate and contributor. Harvey also helped jump start NEWH's School from the Heart campaign to raise money for UNICEF's School-in-a-Box program. In 2011, NEWH honored Harvey with their most prestigious award, Icon of the Industry, which celebrates leaders in hospitality and individuals who uniquely impacted the industry through their innovative work and industry outreach through education and corporate giving.
Harvey supported the American Cancer Society where he served on the advisory board of their Nevada chapter. He also served on the advisory board for the HD Las Vegas and Boutique trade shows and the NIAB board.
Aside from countless friends and associates, Harvey is survived by his wife Laura; son Ken and his wife Karla; daughter Jennifer and her husband Jonathan; grandson Ozzy; and beloved canine Carmine.
"Harvey was truly a legend in our industry," says David Finer, chief executive officer of Fabricut Inc. "I have never seen a more effective leader with the ability to communicate and connect with people. He was unparalleled. Harvey will be missed not only by our company but also the industry as a whole."
A service of remembrance will take place at Congregation B'nai Emunah (1719 S. Owasso Avenue, Tulsa, Okla.) on Sunday, October 27, 2013 at 1:00 p.m.
The Nudelman family has asked that charitable donations be made in Harvey's name to:
American Cancer Society
1325 East Harmon Avenue
Las Vegas, Nevada 89119 (702) 798-6877
Heaven Can Wait Society
(Animal Rescue)
546 North Eastern Avenue, Suite 175
Las Vegas, Nevada 89101
(702) 227-555
NEWH extends our deepest sympathies to Harvey's family and friends.