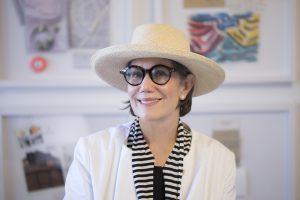 NEWH is proud to announce Janice Feldman as the 2017 NEWH ICON of Industry recipient.  The NEWH ICON of Industry award celebrates the leaders of the manufacturing side of hospitality, those who have uniquely impacted the industry through their innovative work, consistently dedicated their time and efforts to community or industry outreach through education and/or personal and corporate giving, and been doing business in hospitality for more than 30 years.
"I am incredibly proud and exhilarated to be honored as a true leader in an enormous and growing global industry.  I have grown with the industry, and the industry has grown with me. I am so very proud to have been a true pioneer in the development of the hospitality industry, as we know it today. I sought to create beautiful, well-made furnishings that attract clients to environments they will cherish and remember, as designing unique, inspired destinations has become a paramount goal within the industry," said Janice Feldman, President and Founder of JANUS et Cie.
It has already been an exciting year for Feldman and her team.  In April of 2017, Feldman received an honorary doctorate in Fine Arts for the ArtCenter College of Design. Also in April this year, JANUS et Cie celebrated their debut at Milan Design Week for Salone del Mobile. The company proudly welcomed visitors to a temporary showroom in the beautiful Brera Design District for a week of press previews, client meetings, and an exciting cocktail party.
"Our commitment to offering an enormous selection of inventory, an extensive range of style and materials, and exemplary service is next to none in the industry.   In partnership with some of the greatest and most prominent hotel and restaurant groups in the world, JANUS et Cie has become a trusted provider—understanding critical revenue and operational needs as well as understanding the investment criteria of owners, operators and creators.  We are supported by exceptional designers who partner with us to ensure their dynamic visions come together beautifully," added Feldman.
"NEWH is so thrilled to bestow this honor on Janice! She has long been a trendsetter. Her eye for function and design has made an undeniable mark on our industry. And even more important, are her philanthropic endeavors and environmental stewardship," said Shelia Lohmiller.
NEWH is the leading nonprofit hospitality industry network, providing scholarships, education, leadership development, professional recognition of excellence and business development opportunities. Since 1981, NEWH scholarship candidates pursuing hospitality careers in design, culinary arts and hotel management have been the beneficiaries of nearly $4.5 million for scholarships made possible through volunteer fund-raising initiatives at the local, national and international level.