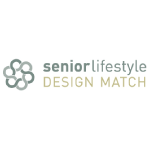 Inaugural event created a community within the industry
More than 50 senior living and assisted living design professionals and manufacturers/suppliers attended the first annual SENIOR LIFESTYLE DESIGN MATCH, held June 26-29, 2016 at the Arizona Biltmore, A Waldorf Astoria Resort.  This exclusive program, created specifically to address the expansive design needs of the growing senior living market segment, achieved that and more, according to sponsors and delegates to the event.
"Having the opportunity to interact with other vendor sponsors and meet with each delegate over three days offers impactful insight to the current happenings within this growing market segment for commercial interiors. The individual meetings were important and focused.  I left knowing so much more about the issues and opportunities in the senior lifestyle design market! The panel members represented all aspects of the market (designers, owners, builders) and the event organizers lead a discussion about current market issues that allowed different viewpoints to be shared and illustrated the variety of goals amongst the attendees," said Susan Ford, Eastern Regional Sales Manager for LONSEAL.
"This event allowed me to gain numerous new connections with suppliers and valuable information on products that I was previously unfamiliar with. From custom artworks, wall coverings and learning how companies are now coordinating together to create great design opportunities," added Kristina Robichaud, Interior Designer, Autumnwood Mature Lifestyle Communities, Ontario.
"Until Senior Lifestyle Design Match was created, there had been a missing link in the senior living and assisted living design markets.  Designers and manufacturers didn't have a true networking platform to share design challenges and come up with product solutions, said Michelle Finn, HMG.
"It was the first time I had attended an event like this and I was pleasantly surprised at all the event had to offer and how we are just scratching the surface of what it can be.  I think the concept of getting end users and vendors together to discuss the industry they serve is a great idea and a very proactive way to start conversations.  I see this turning into a very vibrant and viable venue over the next 3 – 5 years and assisting in changing the industry for the better," said Laura Busalacchi, IIDA/NCIDQ/WRID  Sr. Director of Interior Services Brookdale Senior Living Inc.
In addition to the 1:1 supplier/designer meetings, Senior Lifestyle Design Match moderated a lively and informative panel conversation, 'A Candid Conversation with Designers: Agency and In-House Perscpectives' with select designers from the senior living sector who addressed design needs from manufacturers.  The conversation was extremely educational to suppliers and other designers, and a special counsel was created based upon a key industry need presented by the designers.
Sponsorship opportunities are now available for the 2017 Senior Lifestyle Design Match event, which will be held July 9-11, 2017 in New Orleans, LA.  Sponsor categories are limited to ensure all participants have an exclusive experience. For further information on SENIOR LIFESTYLE DESIGN MATCH sponsorships, please contact Melani Beattie, Associate Publisher of Boutique Design magazine, melani.beattie@stmediagroup.com or 312-218-5691.
Senior Lifestyle Design Match is produced by the Hospitality Media Group LLC (HMG), a privately held media company serving the global hospitality and related industries, and specializes in trade fairs, conferences, event management and development.  HMG also produces Boutique Design Trade Fairs: BDNY held in New York City and BD west held in Los Angeles; Hospitality Match, BD Forum series presented by Boutique Design.